Telestream Switch 3.0 Updates Video Playback, Visual QC & Delivery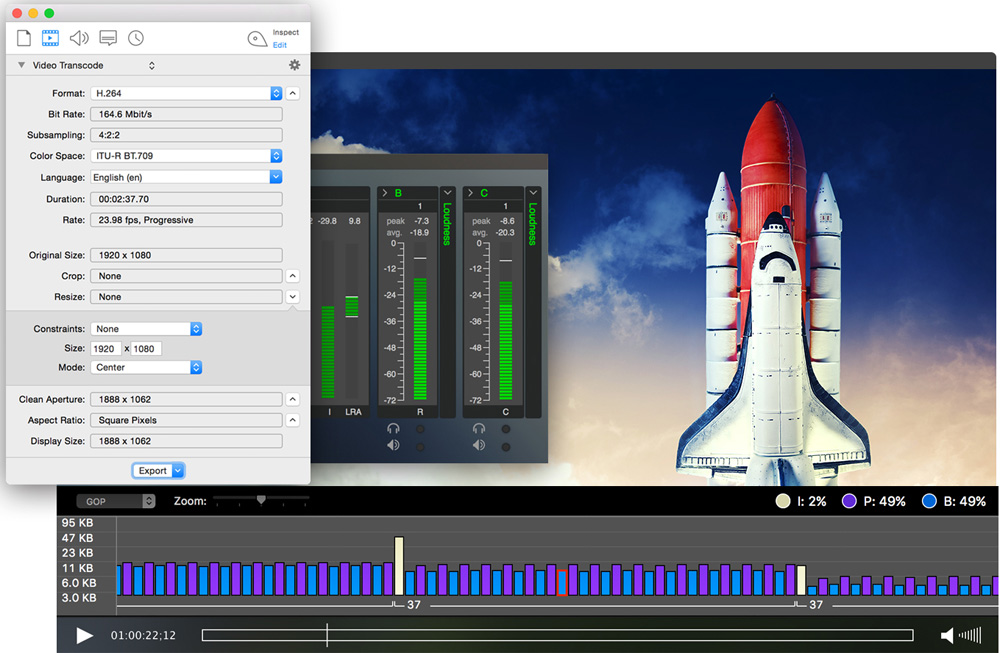 Telestream Switch media player and inspection application for QC is now in version 3.0 with new tools for comparing multiple files, previewing output through Blackmagic Design devices, and direct publishing to Vimeo, YouTube and Facebook destinations.
Video publishers can use Switch 3.0 Pro to load a number of files in a single window for frame-by-frame comparisons when checking, for example, multiple versions of adaptive bitrate files or source files to the output versions.
The originator and co-publisher of ScreenMux screen to MXF recording software, Björn Adamski said that their developers and QA teams use Switch to check technical metadata, bitrate, timecode and GOP structure of the MXF files they create. The GOP structure view, available through the Timeline function, presents the GOP structure of a video segment, highlighting the I, P, and B frames used in compression and encoding. The data rate information associated with the video is also displayed.
In version 3.0, Switch Plus and Pro support direct exports to Vimeo, YouTube and Facebook from within the Switch user interface, which means users can export a compliant file to those services without having to research the correct encoding profiles that each platform requires. Once users choose their destination template and supply login information, Switch will publish directly to the destination while saving a local copy to the computer.
Switch Pro and Plus can also export to MXF OP1a and OP-Atom containers, as a way to re-wrap an MPEG2 file into an MXF file for more direct sharing and shorter workflows. Playback and indexing of files have been improved to speed up the work involved in spot-checking large video files.
For visual QC workflows that use a broadcast quality external monitor, Switch Pro 3.0 supports HDMI/SDI output through Blackmagic Design devices as well as the current support for AJA output devices. This support makes it possible to perform visual QC on a high-quality broadcast monitor from an ordinary laptop or workstation. Switch also serves as an appropriate alternative for QuickTime on Windows, for Windows users looking for a safe QuickTime replacement following concerns in the US about security vulnerabilities. Switch does not rely on an underlying QuickTime software infrastructure.
Switch is available in three versions to suit users ranging from enthusiasts to craft editors to mainstream broadcast operators. Switch Player is free and includes basic player and inspection functionality. Switch Plus and Switch Pro, developed for video editors and post-production staff who need to play, inspect and fix media, are paid for. The Pro version adds delivery functions as well. www.telestream.net