Canon Releases 5D Mark IV with 4K Video, HDR and Built-in Wi-Fi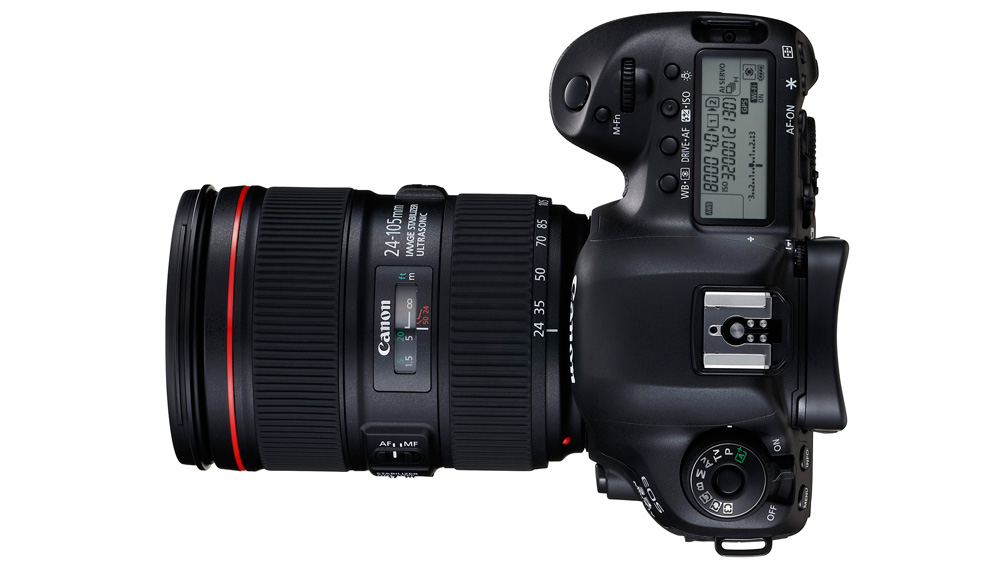 The Canon EOS 5D Mark IV has a 30.4 megapixel CMOS sensor with wide exposure latitude, 7 fps shooting, internal 4K movie recording and built-in Wi-Fi and GPS. The EOS 5D Mark IV is also the first EOS camera to use the Dual Pixel RAW file format, which allows images to be fine-tuned in post-production by adjusting or correcting the point of sharpness, shifting the foreground bokeh or reducing image ghosting.
The sensor's ISO range of 100 to 32000, expandable from 50 up to 102400, means that images can be captured in varied lighting environments and still show good detail, even in bright highlights and dark shadows - useful for photojournalists who need to capture events at once, regardless of lighting conditions. The noise processing algorithm also improves low light shooting.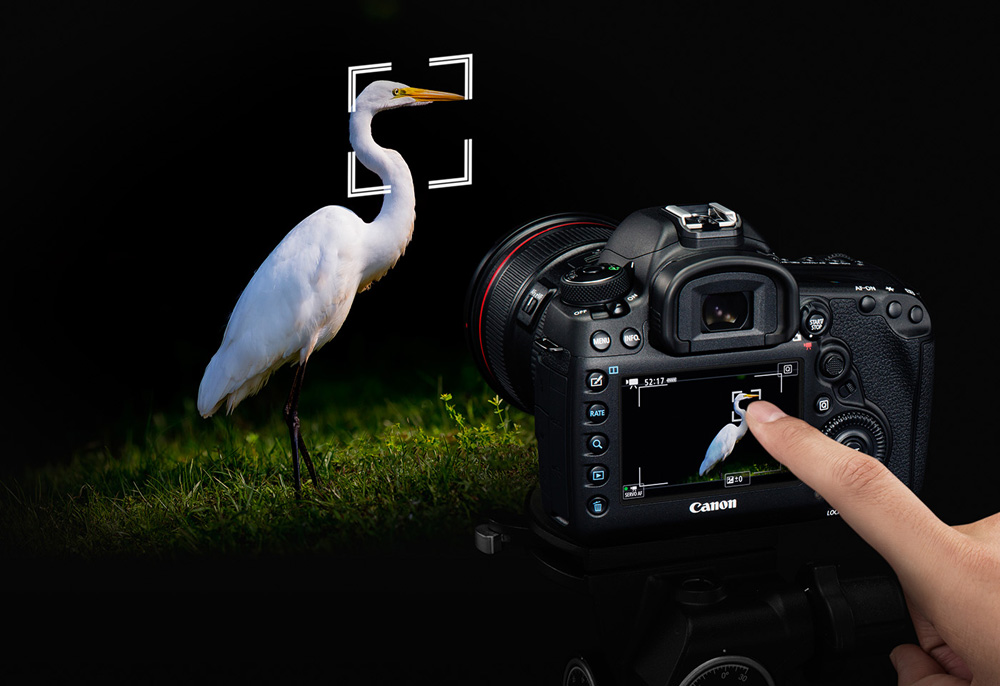 The 5D Mark IV's 61-point wide area reticular AF system makes tracking faces and the colours of fast moving subjects easier. The 61-points / 41 cross-type AF points cover a large sensor area and make it possible to focus at EV -3 in viewfinder shooting mode, or EV -4 in Live View mode. You can use extenders with all telephoto lenses for f/8 auto focus with all 61 points, including 21 cross type for greater precision. To select your AF points, the 3.2-inch touch-panel LCD has an AF 'Area Selection' button. The camera also has a 150K RGB+IR metering sensor with a dedicated DIGIC 6 processor for accurate exposures and precise subject detection and tracking.
A high-speed readout system and the DIGIC 6+ processor mean you can shoot at 7 fps at full resolution, with full AF / AE tracking capturing up to 21 RAW images or unlimited JPEGs in a single burst. For control noise when capturing breaking news or wildlife, the camera has silent high, silent low and silent single modes.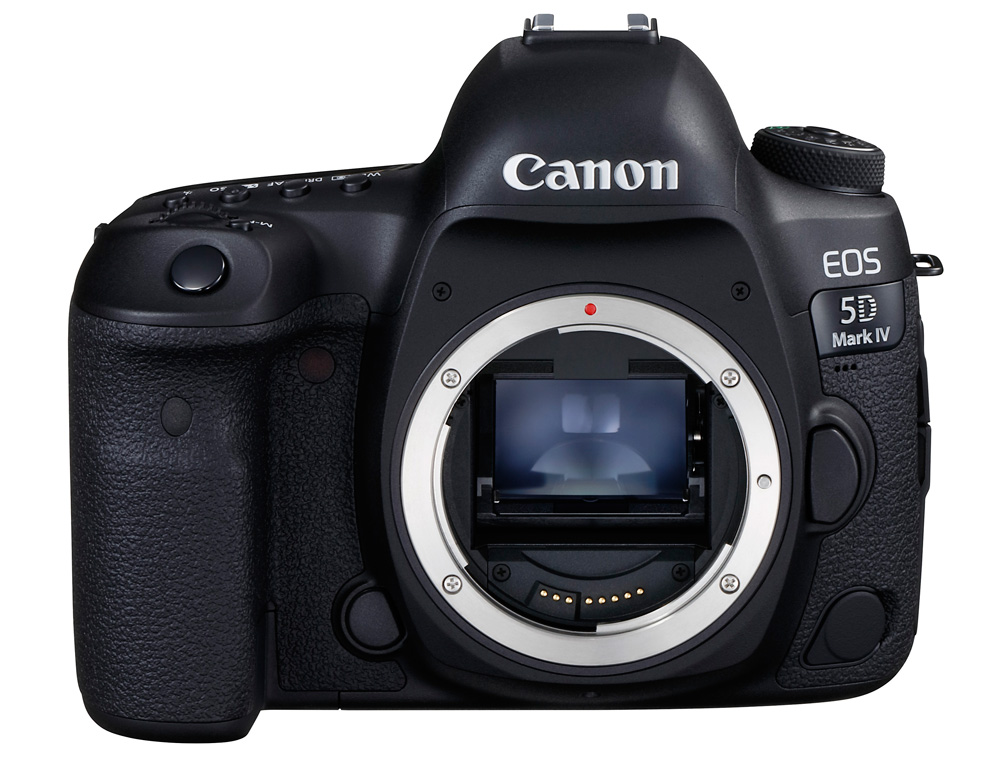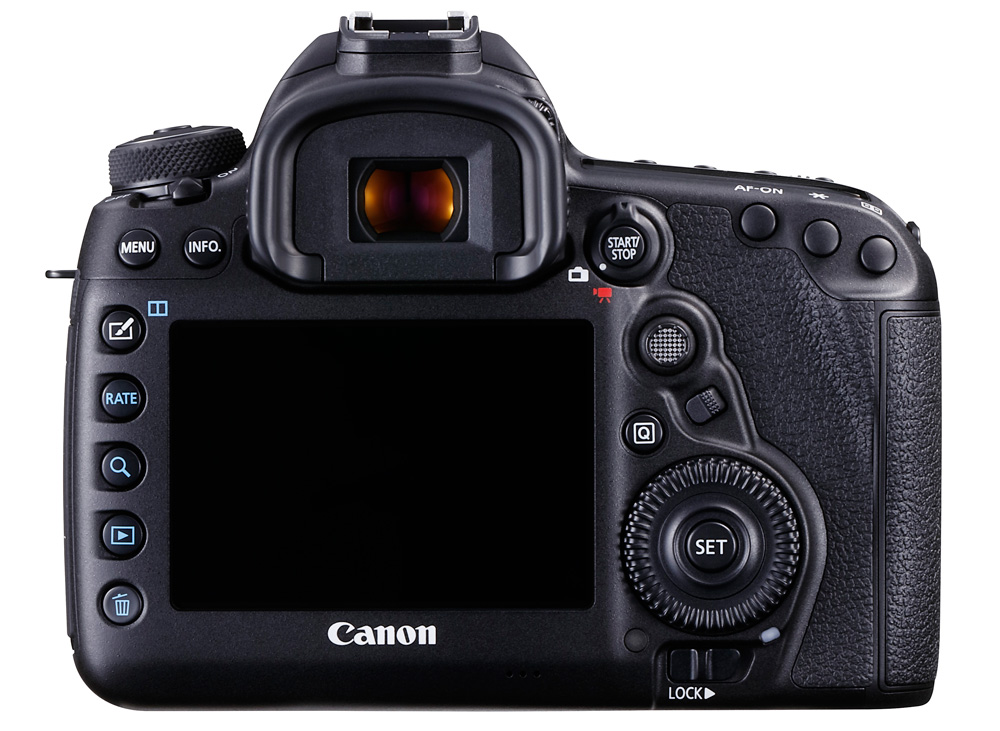 The 5D Mark IV shoots internal DCI 4K (4096 x 2160) video at 30, 25 and 24 fps, and 8.8MP JPEG images can be extracted from the 4K videos, which extends the use of the camera further. It captures HD up to 120p, time lapse and HDR video.

Connectivity functions in the camera are built-in Wi-Fi, which enables remote operation, and secure FTPS/FTP file transfer via smart devices using the Canon Camera Connect app. NFC opens connections between compatible devices. A GPS function geotags each image within its EXIF data with automatic time updates, to help manage images. For the first time, metadata matching International Press Telecommunications Council [IPTC] standards is automatically embedded, recording the details of a shoot.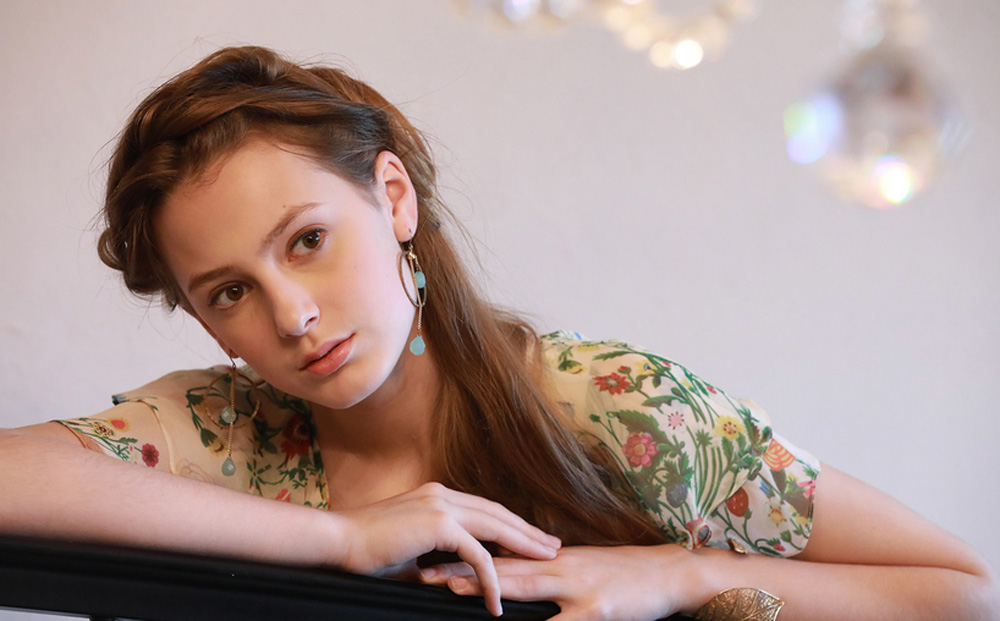 Two new Canon high performance L-series lenses have also been released that work with the EOS 5D Mark IV. In the EF 24-105mm f/4L IS II USM zoom, the focal length range and constant f/4 aperture can suit varied scenes, subjects and lighting conditions. It has image stabilisation up to 4 stops and quiet aperture adjustment during movie capture.
The EF 16-35mm f/2.8L III USM with autofocus has wide-angle focal lengths that work well for wedding photography, photojournalism and other close-up work, and the fast, constant, f/2.8 maximum aperture is good for low light conditions.
The EOS 5D Mark IV, EF 24-105mm f/4L IS II USM and EF 16-35mm f/2/8 III USM will be available from 8 September 2016, at prices to be set at dealer discretion.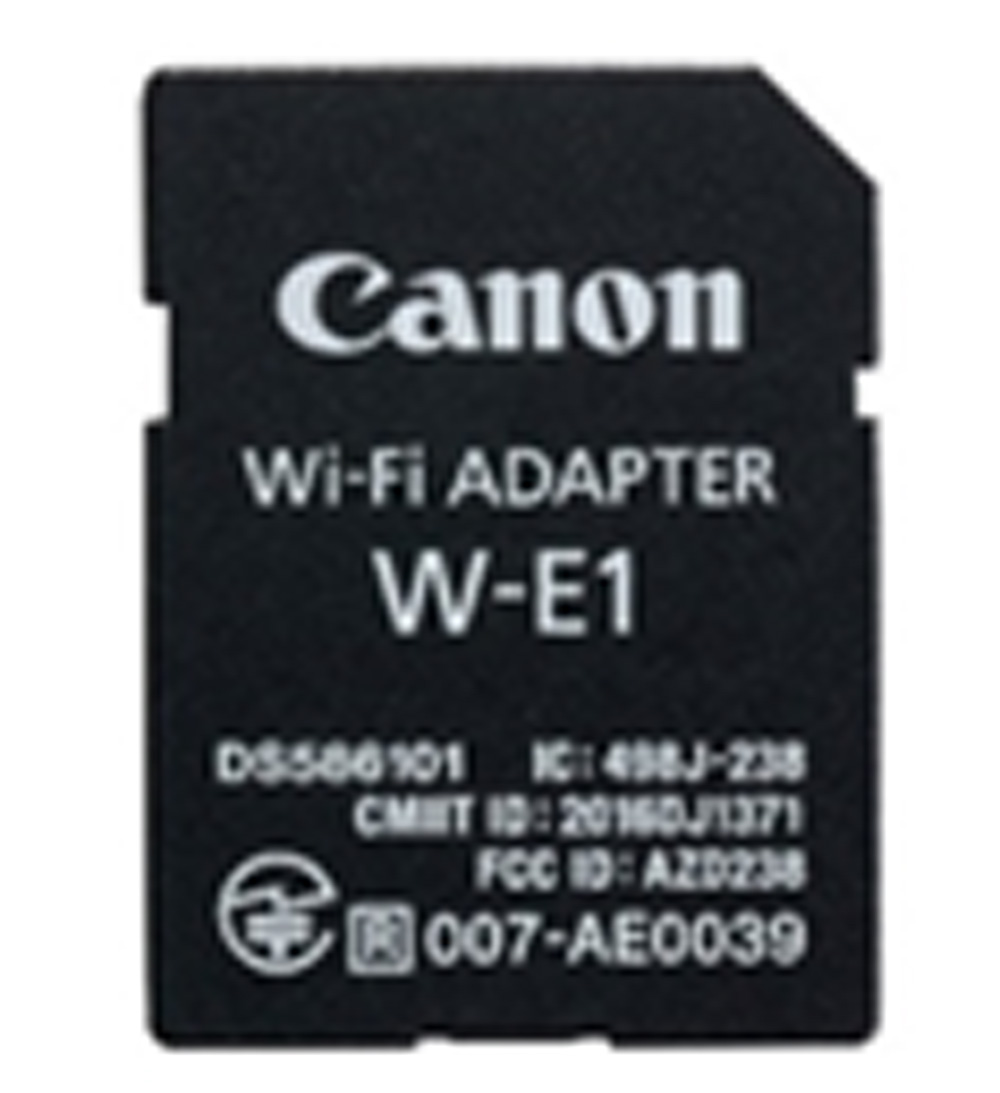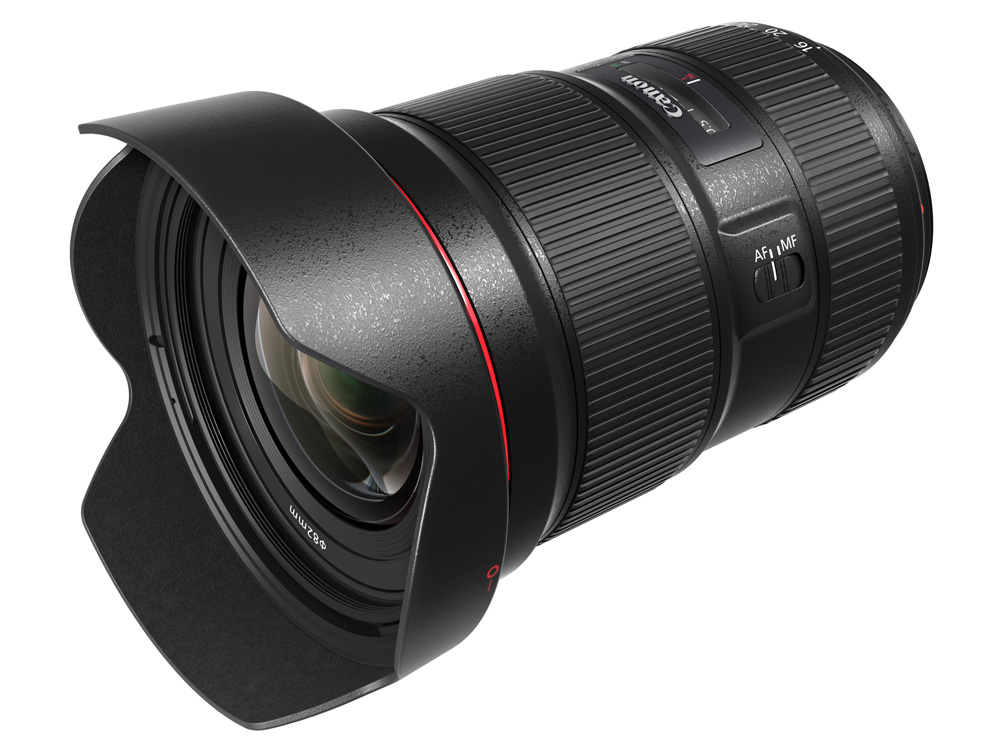 Wi-Fi Adapter for DSLRs
Canon's new dedicated Wi-Fi Adapter W-E1 for the EOS 7D Mark II, EOS 5DS and EOS 5DS R wirelessly transfers shots directly from the cameras to iOS and Android smart devices and computers. Wi-Fi Adapter W-E1 is very small, designed like an SD card that fits into the memory card slot of compatible dual card slot EOS DSLRs, and connects directly or through an existing network. Photographers can review and display images on a tablet or monitor, upload to the web from smart devices, and save a copy while out on location.
The adapter also adds remote shooting functions so that a user can shoot directly from a smart device running Canon's Camera Connect app, or PC or Mac using EOS Utility software, from up to 10m away and see the camera's field of view in real time with remote Live View mode. The camera controls allow you to activate the shutter, adjust exposure and change the focus point.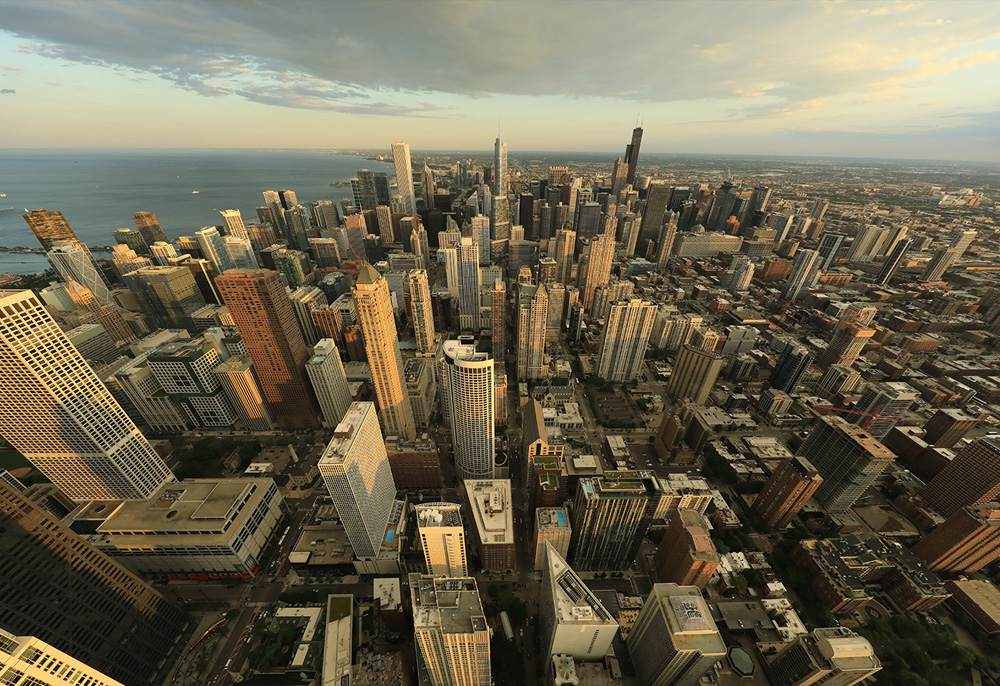 From the end of October 2016, the Wi-Fi Adapter W-E1 will be included in the box with the Canon EOS 7D Mark II. Otherwise, the adapter will be available from November 2016. www.canon.com.au