Abe Joffe Illuminates 4K for Documentary in 'Tales by Light 2'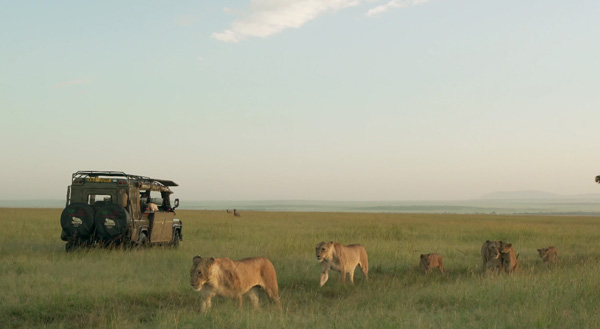 Abe Joffe is set to release his second series of films about Canon master photographers, titled 'Tales by Light' Series 2. Launching this week on National Geographic Channel, the series comprises three one-hour films that Abe shot while travelling the world with four photographers as they worked on upcoming projects. Three of them – a couple working together to photograph African wildlife, and an underwater specialist shooting marine life – are devoted to imagery of the natural world, and the fourth is a reportage photographer recording both remote and urban culture and places.
The 'Tales by Light 2' project is similar to the first, released in May 2015, in that Abe journeys with the subjects into remote areas of the world to capture wildlife, cultures and sites. But in this series Abe has recorded longer one-hour films that gave him time to also record them talking about their work and what motivates them, what they hope to achieve and how they approach their subjects. In some respects, the films are more cinematic than those in the earlier series, but stay grounded in the documentary style. See the series trailer here.
4K on the Move
Other defining aspects of the series are technical. All footage was shot and delivered in 4K, a format that Abe believes is now achievable and desirable for filmmakers, and quickly becoming a standard for broadcast and cinema. When we talked to Abe he emphasised the relative ease with which 4K video can now be captured and managed in the field, along with HDR data that adds another layer of value and flexibility to footage. "Furthermore, audiences are now likely to be viewing, or want to be viewing, on 4K screens," Abe said. "Native 4K imagery pays off for the photographer as well - for post, marketing and re-purposing."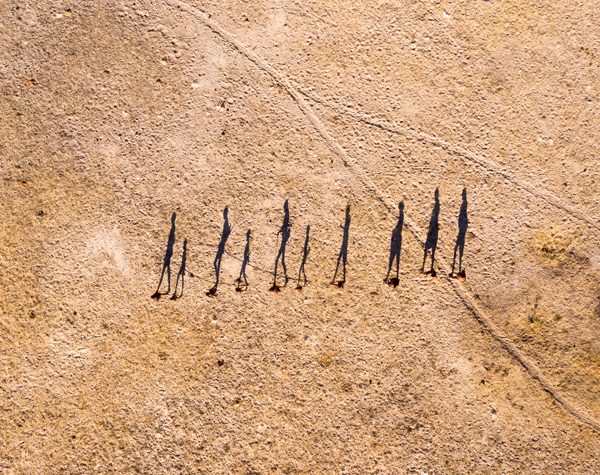 This aerial shot from a drone over Namibia shows the dramatic effect of shadows.
The cameras Abe used for these films were the Canon Cinema EOS C300 Mark II and EOS-1D X Mark II DSLR. As in the previous project, he travelled with and used over 10 different Canon lenses, a weight that he feels justified in carrying. Examples of the lenses he used most often are the 100-400mm, and the 200-400mm telephoto zoom lens with a built-in 1.4x extender that converts the focal length range and maximum aperture to 280-560mm f/5.6. Both lenses have practical focal ranges for nature and wildlife, and documentary generally.
He liked the 11-14mm zoom as well because it pushes the relationship between foreground and background a little, without too much distortion, for more creative shots of landscapes and architecture. It also worked for macro photography, and shooting in tight interiors.
Faces Behind the Cameras
Before describing more of the practical and technical aspects of 'Tales by Light', Abe talked about the series' photographers, whose images draw people into the environments in which they work, and give them the eyes not only of an observer but of a participant. "Angela and Jonathan Scott have become TV celebrities following the success of their series 'Big Cat Diary' for BBC television, and are now taking advantage of their recognition to push and motivate audiences for stronger conservation measures in the Masai Mara National Reserve and Serengeti National Park in Kenya and Tanzania, where they live and do most of their shooting. The project you'll see them working on in 'Tales by Light' has become part of a new book, 'Sacred Nature' that aims to show the links between nature and people's lives through photography," said Abe.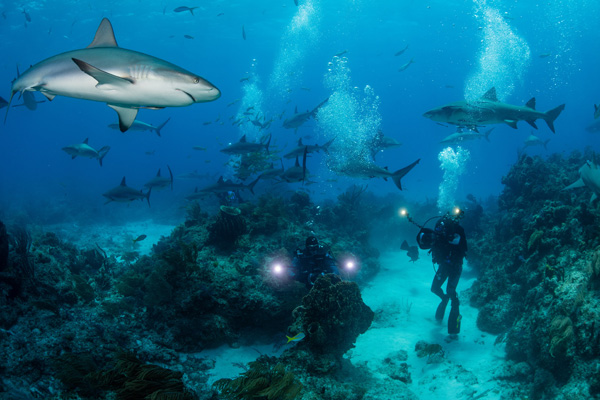 Curious tiger sharks circle around Abe and Eric Cheng in the Bahamas.
"Eric Cheng is a Taiwanese American photographer specializing in aerial and underwater photography. While we were out for 'Tales by Light', he was working on a project countering the poor reputation that clings to certain aquatic creatures. On the coast of Norway, he focussed on orcas or killer whales, and in Brazil he followed the anacondas in the Amazonian jungle. In the Bahamas, he worked with a specialist shark-dive operator, Jim Abernethy, to capture tiger sharks interacting with people, even developing long-term relationships with them."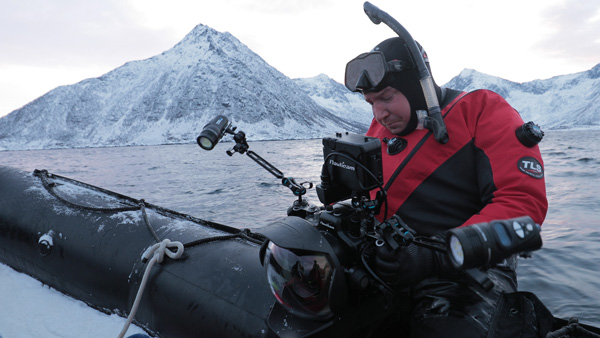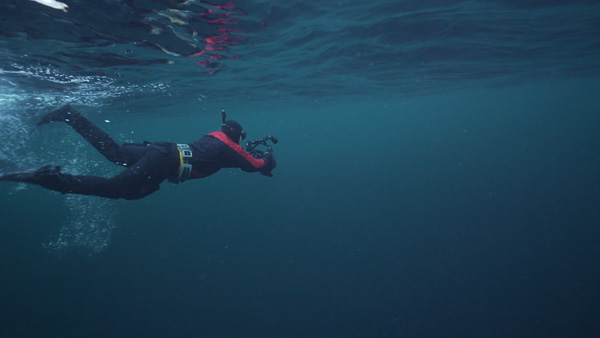 With Eric Cheng, Abe shoots off the coast of Norway with his 1D X in a Nauticam underwater housing.
Eric's locations were diverse. Up in Norway, the shoot took place in winter when light was minimal and each day afforded only a short time for true daylight shooting. Although he prefers to capture his subjects with natural lights and surroundings and does very little post work, Eric is actually more interested than the series' other photographers in in-camera and on-set innovations for his images – including higher dynamic range, frame rates and resolution.
Keeping a Distance
He is especially keen on using the newer, more agile drones, not so much for their original applications like wide, high establishing shots but for their low-altitude potential and for craning around tighter curves and engaging 'reveal' shots. Because much of the aquatic action Eric captures takes place just below the surface, he has also been experimenting with more controllable split-level techniques that can work predictably for high action shots, catching the view above and below the surface in a single shot.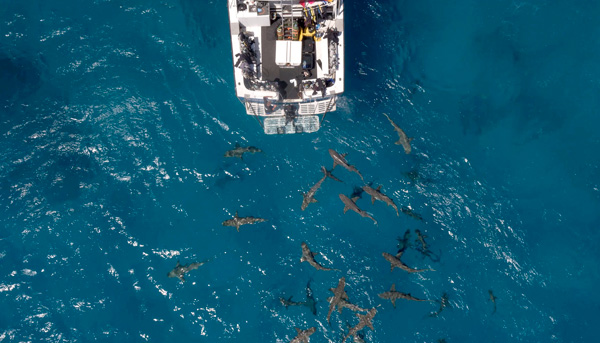 Sharks follow Jim Abernethy's boat, shot from a drone.
Reportage photographer Stephen Dupont loves his subject but sometimes has to distance himself from it more consciously than the others because he is observing and recording people living extreme existences, not animals living their natural lives. This time he focussed on ways in which death is made a part of life through rituals and material manifestations of respect, reverence and other spiritual concepts. While shooting scenes of people bringing their dead and dying to the Ganges river at Varanasi, for example, the project made him aware that, in one form or another, more or less overtly, his work has always featured death. Perhaps the camera may even serve as a barrier for him from shock and danger.
Abe noted that Stephen generally approaches a shoot day without planning too closely what will happen. Nevertheless, Stephen chooses his timing and assembles his crew and gear with care. He keeps a daily written journal that often became the script of the narrative for Abe's film, coming from the heart, on the spot.
Camera Crew
A significant change from the first 'Tales by Light' series is the size and nature of Abe's camera crew. "Crew members generally are becoming more of what I call 'predators' – all-rounders who can take on most tasks instead of specialists with kit and skills for just one job," he commented. "On trips like these, such a crew can be smaller and therefore more responsive to events as they happen, and we fit more easily into the light aircraft we sometimes travelled in. We can also cover for each other if one or another of us isn't feeling well, or is busy on other tasks."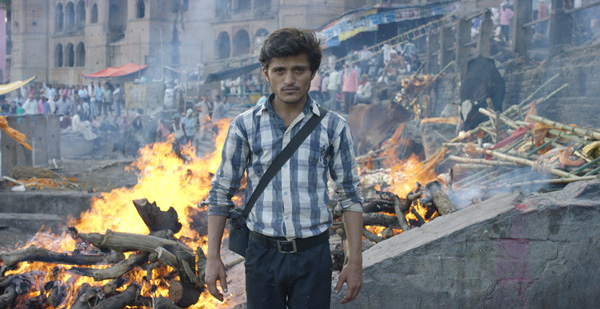 Above, Abe and Stephen Dupont capture scenes near the ghats along the Ganges at Varanasi.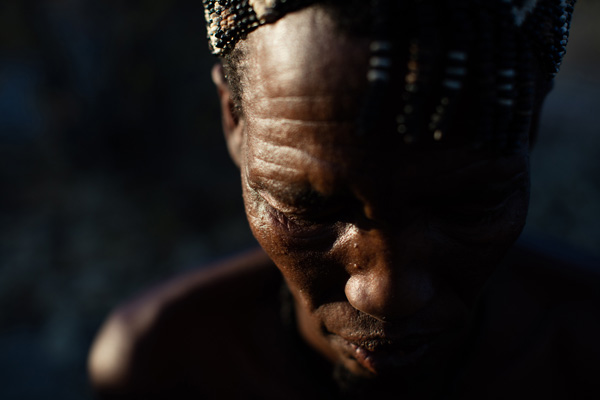 Of course, that flexibility can result in some overwork, leading to the decision to limit the location trips out in remote areas to a maximum of three weeks, devoting two trips to each photographer. Each one involved changing location several times, and travelling over land, over and under the sea, or by air. Stephen went from the desert to the crowds of India. Eric took them from the arctic to tropical jungles, and the area the Scotts covered in Africa was very large.
"You end up working very long days, even if conditions mean you can't shoot all day. We were recording the 4K video, some of it slow motion, to Sandisk CF cards and backing up to 4TB hard drives. The high data rates plus large amounts of high resolution data means lots of wrangling and backing up every day, sometimes into the night. We would check all footage immediately once we stopped for the day, then off-load and log so that we would have the cards free again."
Drones Take Off
Drones were an important component of Abe's gear. For this series, his crew members were drone-certified, while the first time, aerial videographer Toby de Jong, who specializes in building and operating his own UAVs, travelled with them to assist with drone shots. Toby served mainly as a consultant for aerial photography on Series 2, and the crew handled the drones out on location.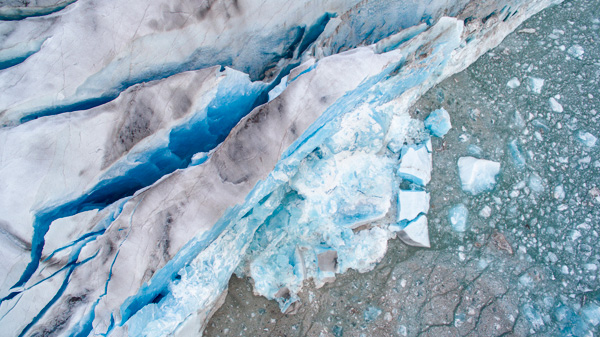 Shooting from above gives arctic snow and rock are new look.
Like Eric Cheng, Abe finds drones are developing and improving through their agility and controllability at lower altitudes, and the user's ability to fully control more of the camera's functions through the drone. The crew especially favoured the DJI Inspire drone, which is quite small and light compared to earlier ones, and quick to launch. It is useful to operate just outside or coordinated with a vehicle for driving footage, and may be launched from a boat.
Brushless gimbals like the DJI Ronan-M and Freefly MoVi are also changing. They are easier to use, smaller and lighter, often as accomplished as steadicam for 'floating' the camera and countering vibration, only more flexible and the operator doesn't need to be a strong, specifically skilled operator. On Abe's project, they were used to hang cameras outside vehicles to capture extremely smooth tracking shots without camera shake. Applications like this aren't practical with steadicam, but may not need a drone. www.canon.com.au