Panasonic Builds Up 4K Cameras for Live, Sports & Remote Broadcast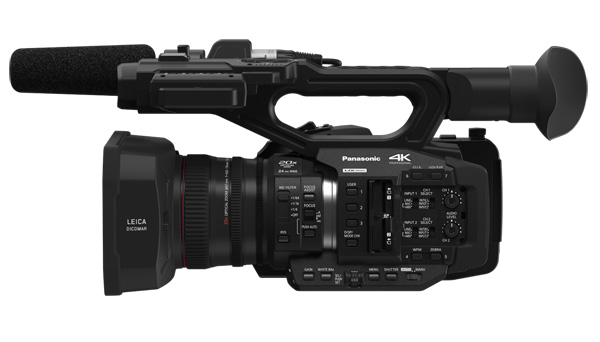 The AK-UB300 camera, Panasonic's first 4K box camera, has been previewed and updated since early 2015 and is now due for release in November 2016. With a one-inch MOS sensor that outputs a UHD signal and HD-SDI simultaneously, it suits sports, remote studios, live concerts and aerial applications.
Built with a B4 mount, it has a built-in internal conversion lens making the AK-UB300 compatible with 4K and HD B4 mount lenses. Users can capture the look and feel of a large format sensor camera while still using B4 lenses without an external adapter. The camera also uses existing 2/3-inch lenses.
Images are recorded with high sensitivity, low noise and dynamic range measured at 600 per cent or -6dB36dB. The UB300 is compatible with Panasonic's pan-tilt systems and, by using IP live remote monitoring, up to 10 cameras can be both viewed and controlled simultaneously from a web browser.
As mentioned, the UB300 is equipped with HD output and a simultaneous 4x3G-SDI output as standard, and can be swapped with other optional 4K outputs such as optical fibre. HD cropping functionality allows an HD image to be cropped from the 4K picture, and the crop area can be controlled by a Panasonic remote controller.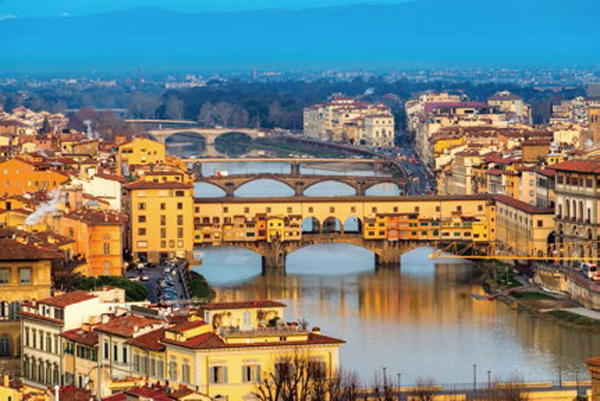 Streaming video output will be available from the UB300 in several forms and formats. For remote production and video acquisition, four simultaneous streams will be available in either H.264 or JPEG. Video resolutions of up to 1080/60p are available at rates of up to 24Mbps. A range of different transmission speeds can be applied
The UB300 incorporates a 2x digital extender zoom, four-position neutral density filter (Clear, ND4, ND16, ND64) and Focus Assist functionality.
AG-UX180 & AG-UX90 - Large Sensor and Optical Zoom
Panasonic's two 4K camcorders belong to the UX Series, the successor to Panasonic's AVCCAM Series of AVCHD camcorders. The AG-UX180 model at the top of the line-up is built with a 1-inch MOS sensor, optical 20x zoom, UHD 60p recording capability and a Leica Dicomar 4K compact lens with a wide 24mm angle, among the widest available in an integrated lens camcorder. The standard model AG-UX90 has the same sensor with an optical 15x zoom, UHD 30p recording and 24.5mm lens.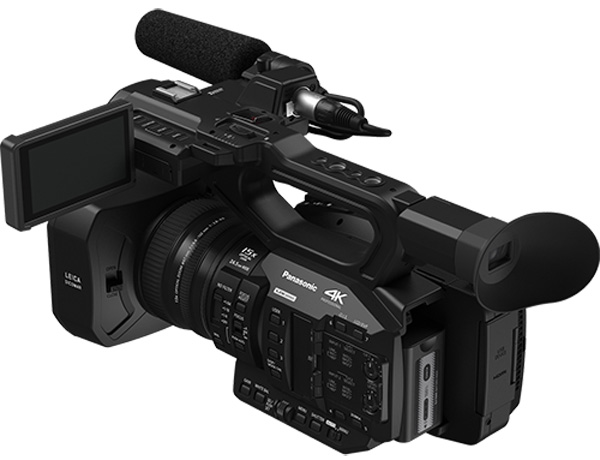 Product Marketing Manager, Broadcast and Professional Video Mathew Alexander said, "Similar to the idea behind the AK-UB300, the large format 4K 1-inch sensors in the AG-UX180/AG-UX90 camcorders combined with long telephoto lenses make these cameras a good choice for operators that want to start producing 4K content for newsgathering, sports, music videos, documentaries and wildlife productions. Between them, the large format sensor and long lenses balance the look and feel of a large format 4K camera. The lens helps compose your shot whether you are in a small room or out on a sporting field."

The AG-UX180 supports Cinema 4K (4096 x 2160) at 24p, 4K (3840 x 2160) at 50p/60p, 4K and HD dual recording through dual SD cards, Infrared and HD super slow-motion (120fps 60Hz/100fps 50Hz). The AVCHD file format, MOV and MP4 are supported.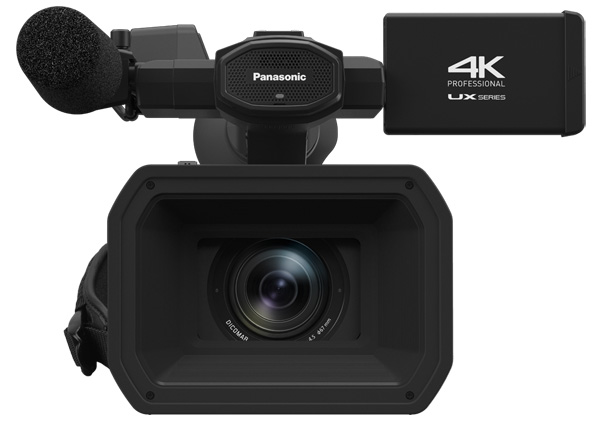 When recording in full HD, the camera's variable frame rate shooting, or VFR, enables frame rate settings in 10 steps from 2 to 60fps or 9 steps from 2 to 50fps. A super-slow motion effect can be achieved with high-speed HD recording at 120 fps or 100 fps. With these settings, the variety of recording modes with selectable image quality, frame rate and bit rate settings are useful in a lot of different applications such as education, corporate, sports and web video.
The AG-UX90 supports UHD 30p and HD 60p recording. Both models have two SD memory card slots that support relay, simultaneous or backup recording, and also support UHD/HD dual codec recording to help set up more efficient workflows.
An improved Optical Image Stabiliser corrects camera shake when shooting in UHD/FHD, and the 5-Axis Hybrid Image Stabiliser is available in HD shooting. The Micro Drive Focus Unit stabilises high-speed AF with enough tracking performance for accurate focusing, with customisable AF settings including speed, tracking sensitivity and area width.

The AG-UX180 suits live recording environments with 3G-SDI output, allowing cable connection up to 100 metres from mixers or monitors. Time Code Preset allows multiple cameras to be locked and synchronised to simplify post production.
Both of the UX camcorders' controls include 8-mode gamma, a scene file with six image quality settings, three manual rings for zoom, focus and iris control and 13 customisable buttons. They have a 3.5 inch monitor with an OLED electronic viewfinder and interfaces for HDMI output and XLR audio input.
The AG-UX180 also has 16-axis independent colour correction, a variable ND filter with 1/4, 1/16 or 1/64 settings. Its gain and white balance are adjustable in-camera, and the interfaces include 3G-SDI output and TC PRESET input/output.
The AG-UX180 will be available in December 2016 and the AG-UX90 will be released in November. business.panasonic.co.uk/