Tim Hawkins Scales the Himalayas with Sony Cameras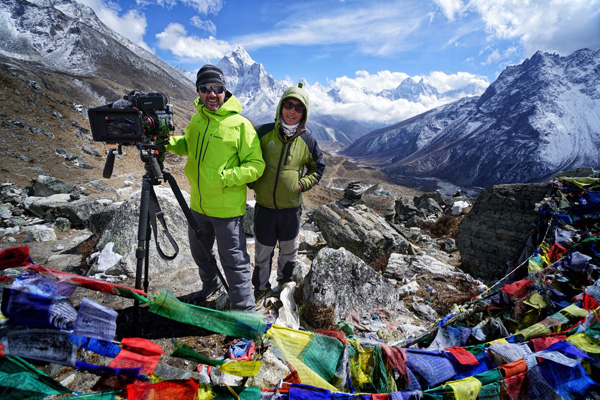 At the time DP Tim Hawkins was asked if he would shoot an episode of Todd Samson's extreme adventure documentary series, 'BodyHack', about Himalayan Sherpas, the producers told him it would be a challenging shoot - personally, professionally and logistically. Not only was it quite likely the crew would be swept into the story, but the production had also chosen one of the world's most difficult trekking peaks, Lobuche East, as the shoot location.
Lobuche East is situated at 6,200m altitude, just below the peak of Mount Everest. The trek up to it was expected to take 17 days and culminate in a push to the summit for which the crew would prepare to ascend 1,100 metres in a single day in extremely difficult climbing conditions.
Three Sony Cameras
Tim said, "After accepting the role and starting to consider the cameras, I wanted most of all to shoot the episode with my Sony PMW-F5 cinema camera and cine lenses. But I had concerns about how it might function at extreme altitude, something every cameraman has to consider when shooting in the Himalayas. I also had to take into account how the F5 would handle the dust and dirt below the snow line and its performance above that snow line in -20° C temperatures."
Tim has been a Sony user throughout his career and two years ago purchased his own F5, which he says has influenced his shooting style more than any other, and produces images that especially suit his work. The choice of camera led to other logistical decisions about travelling with the F5, how they would power it and how they would wrangle the video data.
Tim discussed cameras and lenses with the director Jeff Siberry. Strongly favouring a cinematic look for the episode, Tim decided large sensors were their best option. "Jeff Siberry is a fan of the Sony PXW-FS5, which he reckoned would be a good choice for run and gun sequences. He also owned a Sony A7S. I knew the A7S well and reckon it's an excellent second camera or gimbal camera, but the FS5 was new to me. Jeff was prepared to make the FS5 the main camera, but I wasn't convinced and wanted the F5 on the shoot. On paper the FS5 did look good – a large sensor, S-Log, built-in variable ND, high frame rates and small size - but I still had doubts because I knew what the F5 was capable of."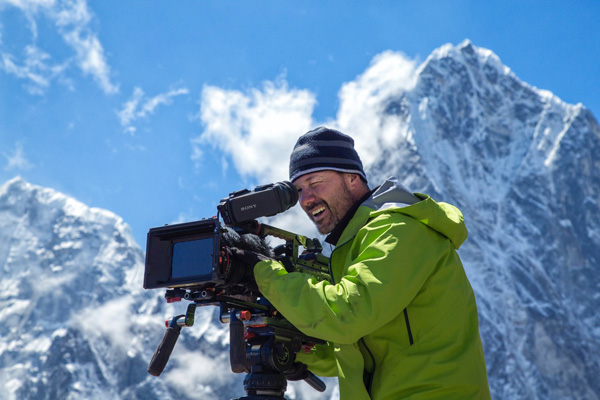 After further tests, Tim and Jeff decided to use all three cameras, planning to travel with the F5 as the main camera and use it as much as possible, while using the FS5 as a run and gun camera and potentially, the camera they would take up to the summit. Meanwhile Jeff could use the A7S to shoot additional elements.
Travelling Kit
"The preparation and logistics for this shoot were complex but I also needed to get myself as fit as possible. Apart from my three Sony cameras and multiple lenses, we travelled with a Movi M5 gimbal, two Miller Solo tripods, two LED light panels, two MacBook Pros, five GoPros, a little 1m slider and a drone. It felt like a lot of kit for an expedition but I felt we couldn't do without any of it without losing production value.
"Our first scene was flying into Lukla airport, known as one of the world's most dangerous airports. I picked up the FS5 to shoot a piece-to-camera of Todd in the cabin, giving him a chance to speak directly to viewers through the camera, and capture the landing. But I began to wonder whether Jeff's predictions about the FS5 were starting to come true. It was the start of a pattern that continued the whole month."
The FS5 was always in his hand or close by in his backpack, whereas a Sherpa needed to carry the F5 in a separate pack. He tried to use the F5 as much as possible, except where much of the shooting called for a run and gun style, when he would use the FS5. However, most of the content below 5,000m was shot on the F5.
Cine-EI Mode
"Shooting in Cine EI mode on Cine S-Log 3, using the LC-709TypeA LUT, we shot a lot of material at variable speeds, and I used the interval record mode to shoot all of the time lapses," he said. "Before leaving I'd made up my mind not to move the ISO EI rating off 2000 ISOEI, which is fairly high, as I didn't want to create confusion for the new clients in post production. In other words, they could simply apply the same LUT I was using on location, and see correctly exposed pictures from the outset."
Cine-EI mode is used as a means of recording as much information about the scene as possible as you shoot. The footage from the camera becomes a detailed digital negative that can be developed in post to refine the final look of the video. Cine-EI mode also imitates the way a film camera works by letting you rate the camera at ISOs that are different to those Sony specifies - for example, to adjust the noise levels in the footage or deal with unusual lighting.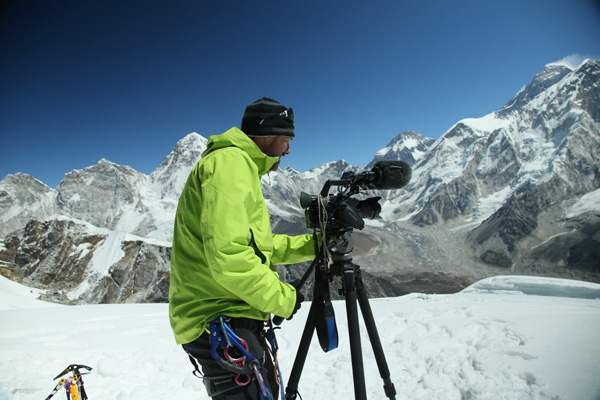 Tim also shot most of the footage wide open, which did cause issues with the rest of the team. "I was changing my matte box ND filters over and over to get correct exposure, and nearly drove the Sherpas and Jeff crazy. It was a tough challenge in terms of the noise, but I was committed to keeping the EI ISO at 2000 while shooting with the lens open. In the end, the results at those lower altitudes were magnificent."
Altitude
Although the crew's expedition doctor had warned them that a fairly slow pace was necessary to avoid altitude sickness the crew and support team were moving fast and Tim began to feel overworked. Nevertheless slowing down was impossible. He said, "I had hired myself out to do this job and had to rely on my fitness to get me through. But the data wrangling kept me up late each night when I needed to get sleep. Sleep and rest are a huge factor when attempting to fend off altitude sickness.
"The trip went well as we ascended. Our camera decisions were proving successful and the rushes were looking good. Sleeping with my camera batteries to keep them warm was uncomfortable but effective - we only had three batteries for the FS5 and they hadn't been tested at such low temperature.
"At Everest base camp, however, I fell ill. As predicted, the doctor said I had altitude sickness and we all needed to descend so that I could rest. Suddenly, not reaching the summit was looking like a possibility." Fortunately on his second day of rest, Tim's symptoms lessened and he pushed on past Everest base camp and onto Lobuche lower camp at 5,600m and -16° C.
Tim wondered if any Sony F5 had ever ventured to this extreme altitude. "Ultimately, this was the last stop for the F5. We did shoot some scenes with it up there and it held up - the batteries even held charge – but the FS5 would be the main camera from now although I worried about its usability in the rough conditions. I'd been using Canon L series lenses with it and wasn't sure I would be able to use the zoom or focus either at that height, in such low temperatures or in the dark, as I was already struggling with these issues at lower altitudes. I was concerned that when things got real on summit day, I wouldn't be able to operate the camera as needed."
Sony Zooms
Fortunately Jeff Siberry had brought several Sony zoom lenses and suggested Tim try them. Not surprisingly they integrated with the camera better than the Canon lenses. "I suddenly had a servo lens zoom and auto focus plus facial recognition. Though I hadn't used a servo on a lens in 15 years and had never used auto focus, for this situation they were an ideal match. Furthermore I was able to use the servo lens with my gloves on and use the facial recognition with the auto focus. I was a little worried about the batteries. In the end we decided I'd sleep and carry the spares on me to keep them warm."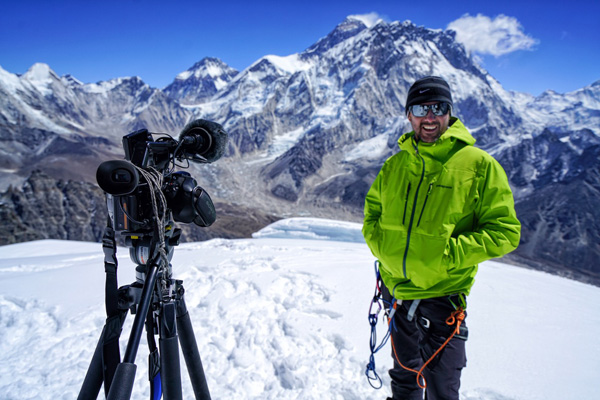 Kitting up the FS5 for a 2am attempt at Louche East summit, the expedition proceeded but summit day proved far more difficult than anticipated. He said, "For me, it was quite a challenging climb technically – especially after Crampon Point, the last point on Everest that can be reached by walking. From there, climbers need to use crampons and mountaineering gear. I was a broken man on a hill at extreme altitude and had no right to be shooting.
"Due to all the different kit, I was carrying 17kg in my backpack, and to be honest camera work was not at the forefront of my mind on summit day, survival was. As I couldn't operate well, it was a point and shoot situation, but the camera performed really well in full auto mode and didn't even burn through one battery all day.
"Nevertheless, I'm very pleased with the pictures from the FS5 – I could use the zoom and keep everything in focus. As an experienced DOP, it's hard for me to admit it but a servo zoom and facial recognition auto focus on a Sony FS5 really saved the situation." Todd Samson's Body Hack airs on Ten Play and Discovery Channel International. www.pro.sony.com.au