Blackmagic Video Assist v2.3 Adds 3D LUTs and DNxHD/DNxHR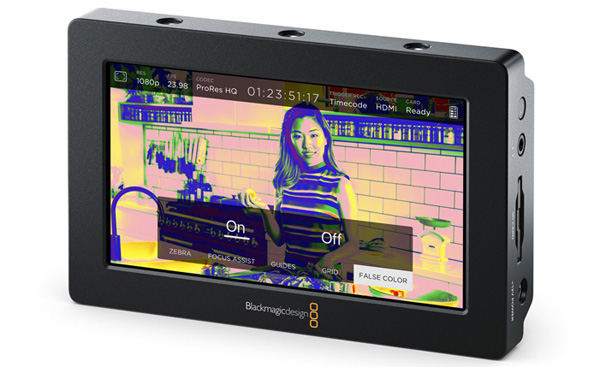 A major update for the Blackmagic Video Assist portable monitor/recorder to version 2.3 adds 3D LUTs to both the 5-inch and 7-inch 4K models. This update also adds functionality to the 5-inch device, improving DNxHD and DNxHR support, false colour monitoring, expanding focus options and adding new screen rotations.
Users can now load up to six 3D LUTs when monitoring video on set, transforming the camera images into a look closely approximating the final look the director wants. The crew can see the footage as the director intends it, but the effect is completely non destructive and does not affect the original camera footage. The user stores the six 3D LUTs in the monitor and can recall them at any time.
The updates to the 5-inch Video Assist add functions that were previously released only on the 7-inch 4K model. These include the ability to record to DNxHD and DNxHR files in MXF format, which improves compatibility with Avid systems running on Windows. Users can choose between DNxHD 220, 145 and 45 bit rates, or between DNxHR HQ, SQ and LB formats when recording.
The Video Assist 2.3 update also adds false colour monitoring exposure tools to the 5-inch model, making it easier to properly set exposure in different parts of the image by highlighting specific colour ranges of luminance with a solid colour overlay. For example, green indicates neutral grey, and pink tones refer to skin, which is typically one stop over neutral grey. Using false colour helps camera operators keep exposure consistent from shot to shot.
This update also expands the options for focus assist. Users can selct red, green, blue, black, white or traditional focus peaking indicators, again, making it easier to adjust focus accurately in a wider range of scenes and under dicerse lighting conditions. Screen orientation can now be manually controlled and the auto rotate feature switched. This may be preferable when using the 5-inch model with handheld gimbals and other equipment designed to move the camera and rig simultaneously.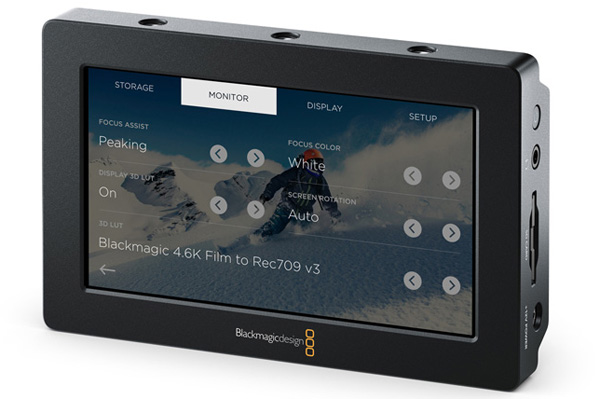 The Blackmagic Video Assist 4K makes professional-level recording and monitoring possible on SDI or HDMI cameras. It is built with two UHS-II recorders that work with SD cards for continuous HD and Ultra HD recording and saves files compatible with conventional NLE software. It also has multi rate 6G-SDI BNC connectors for input and output, HDMI in and out, two XLR microphone inputs for audio recording, a built-in speaker, DC power and dual slots for two LP-E6 batteries. Blackmagic Video Assist has the same specifications, but is built with a single SD card slot for recording HD resolution video. The touchscreen is used for histogram, audio meters, timecode display and other settings.
The Video Assist 2.3 Update has recently been demonstrated at InterBEE 2016 in November in Chiba City, Japan, and is available now as a free download from the Blackmagic Design website. www.blackmagicdesign.com