Panasonic Develops Portable UHD Recorder/POV Head System Camera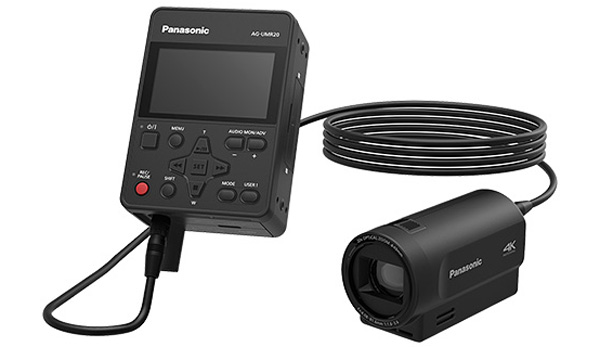 Panasonic is now developing a new portable HD/Ultra HD memory card recorder with an optional compact camera head. Built for professional users, both are scheduled to go on sale in early 2017.
Panasonic has been producing the AG-HMR10A HD Portable Recorder since 2009. The new AG-UMR20 recorder is under development as a successor model with various upgrades including links with IP networks. When combined with an optional compact camera head, the AG-UCK20, they form a UHD system camera that extends the original HD capability.
As a compact, lightweight standalone recorder, the AG-UMR20 supports HD acquisition - 1920x1080 resolution/59.94 progressive frame rate - from 3G-SDI inputs from cameras or video sources, with 23.98PsF compatibility. PsF captures odd and even fields of the image and later combine them to complete the frame as a whole picture before the recording media.
The AG-UMR20 is also capable of linking to Panasonic remote camera systems - a LAN terminal houses IP connections for external remote control and network streaming. It also has HDMI output and mic/line input, weighs approximately 650g and has double SD memory card slots for SDXC memory cards for relay recording.
Using the optional AG-UCK20 POV camera head is what makes it possible to use the new recorder for Ultra HD acquisition - 3840x2160 resolution at 29.97progressive frame rate. It can only be used with the AG-UMR20 recorder and connects via a 3m or 20m cable that supplies power and remote control/set-up commands from or via the recorder. The two are a matched pair although the recorder can be used independently.
The AG-UCK20 camera head has a wide-angle, high-powered 20x zoom, 16-axis independent colour correction, 5-axis hybrid image stabilizer, infrared shooting and ND filter settings. As well as the usual rec start/stop and zoom operation, using the camera remote terminal on the AG-UMR20 recorder makes focusing and iris adjustment possible by touch control.
These new models were exhibited at the Inter BEE 2016 international broadcast equipment exhibition held at Chiba City in November 2016. pro-av.panasonic.net