ARRI, Grass Valley and Panavision Capture Scientific Technical Awards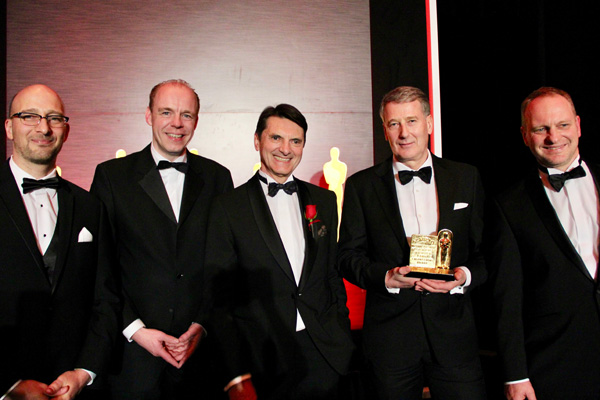 ARRI Alexa project team at the AMPAS Awards ceremony
Pioneering cameras including Grass Valley's Viper FilmStream, the Genesis from Panavision and Sony and the ARRI Alexa have all received Scientific and Technical Awards from the Academy of Motion Picture Arts and Sciences at a ceremony in Beverly Hills on 11 February 2017. The Academy's Scientific and Technical Awards are given annually for accomplishments that contribute to the progress of the motion picture industry.
The earliest was introduced by Grass Valley in 2002, the Viper FilmStream camera. It was the first production model digital cinematography camera that most closely emulated a traditional film workflow, producing high quality digital images for its time.
"The Viper FilmStream camera was the first camera to use raw digital images directly from the sensor without any processing," said Marco Lopez, president, Grass Valley. "Because of this, it was just like capturing from a film negative, without any destructive permanent processing that would limit quality and range of correction in post-production. The real benefit was that the director and cinematographer could - for the first time - preview a scene immediately following the take, and confirm that each scene was exactly as desired before moving on to the next take. This reduced stress on set and was a massive step forward in film production."
With the Viper FilmStream camera, film crews were able to complete longer shooting times than with film, immediately review full-resolution images to determine successful capture, make more than one master copy to prevent loss or damage, assign four different modes of digital capture on one camera, capture raw images while creating corrected output for monitoring, and move the post-production workflow onto the production set.
The Viper FilmStream camera caught the attention of many Hollywood directors and producers and was used on a number of successful movies, including 'The Curious Case of Benjamin Button', 'Zodiac', 'Home of the Brave', 'Domino', 'Oliver Twist' and others. Director Michael Mann used the system for 'Miami Vice' and 'Collateral', noting in 2004, "Film doesn't record what our eyes can see at night. That's why I moved into shooting digital video in high definition—to see into the night, to see everything the naked eye can see and more. You see a moody landscape with hills and trees and strange light patterns. I wanted that to be the world that Vincent and Max are moving through."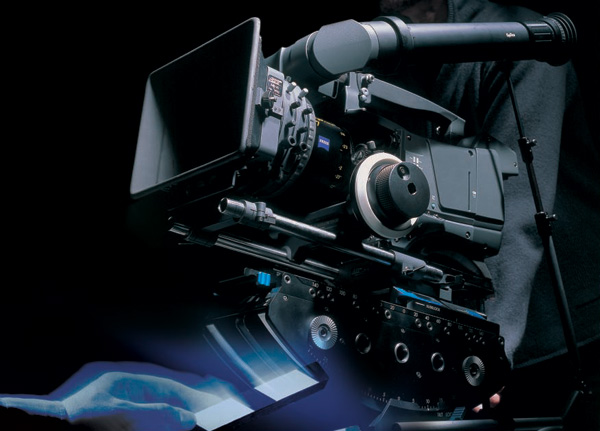 Grass Valley Viper FilmStream
As well as feature films, the Viper FilmStream camera also was used in commercials, television and corporate, government and medical projects over the years. The camera's development continues to influence the company's development of its HD, 4K/UHD, HDR and XtremeSpeed cameras.
Panavision and Sony Genesis
Panavision and Sony were recognized for the conception and development of the Genesis digital motion picture camera in 2005. The Academy remarked, "Using a familiar form factor and accessories, the design features of the Genesis allowed it to become one of the first digital cameras to be adopted by cinematographers."
Genesis is a complete cinema system with high quality recording formats, an on-set colour display and an on-set, real-time DPX creation tool. Built as a Panavision camera, it can use all existing Panavision 35mm spherical film lenses, including the Primo lenses, and all the same accessories as the 35mm film cameras.
The camera has a 12.4 megapixel Super 35mm sized sensor, nominal exposure index of 400, a speed range of 1-50 fps, a shutter angle range of 3.8- to 360-degrees, and depth of field equivalent to a 35mm film camera. The 360-degree shutter gives one additional stop of exposure, with increased motion blur. With careful use of shutter and gain, the nominal EI 400 sensitivity can extend to EI 1600 and above for low light sets.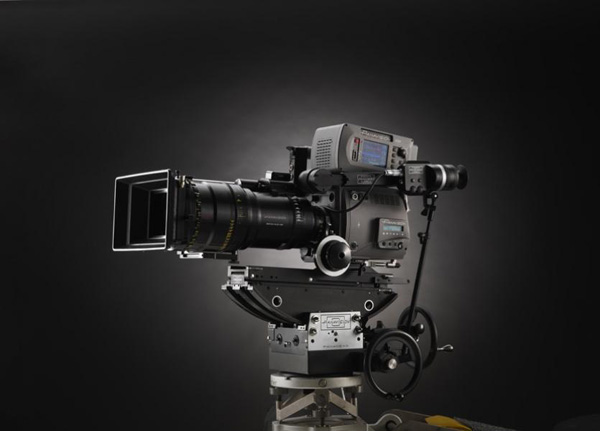 Panavision and Sony Genesis
The Genesis has a true RGB sensor and uses the same number of pixels for each of the primary colours, unlike some digital cameras that use half as many red or blue pixels as green. Designed specifically with digital intermediates in mind, the Genesis will record to either the Panavision Solid State Recorder SSR-1 or to the Sony SRW-1 videotape recorder. It also has image processing built into the camera, the Genesis Display Processor, which allows you to view images on set and make shooting decisions while the camera is running.
ARRI Alexa Super 35 Format Digital Camera System
The most recent of the three camera systems to be recognised is ARRI's Super 35 format ALEXA digital camera system. ALEXA was introduced to the market in 2010, becoming a widely used digital camera system for professional film and television production worldwide. With an upgradeable system architecture, ALEXA has evolved through software updates and hardware upgrades to keep pace with rapidly changing requirements. For the last five years, every film to win the Academy Award for Best Cinematography has been captured with ALEXA.

"With an intuitive design and appealing image reproduction, achieved through close collaboration with filmmakers, ARRI's ALEXA cameras were among the first digital cameras widely adopted by cinematographers," said the AMPAS.

Franz Kraus, the ARRI AG Executive Board member responsible for the Alexa's system, with Walter Trauninger, were among the members of the project team who travelled to Los Angeles to participate in the celebration and to collect the award. Stephan Schenk, Managing Director of ARRI Cine Technik said, "We are thankful for all the feedback that we received from cinematographers and other members of the film industry globally. This helped us tremendously with constantly improving the ALEXA range over the last seven years. We are very pleased that, besides the technological aspects, the close cooperation and the resulting high market penetration have been honoured by the Academy."

Ray Feeney, chair of the Scientific and Technical Awards Committee, said, "This year we are particularly pleased to be able to honour not only a wide range of new technologies, but also the pioneering digital cinema cameras that helped facilitate the widespread conversion to electronic image capture for motion picture production. With their outstanding, innovative work, these technologists, engineers and inventors have significantly expanded filmmakers' creative choices for moving image storytelling." www.oscars.org