FUJIFILM's 4K Broadcast Series Expands with Compact & Studio Zooms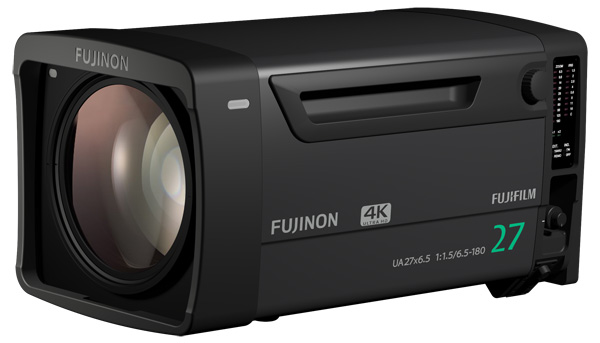 FUJIFILM's UA Series of 4K broadcast lenses now includes three new compact models. Two lightweight, portable zoom lenses, FUJINON UA18x5.5 and UA14x4.5 will be released in late April 2017 and the FUJINON UA27x6.5, a 27x studio zoom lens, is due in late June.
The UA18x5.5 covers focal lengths 5.5mm-100mm, which suits many types of scenes. The UA14x4.5 is an ultra wide angle lens covering the focal lengths of 4.5mm-63mm, with the effect of placing the camera at the centre of the action. The UA27x6.5 zoom covers the focal lengths of 6.5mm-180mm for versatility within a studio.
These products expand Fujifilm's 4K broadcast lens lineup to seven models, intending to meet demand for 4K-compatible broadcast equipment in Japan, Europe, North America and elsewhere for live broadcast of sporting events such as soccer and golf, as well as drama and documentary production either in studios or on location.
Fujifilm released one of the first 4K-compatible broadcast lens in 2015, and now sells four broadcast lens models in all of their markets worldwide.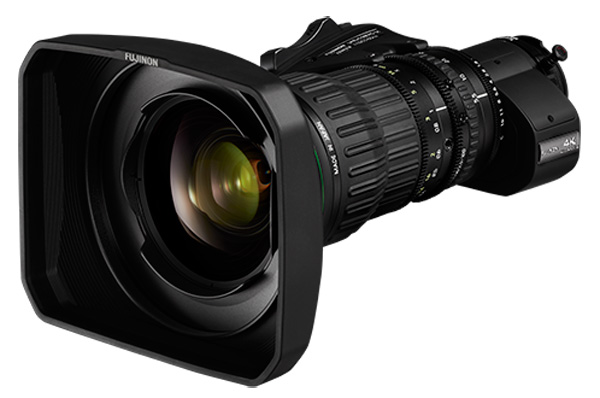 The new broadcast zoom lenses maintain 4K image quality across their zoom ranges by preventing resolution degradation around the edges and controlling varied types of aberrations. They are manufactures with High Transmittance Electron Beam Coating (HT-EBC) that Fujifilm developed to preserve colours and improve blue response and transmittance. HT-EBC, combined with Fujifilm's Aspheric system, reduces ghost and flare and increases light transmission. An aperture shape close to that of a circle is achieved by adopting nine aperture blades, which creates a more natural bokeh.
New Lens Applications
The lightweight, compact build of the UA18x5.5 and UA14x4.5 make them a good match for the recent portable compact 4K camcorders designed as shoulder mount cameras. The UA18x5.5, at 2kg and covering focal lengths from 5.5mm on the wide angle end to 100mm on the telephoto end, suits situations that require extra mobility such as news reporting and on-location production. The UA14x4.5 with the very wide angle focal length of 4.5mm and compact 238.5mm body, allows extreme close ups during live sport coverage or on-location production, adding a genuine sense of depth.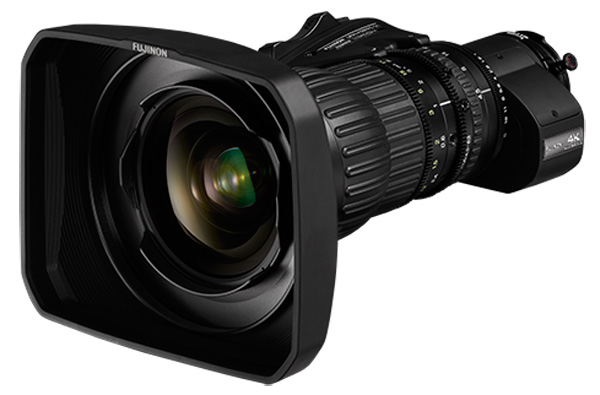 The UA27x6.5 27x 4K-compatible zoom lens is made for in-studio applications including news and variety shows. With the wide-angle focal length of 6.5mm, it can give a full view of a concert venue for live coverage. It has a built-in extender as well that doubles its focal lengths up to 360mm, while maintaining the specified image quality. The combination of 27x zoom ratio, 4K capabilities and wide-angle coverage is also useful at live events such as music concerts and sports events.
The lens is designed with 16-bit encoders, capable of high-resolution output of lens data, including zoom and focal position information. It can be linked with other systems such as virtual studios for combining CG images with live action footage.
These three lenses can be seen along with the complete FUJINON Premier 4K PLUS and 4K product families at NAB 2017. As well as the UA lines of 4K lenses, FUJIFILM will also exhibit its complete line of Premier, Cabrio, and new MK cine lenses. www.fujifilmusa.com