ALEXA SXT W Takes on Wireless Capture and Control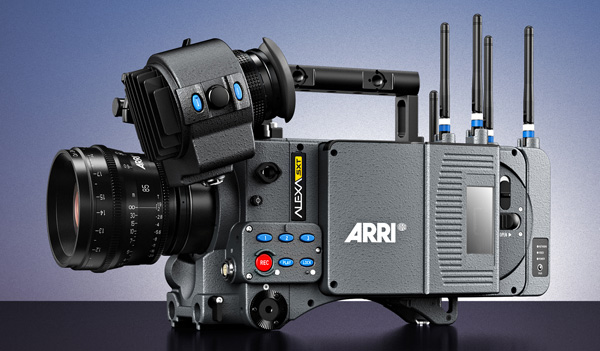 The ARRI ALEXA SXT platform has now been upgraded to function as a wireless motion picture camera system. The new ALEXA SXT W model, based on the ALEXA SXT Plus, has an integrated low-latency HD video transmitter and WiFi radio, and will replace the ALEXA SXT Plus and ALEXA SXT Studio models. The system is designed for use on professional movie and broadcast sets.
Aiming to increase on-set efficiency, the ALEXA SXT W's built-in video transmitter makes the camera smaller and lighter than it would be with an external transmitter. Without associated cabling problems, camera setup will generally be quicker. The integrated WiFi radio opens further options, such as wireless colour and look management on set and wireless camera remote control, with the ALEXA Web Remote functionality used in the Alexa Mini. Other WiFi options are currently in development.
The new hardware comes with software upgrade SXT SUP 2.0, which improves the HDR monitoring, supports the current SxS PRO+ and CFast 2.0 cards, and achieves quicker frame grabs. Upgrade options from the ALEXA SXT EV and ALEXA SXT Plus cameras are available for existing owners.
The camera's wireless video capture uses system design from Amimon, a wireless HD video device specialist, with hardware and software modifications to comply with ARRI's performance and functionality requirements. It is also tuned for compatibility with ALEXA SXT's other radio-based functions - the WiFi and integrated ARRI ECS wireless camera/lens control system – to avoid interference between these radios on the camera.
The ALEXA SXT W camera forms part of a new ARRI Wireless Video System of products. This includes a stand-alone video transmitter that can be used with other cameras like the ALEXA Mini, and a stand-alone video receiver for receiving signals from either transmitter. Other accessories are mounting brackets, antenna extensions, the handheld Director's Monitor Support (DMS-1), and an adapted Transvideo monitor with a built-in receiver for the ARRI transmitters. All components are spray and dust proof, constructed from rugged materials and operate within a wide temperature range.
The video transmission from the ALEXA SXT W and stand-alone transmitters establish a radio link and reconnect with a long-range, uncompressed, encrypted signal. Audio, timecode and REC flag are included in the signal, and up to four receivers can be used per transmitter.
For the director, cinematographer, assistant or anyone else on set, a monitor feed from the ARRI Wireless Video System allows creative control without changing the camera configuration or involving the crew. www.arri.com