Sony Strengthens IP Live and 4K Production Systems at NAB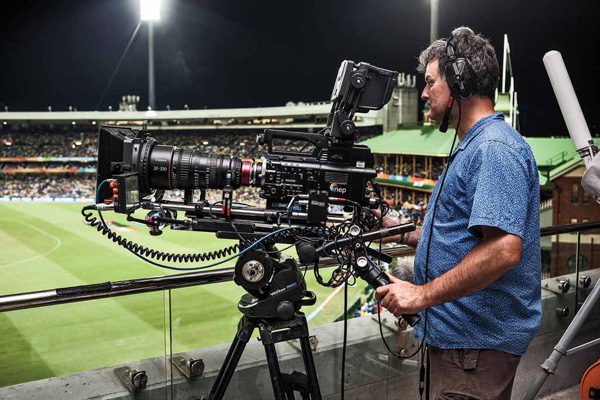 The Sony IP Live Production System has gained new functionality. Sony is appearing at the IP Showcase booth at NAB, hosted jointly by AES, AIMS, AMWA, EBU, IABM, MNA, SMPTE and VSF, to explain details of successful interoperability tests the company has undertaken with vendors such as Grass Valley, SAM and Evertz. Sony is also pledging its intention to develop capabilities for complying with new standards such as SMPTE ST2110, which governs media transport over IP, and NMOS (IS-04), which ensures device discovery and registration.
Sony is committed to SMPTE ST2110 compliance in the near future. Attendees will also be able to view a SMPTE ST2110 based system camera prototype at the IP showcase booth during the show. A majority of members of the Alliance for IP Media Solutions (AIMS) are targeting the end of the year to begin offering products that are compliant with SMPTE ST 2110, which is in final draft form.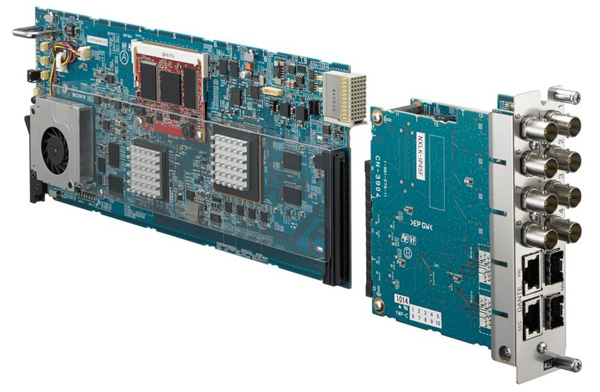 New IP Functionality
Sony added other new capabilities to its IP Live Production System. The IP Live System Manager is now capable of integrating with an Ember+ control protocol-based monitoring system such as LAWO's Virtual Studio Manager that allows more flexibility when configuring the IP system.
The new version 2.3 of Sony's XVS-8000 multi-format production switcher now has resource sharing capabilities included as standard. This means that one processor can run dual switcher functions virtually to set up, for example, 4K and HD production simultaneously.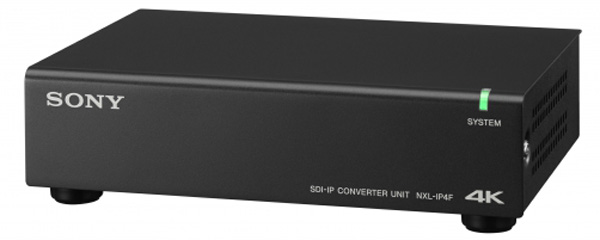 A new multiplexer/demultiplexer board, the NXLK-IP45F, will be available later this month, adding the ability to multiplex – combine multiple signals over a shared medium - and de-multiplex video and audio signals over IP, so that both systems can be managed across the IP network.

The new NXL-IP4F SDI-IP Converter Unit, also available later this month, makes it possible to integrate any 4K or HD standalone source or destination with an IP-based production system
4K Live
Sony is releasing a new Content Management Station and upgraded firmware for its PWS-4500 live production server system to expand its 4K live production system.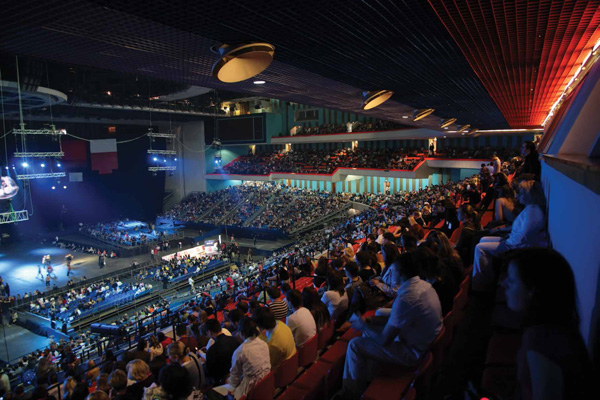 The PWS-110CM1 Content Management Station makes a metadata-enabled workflow available so that users can search for content that can be transferred directly for delivery.
Metadata-based workflows are especially in demand for large-scale live productions such as sports events using multiple cameras and servers operated from OB trucks. Combining the PWS-110CM1 with the PWS-4500 system with the new software version 2.3 allows a server operator to enter metadata, indicate the server's content on a network, categorise and indicate the metadata of the clips, search the clips by metadata, keyword or star ratings and transfer clips between servers, as well as between external devices.
The new software for the PWS-4500 system will also improve HDR capabilities by optimising XAVC encoding for HD S-Log3, HD HLG and 4K/HD PQ. Version 2.2 already supports 4K S-Log3 and 4K HLG.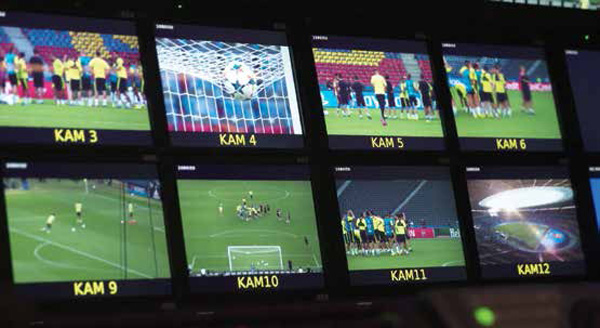 Sony's most recent 4K/HD camera systems, the HDC-4300, HDC-4800 and HDC-P43, support 4K live production alongside the series of BPU, baseband processor unit and PWS-4500 server system to create a connected tool that live productions are using worldwide. As well as image quality, workflow efficiency is achieved through Share Play operation controlling editing and output of slow-motion highlights using file sharing over a dedicated 10G network, linking the HDC-4800 and BPU-4800 with the PWS-4500 server system.
The PWS-110CM1 Content Management Station will be available from July 2017, and PWS-4500 Version 2.3 software will be available from June 2017.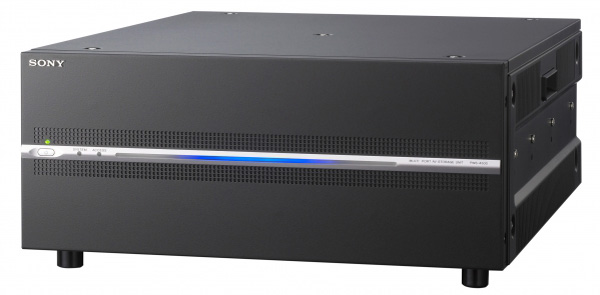 IP Customers
Sony has been delivering 4K over IP for various customers including BBC Studioworks in the UK at the refurbished Television Centre studios in London. In Brazil, TV Globo used a Sony 4K IP OB truck for the live broadcast of Carnival in Rio. 4K HDR and HD SDR simultaneous production was successfully operated using Sony's new live workflow for HDR. Sky Perfect JSAT Corporation of Japan has deployed a 4K IP routing system to transmit and monitor 4K videos for broadcast in IP.
A number of projects have been undertaken in China. At China Central Television (CCTV China), Sony will deliver all core components of IP Live system to CCTV's first 4K IP OB truck in June 2017 to carry out research and gain experience in UHD TV production. Sony was also selected at Zhejiang Radio & TV Group to build a 4K IP OB truck for live broadcast in 4K and HDR. The signing ceremony will be held in March 2018.
China Digital Culture Group purchased a 4K IP OB Truck from Sony to be ready in August 2017 for use in live event broadcasting. China's major 4K content services platform 4K Garden has also purchased a 4K IP OB truck from Sony to deliver live content. The truck will be complete by August 2017.
At their stand during the NAB show Sony will demonstrate an operational IP-enabled remote production setup with a Broadcast Data Centre. The demonstration system connects a remote live production team at Sony Pictures' studio in Los Angeles with the team in Las Vegas, showing that IP Live can connect control rooms within broadcast facilities to live event venues at a distance without compromising on latency, switching or reliability. pro.sony.com.au