Canon EOS C200 Records Cinema RAW Light and Internal 4K/UHD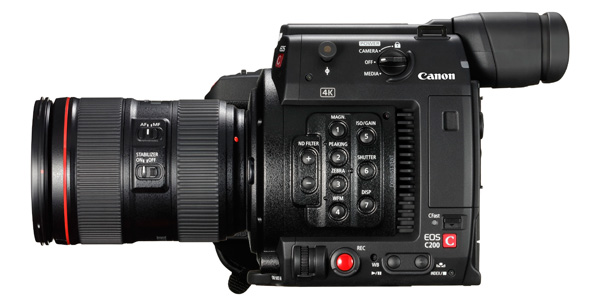 Canon will launch the EOS C200, a new 4K compact camera in the Cinema EOS range, in July 2017. It is the first Cinema EOS camera to support Cinema RAW Light. This new RAW recording format gives the same flexibility in colour grading as Cinema RAW, but in a smaller file size, making it possible to record internally to a CFast 2.0 card.
The EOS C200 has new Canon Dual DIGIC DV6 processors developed to allow the camera to record internally 4K UHD/50P MP4, 4K DCI RAW and continuous 120fps in full HD without crop. It can also record 4K UHD at 150Mbps, and 2K or Full HD at 35Mbps to SD cards in MP4 format. Its Dual Pixel CMOS Auto Focus and a new touch screen LCD monitor support smooth AF operation and accurate tracking.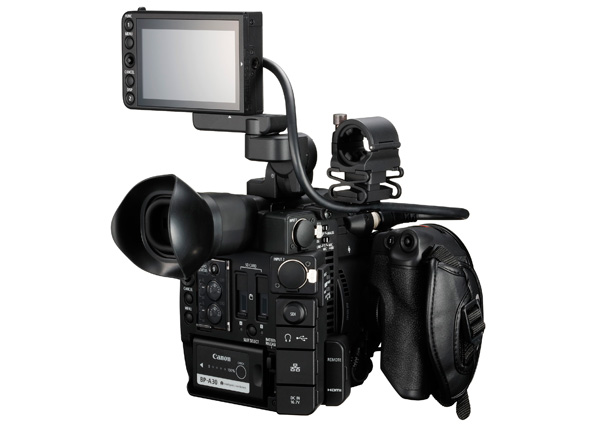 The EOS C200 has Canon's 4K Super 35mm CMOS sensor with an effective pixel count of 8.85MP, and supports up to 15 stops of dynamic range in Cinema RAW Light and up to 13 stops of dynamic range in MP4 with Canon Log / Log 3.
An ISO range of 100 to 102,400 maintains the camera's performance even in unpredictable lighting conditions, such as when quickly switching between locations. The built-in optical ND filters of up to 10 stops add flexibility so that filmmakers can shoot in bright light and expand the depth of field control.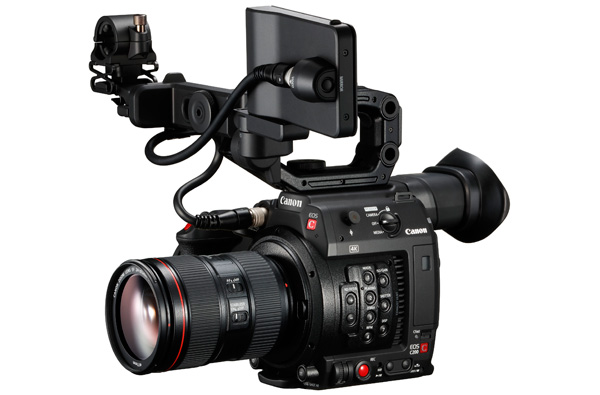 The new AF system and touch screen LCD panel increase reliability and accuracy when shooting 4K, and are useful when users need to switch between several subjects in a single shot. The Manual Focus Assist function, Face Detection with Face Priority and Face-Only options are also available to increase creative focus control.
The EOS C200 has a compact body weighing 1.4kg and is designed for prolonged hand-held shooting. Its size also makes the camera suitable for use on drones and gimbals.
Built-in Wi-Fi and Ethernet connectivity supports browser remote control and the ability to transfer files via FTP. The camera also has compatibility options so that new and existing accessories can be used, including Canon's electronic viewfinder, the EVF-V70.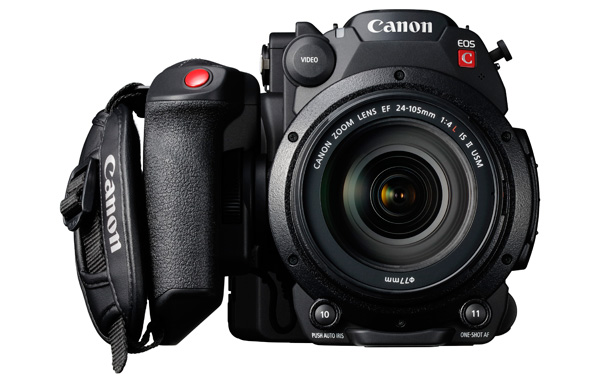 Cinema RAW Light Workflows
Canon has worked with several partners to integrate Cinema RAW Light with various software applications. As a result, editing and grading of the new video format will be supported in Blackmagic Design DaVinci Resolve and editing will be possible in Avid Media Composer using the Canon RAW Plugin for Avid Media Access (AMA). This format can also be processed using a Canon application, Cinema RAW Development.
Support for Cinema RAW Light is also scheduled during 2017 for Grass Valley's NLE EDIUS Pro, and for a future version of Final Cut Pro X using Canon RAW Plugin for Final Cut Pro X.
The EOS C200 will be available from late July 2017 at prices to be set at dealer discretion. Canon's XF-AVC video format will be available with a future firmware upgrade. This upgrade is free of charge and is planned to be available from first half of 2018. www.canon.com.au