Panasonic's New EVA1 5.7K Specs Boost Pixel Count & Dynamic Range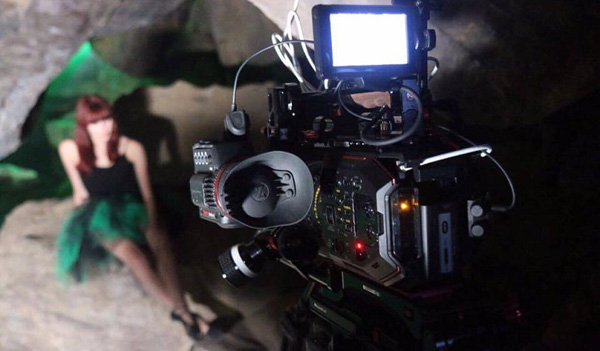 Panasonic's final specifications for the upcoming AU-EVA1 5.7K handheld cinema camera include a pixel count of 17.25 million, dual native ISO ratings of 800 and 2,500, and 14 stops of dynamic range.
The EVA1 sensor has a Super-35 sized sensor, measuring 24.60mm x 12.97mm with 5.7K resolution supplying more than 17.25 million photosites, nearly double the 8.8 million photosites of 4K digital cinema resolution video. By starting at a higher native resolution, the 5.7K sensor yields a higher resolving image when down-sampled to 4K, UHD, 2K or 720p. The increased colour information from the 14 stops of dynamic range, capturing a high level of exposure detail, can result in more accurate, life-like images.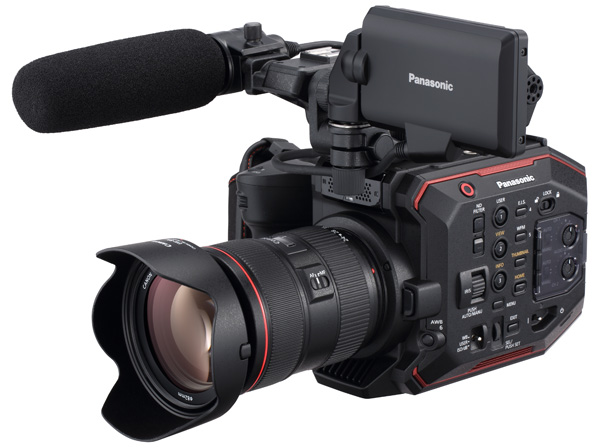 Dual native ISO is an image processing characteristic from Panasonic's VariCam cameras that employs two separate sets of analogue circuits, one for 800 ISO and one for 2,500. A circuit from each set is associated with each pixel, while the user switches between the two sets by selecting one of two modes, each capable of a clean, native ISO setting. Each setting has the same signal to noise ratio – that is, the noise present at 2,500 ISO is nearly identical to noise at 800 because the information comes directly from the sensor in both cases, not by first trying to raise the gain and erase the noise.
Consequently, a cinematographer can switch from a standard sensitivity to a high sensitivity while using less artificial light on set, saving time and funds, with almost no increase in artefacts. He or she can also shoot in almost any lighting environment, allowing more artistic choice and flexibility.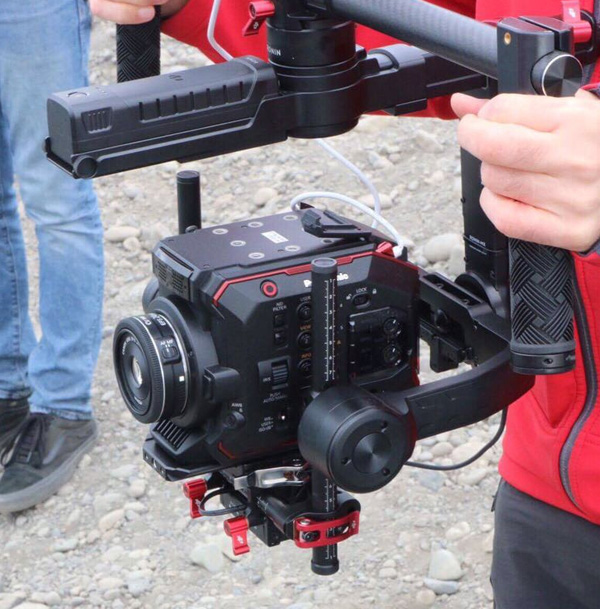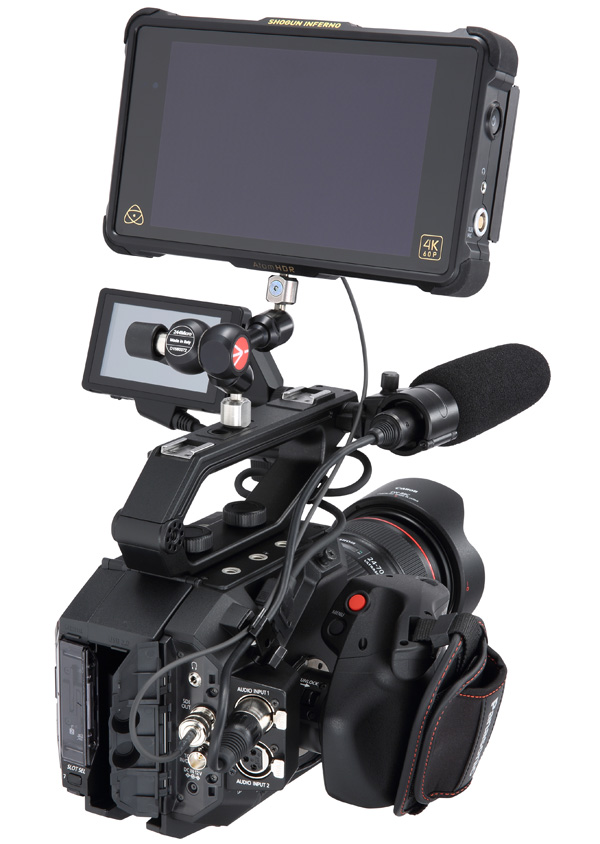 The EVA1's 14-stops of dynamic range produces a finer gradation in exposure from bright to dark. Contributing to more accurate colours and skin tones. The EVA1 captures the full V-Log/V-Gamut range of colours to effectively record high dynamic range and broad colours. V-Log has log curve characteristics suitable for HDR production, and V-Gamut records a colour space that will cover BT.2020.
Weighing 1.2kg as a body-only unit in a compact design measuring 17cm x 13.5cm x 13.3cm and a removable handgrip, the EVA1 can be used handheld. Because of its compact form factor, it can also be mounted on a drone, gimbal rig or jib arm for smoother complex camera moves. The camera will be built with several different mounting points and Panasonic is currently working with accessory makers to allow users to customise the EVA1.
The controls on the adjustable handgrip include Menu, REC start/stop, Iris and two user buttons. The 3.5in LCD touch screen holds the menu selections, zoom positioning and playback controls, and has an adjustable backlight control including a Power LCD mode for bright locations.
The camera uses a native EF lens mount, supporting many different EF cinema prime and zoom lenses from numerous manufacturers. Electronic Image Stabilisation counterbalances camera shake and blurring for handheld shooting. There will also be full iris control, one-push auto focus and lens data.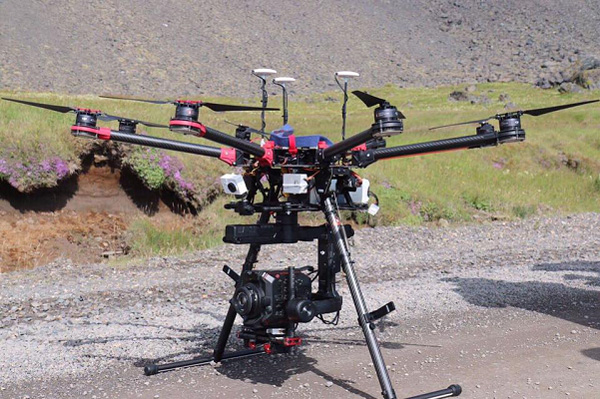 Behind the lens mount, an integrated ND filter wheel in 2, 4, and 6 stops precisely controls exposure, and you can also swing the IR Cut out of the path to the sensor by pushing a button. By controlling infrared in this way, custom photographic effects and night vision imagery are possible. The ND filter and IR Cut filter operate electronically so that wireless remote control can be set up from smartphones and tablets. To control the EVA1 when positioned on a camera crane or in a remote location, a remote control app will be available for use on iOS and Android tablets.
Supporting independent filmmakers, the EVA1 records to widely available, low cost SD cards. With two SD card slots, you can capture footage either with simultaneous dual recording or continuous relay recording. A one shot recording setting captures single frame video for stop motion capture.
The camera can record in several formats and compression rates, and supports up to 10-bit 4:2:2 even in 4K. For in-camera recording, you can capture in cinema 4K (4096 x 2160), UHD (3840 x 2160), 2K (2048 x 1080), full HD (1920 x 1080), and HD (1280 x 720). In a future firmware upgrade, EVA1 will use all Intra compression for in-camera recording, and 5.7K RAW output to third party recorders. A simpler approach than long GOP, Intra is editable frame-by-frame, without decoding. Because Intra doesn't go through GOP processing, decoding, recalculation and frame assembly, image quality is more consistent.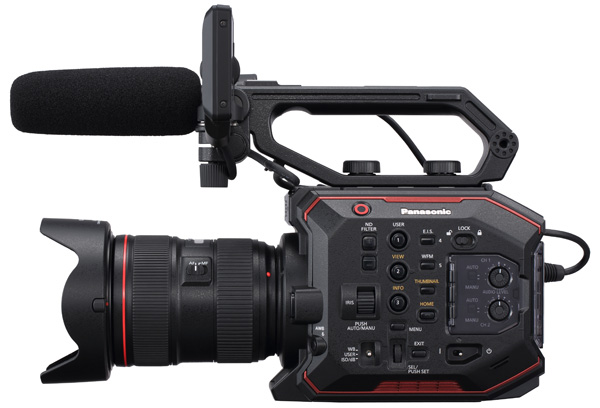 For high frame rate video, the EVA1 records up to 59.94fps/50fps for 4K/UHD, up to 120fps/100fps for 2K/Full HD, or 240fps/200fps for a cropped area. On first release, available bit rates will range from as low as 8Mbps up to 150Mbps, depending on frame rate, resolution and codec. In a future firmware update, 400Mbps recording will be added.
EVA1 is built with imaging tools to support professional video productions, including peaking, image zoom, waveform, zebras and Y-Get spotmeter. EVA1 also displays focus squares, an array of green squares that grow in size when their local area appears to be sharp, to help shooters to achieve critical focus.
EVA1 has dual balanced XLR audio inputs with Dolby Audio encoding. The HDMI and SDI video outputs are both 4K-capable and each can be adjusted separately, allowing HD to be fed to a viewfinder or other third party monitor while 4K is sent to an outboard recorder or monitor. The camera is also equipped with standard TimeCode functionality. Availability of the AU-EVA1 5.7K cinema camera is expected before the end of 2017. pro-av.panasonic.net