Panasonic 360 4K Camera Supports Live VR Stitching and AR Overlay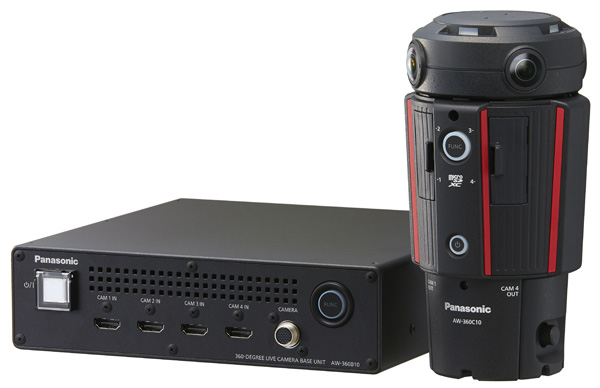 Panasonic will release a 360-degree Live Camera System that produces 360-degree video in uncompressed 4K/30p (3840×1920), aiming to give the viewer a sense of immersion in live streams of sports, concerts and other stadium events as they happen.
Designed for professional use, the AW-360C10 Camera Head contains four cameras, with the video streams of all four stitched together to produce effective 360-degree video. "The ability to live stitch and auto correct creates a potential for live events and Virtual Reality environments to be captured and disseminated for viewing in new ways. Mathew Alexander, Panasonic Broadcast Product Marketing Manager said.
"For example, Virtual Reality (VR) and Augmented Reality (AR) creators could take the live feed from one or more cameras and overlay virtual elements to create VR/AR environments suitable for theme parks, marketing and training facilities. Blending live and animated content can result in interactive experiences in which participants are immersed in a movie trailer, for example, and organisations could build a highly realistic training environment to train and test new recruits without subjecting them to danger.
The camera's output would make it possible to view live events at home on a 4K projector or remotely on a smartphone, VR headset or tablet. Example applications might include participating in a music festival, virtually standing on the sidelines of a sporting event and being able to select a chosen view, looking up, down and around as if you were physically present.
Capable of uncompressed 4K/30p output, the AW-360C10 uses the industry-standard ratio 2:1 equi-rectangular format (2:1 format ratio). Panasonic says that due to the camera's use of high resolution images and active stitching in real-time to generate video, much of the distortion sometimes seen when 360- degree cameras stitch images can be avoided. Exposure and white balance are also automatically controlled. The 4K 360-degree camera will be part of the Panasonic lineup of 4K broadcast cameras, including the AK-UC3000 studio camera, and the Varicam 35.
The camera system is compact and simple to set up and pack down at a live venue. It can be controlled via iPad in a Wi-Fi environment, and monitored and adjusted remotely via a network with a PC or tablet. The 360-degree camera is expected to be available in late September. www.panasonic.com.au