Rotolight NEO 2 Light Combines HSS Flash and Continuous LED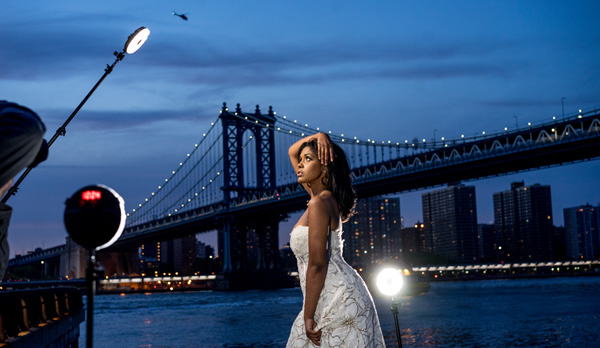 The Rotolight NEO 2 has been upgraded as a combined High Speed Sync (HSS) Flash and continuous on-camera LED light for photography and video. In contrast to a conventional on-camera flash, NEO 2 has no recycle time, which better suits shooting at higher frame rates.
NEO 2 can serve simultaneously as a continuous modelling light - which shows clearly where the highlight and shadows will fall - and HSS flash transmitter light, allowing the photographer to set up the focus in dimly lit situations and finalise composition ahead of the flash burst. Designed for portrait photographers and videographers or filmmakers on location, NEO 2 has the 'shoot what you see' characteristics of a continuous light, and the agility of HSS flash (1/8000th sec) with 500% flash output to use whenever the photographer needs more power or to freeze action. HSS also enables users to shoot with wider apertures to result in a creative separation between subject and backgrounds.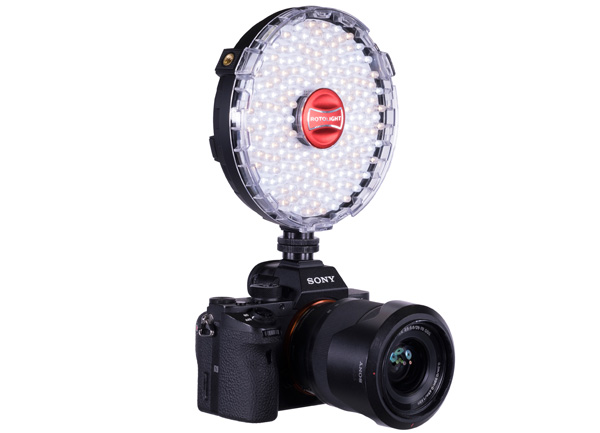 So that users do not need to use a standalone flash receiver, Rotolight has integrated the Elinchrom Skyport 2.4Ghz HSS wireless flash receiver into NEO 2, increasing the range, flexibility and control of various off-camera lighting setups. Users can wirelessly control up to 10 lights, in four groups at up to 200m(656ft) with the Rotolight HSS transmitter, optimised for Rotolight by Elinchrom to work with their integrated Skyport receiver.
The system is available at launch for Canon, Nikon, Sony, Olympus and Panasonic cameras, receiving updates later on for Fuji camera systems, and is compatible with all of Elinchrom's other Skyport devices. Photographer Jason Lanier tested NEO 2 on a Sony A6500 at 11 fps, finding that it fired on time for every frame with no recycle time, and experienced no light or power loss.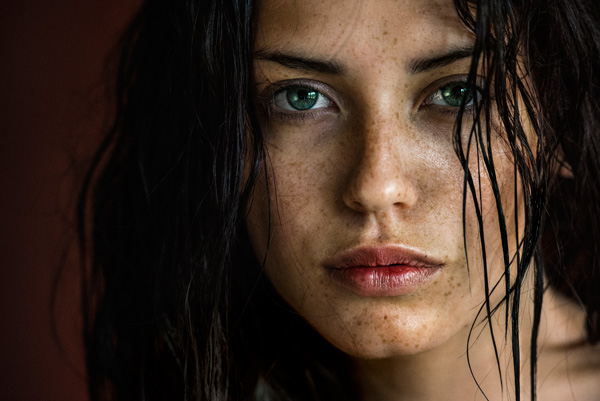 The NEO 2 has an electronically adjustable colour temperature setting in both flash and continuous modes, with a built-in Kelvin display, for adjusting white balance or matching ambient light settings to produce a more natural look. It has the Rotolight CineSFX effects as well, to generate fire, lightning, TV, gunshot, paparazzi and other effects in video, and also a Designer Fade mode that captures custom fade effects in-camera.
The light is lightweight and portable for mounting either on or off the camera and has a long battery life, supplying up to 85,000 full-power flashes on a set of rechargeable AA batteries, according to Rotolight. It also maintains a very bright light in continuous mode, and uses AccuColour LED colour rendering to preserve natural skin tones. The signature circular shape of Rotolight gives a naturally soft light output, with a catchlight effect creating an attractive specular highlight in a subject's eye in the image.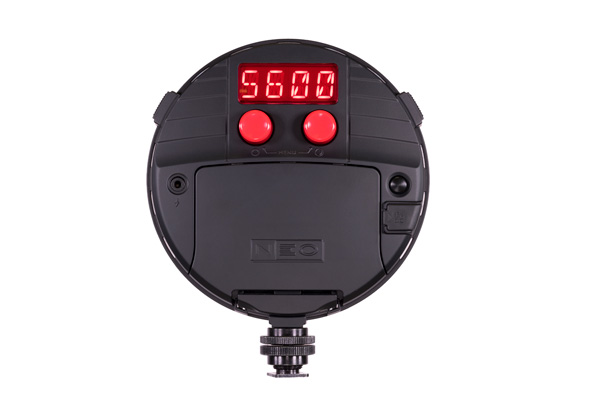 Rotolight NEO 2 is sold as a single light with a belt pouch, accessory shoe, power supply and four-piece filter pack including diffusion, skin tone and magenta, or as a three-light kit with hard flight case, stands and ball heads. A 10-piece colour filter pack is available as an option. www.rotolight.com