DJI Zenmuse X7 Super 35 Camera Shoots Hi-Res Aerial Cinematography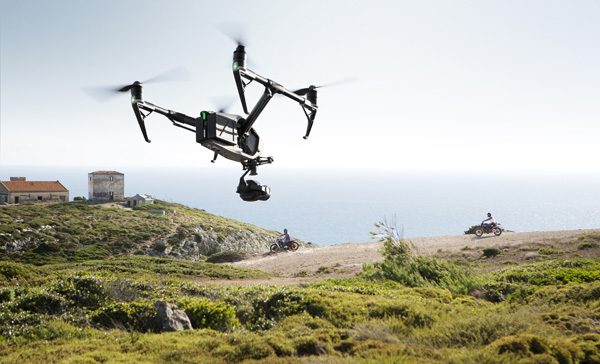 DJI's new Zenmuse X7 is one of the first Super 35 digital film cameras optimized for professional aerial cinematography, and is designed to work with the DJI Inspire 2 drone to capture footage that can be integrated into projects shot with handheld cameras. It has an interchangeable lens mount, and a DJI Cinema Color System updated for post-production.
The camera's Super 35 video sensor has 14 stops of dynamic range resulting in more detail in low-light conditions. The low-noise image capture increases the flexibility users have in the grade by preserving details in highlight and dark areas, and enables a shallow, cinematic depth of field.
The Zenmuse X7 can record some of the highest image resolutions achieved from an integrated drone camera so far. It is capable of shooting 6K CinemaDNG RAW or 5.2K Apple ProRes at up to 30 fps, and also 3.9K CinemaDNG RAW or 2.7K ProRes at up to 59.94 fps, to integrate directly into standard post-production workflows.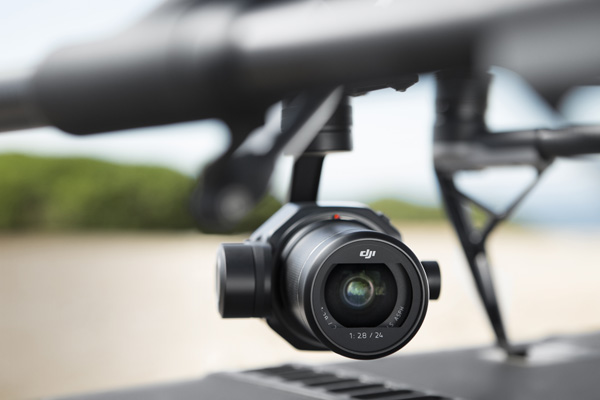 The Zenmuse X7 uses a custom aerial mount system, the DJI DL-Mount, built with a very short flange focal distance to carry prime lenses as effectively as possible. Available with focal lengths of 16mm, 24mm, 35mm and 50mm, each lens has a maximum aperture of F/2.8 and is made of carbon fibre, making them tougher and lighter in weight than glass for high-performance aerial cinematography on the drone.
To give more scope for adjusting settings and fine-tuning, the 16mm lens has a built-in ND 4 filter, and the 24 mm, 35 mm and 50 mm lenses use a mechanical shutter.
Colour System
DJI says they have further developed their colour science for the DJI Cinema Color System (DCCS) used in the Zenmuse X7. For example, the tonal curve was optimized for more latitude without sacrificing image quality. Although an ordinary JPEG image file can record a very high dynamic range, displaying the range of colours depends on applying the correct curve during RAW conversion, and using a converter with the necessary bit precision.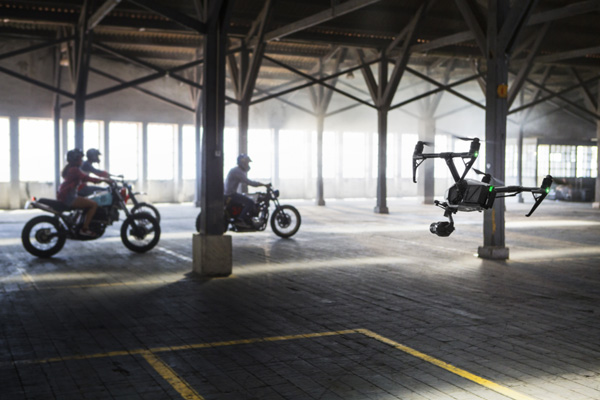 DCCS has a new D-Log Curve and D-Gamut RGB colour space to give more flexibility and colour options during post-production. The D-Log extends the dynamic range, while the D-Gamut RGB colour space preserves more colour information with greater accuracy to produce special looks for filmmaking and quicker post-processing. The new EI Mode mimics the way a film camera works to help capture as much information as possible from scenes, and balances the dynamic range and noise with different log curves for more flexibility in post.
The Zenmuse X7 gimbal system weighs 631gms when fitted with the 16 mm lens. The DJI Inspire 2 drone has a flight time of up to 23 minutes with the Zenmuse X7. www.dji.com