Pieter de Vries Captures the Antarctic with the Sony PXW-FS7 4K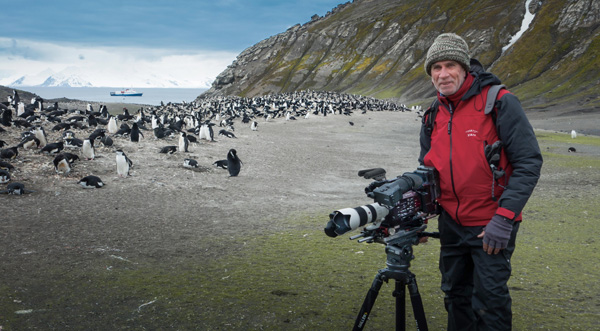 Bailey Head, Deception Island Antarctica.
Cinematographer Pieter de Vries is taking part in Homeward Bound, a leadership and science project for women, located in Antarctica. Launched in 2016, Homeward Bound took the first 76 of what will be a total of 1,000 women from around the world, all working and educated in scientific fields, and participating in year-long programs to develop leadership and planning skills.
The inaugural 2016 voyage took place in December 2016. The second group of women are preparing to depart in February 2018, and the third program, departing on 31 December 2018, is now selecting participants.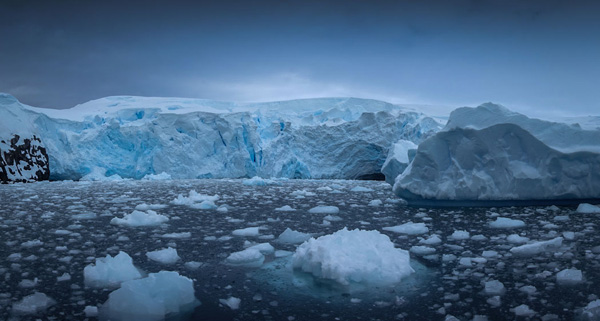 On that inaugural trip, a 20-day expedition on board a research vessel ending at Ushuaia, Tierra Del Fuego, Pieter was shooting a feature length documentary for and about Homeward Bound for Glacial Productions. His crew was sound recordist Gary Lacroix, second camera and drone operater Dale Cochrane, gimbal camera operator Kess Broekman-Dattner and director IIi Baré. He chose the Sony PXW-FS7 as his camera.
He said, "The camera needed to be compact, suited to handheld cinematography and able to accept any lenses. It also had to record in 4K whenever necessary, and be affordable so that I could take two camera bodies. Also, a lot of filming was done on Zodiac inflatable watercraft and this meant that the camera had to be well balanced.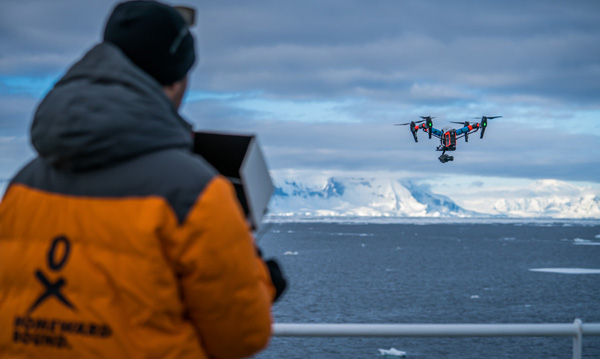 Cinematographer and drone pilot Dale Cochrane.
"With the extension handle on the FS7, I could keep the camera balanced on my shoulder – not only so that I could keep it safe but also for the ability to pan around and look in all directions very quickly. I've used a Sony PXW-FS7 for quite a few years, and as I own one, I'm very familiar with it."
The Antarctic conditions posed some major production problems but also resulted in truly impressive images. Therefore reliability of the camera in the cold paid off, and Pieter said, "The best feedback I can give is that no shooting situation was out of reach. I was able to get everything that I wanted whether we were shooting on the ship or in cold weather on the ice or rocking about in Zodiacs with salt water splashing around us."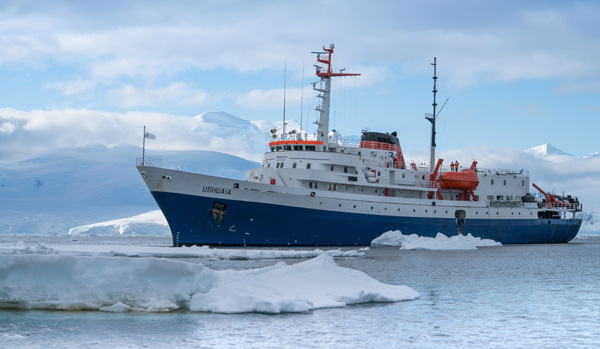 Expedition ship MV Ushuaia, Paradise Bay Antarctica.
With the FS7s as his main cameras, Pieter used a variety of support cameras including Go Pros, Zenmuse X5R's with Inspire drones and various stills cameras mounted in gimbals including the Sony A7S Mk2, an A7R Mk2, Sony RX100 Mk4 and a PXW-X70.
Shooting proceeded on board their ship in common spaces, in cabins, in the engine room, on the bridge, and on the ship decks in icy -10°C conditions. A surprising number of scenes were shot on the ice, including a large snowfield where de Vries and his crew had to climb uphill carrying all of their equipment.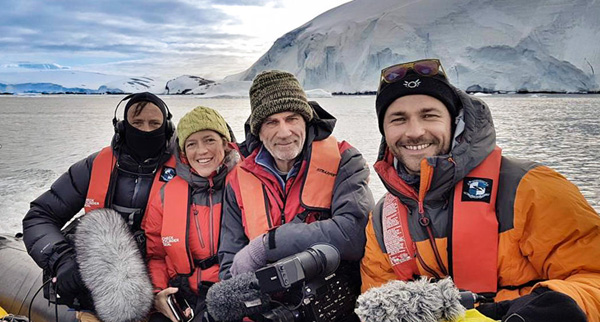 Homeward Bound Antarctica team, Paradise Bay.
Pieter said, "That uphill climb alone made the compact size and light weight of the FS7 important factors for this job. However, in terms of workflow - I shot in Cine EI mode which gave me the maximum dynamic range required, especially in the bright conditions of Antarctica. We set up an automated process to transfer our footage at the end of each day to hard drives to back up the various cards, and then made backups of those backups.
"One of the drives was then secured in a Pelican case and not touched for the reminder of the voyage. The process resulted in approximately 65 hard drives containing all of the 4K footage. We reviewed the rushes whenever we could on a drive dedicated solely to viewing footage."
Pieter considers the Sony PXW-FS7 to be one of the best documentary cameras in many respects due to its compact size and weight, the quality of the images, the 4K recording format plus some other technical specifications. "Being able to use lenses from different makers, as you can with the FS7, is a big plus, as well as the cameras' ability to perform consistently both in the warm humid conditions on board the ship and the extremely cold outside temperatures. Condensation is always a consideration in extreme cold but because there are so few moving parts aside from the neutral density filter wheel, it was never an issue for the FS7s." pro.sony.com.au