Sony HDC-4800 4K/HFR and FUJINON Capture End Zone Close-Ups for ESPN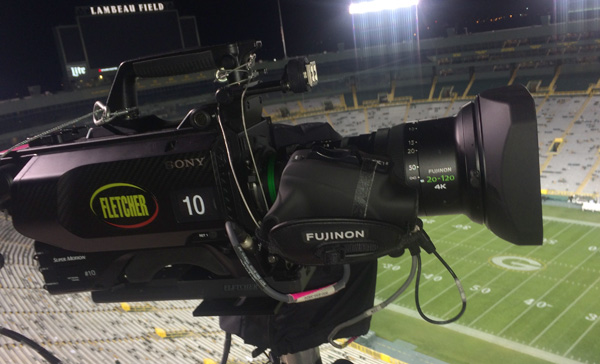 Football stadium camera logistics have recently been updated with a combination of Sony 4K cameras and FUJINON lenses used during ESPN's 'Monday Night Football' program. ESPN, working with Fletcher Sports, is using Sony HDC-4800 4K super high frame rate cameras with FUJINON PL 20-120mm Cabrio lenses for goal-line close ups and replays for each Monday night broadcast.
That single change has brought with it several other positive changes - for ESPN, for Fletcher Sports and for fans. For Fletcher, a company that has worked with ESPN on camera development and customisation since 1991, the most interesting part of the Sony 4800/FUJINON lens combination is that cameras once considered speciality equipment can now improve the quality of live game production in real-time.
"In the past, a lot of the 4K and high-frame-rate camera systems, once you got up to the ultra-high frame rates, were put in place purely as a replay tool," said Fletcher Sports Program Manager Ed Andrzejewski. "Now, due to the image quality and performance of Sony cameras and the lens quality FUJINON brings to 4K cameras, speciality camera footage can be cut in live to your regular production."
Because ESPN's NEP EN-1 truck uses all Sony cameras, the Sony 4800 cameras integrate directly into their workflow, so that the switcher operator can cut live to content from the 4800s. The HDC-4800 4K works as an Ultra High Frame Rate camera system, used together with a dedicated 4K baseband processor. It can shoot UHD images at up to 8x normal rate or full-HD at 16x.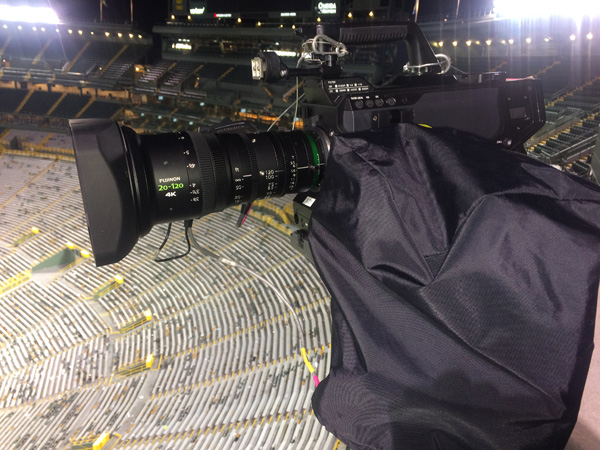 Another change that makes the 4800 camera's footage useful in more situations is their position. Previously, high-speed cameras used for replay shots were placed out of the way, high up in the stadium among the venue's highest seats, and also required a longer lens. "When the cameras were moved to a spot level with the cameras covering the main action, ESPN needed a wider angle lens," said Ed.
Various lenses were tested prior to the Monday Night Football season opener. The FUJINON PL 20-120mm Cabrios were chosen for their wide angle, clarity and speed. The zoom range allows the camera operators to zoom out to capture all players on the field and, in the same shot, zoom in to determine if the ball crossed the goal line.
The lens' detachable servo drive unit makes it suitable to use as a standard PL lens or as an ENG-Style lens. It is built with flange focal distance adjustment, macro function, and is compatible with ARRI Lens Data System (LDS) and Cooke /i metadata, recording the lens data outputs that cine-style shooters use - position information of zoom, iris, and focus for computer animation and similar operations in post. The digital servo on the lens has 16-bit encoding for reassurance that outputs are extremely accurate
The lens weighs 2.9kg and has a T stop of T3.5 end-to-end, a 20-120mm focal range. It covers a S35-sized sensor – that is, Super 35 format - on a digital cinema-style camera. The lens is also fitted with a nine-blade iris to capture natural-looking imagery. www.fujifilm.com.au/pro-cameras