RiversideTV Gets Creative with JVC PTZ Production Cameras
RiversideTV, the government access channel for the City of Riverside in California has only four full-time employees, and relies on small crews working with JVC PTZ network video production cameras in different configurations to produce original programming and cover government meetings. For example, although the city council chambers are fully equipped for recording, the station purchased three PTZ cameras and a RM-LP100 remote camera control last February to cover any meetings held outside the chambers.
All together, the station owns 10 JVC KY-PZ100 PTZ cameras for multi-camera coverage of government meetings and local programming. The channel also recently added GY-LSS300 4KCAM Super 35 cameras and GY-HM200SP sports production cameras for other projects.
Creative PTZ
Communications supervisor for RiversideTV, Scott Brosious and his team also use the PTZ cameras for quite varied multi-camera productions, in creative ways. Scott said they like the JVC PTZ cameras because of price, image quality and the SDI outputs that can be used with the station's Blackmagic Design ATEM production switcher. One of their productions is a college sports show that is produced live in a local restaurant and bar where a three-person crew handles the three-camera shoot – one person directs, the second person handles audio, and the third uses the RM-LP100 to control the tripod-mounted cameras.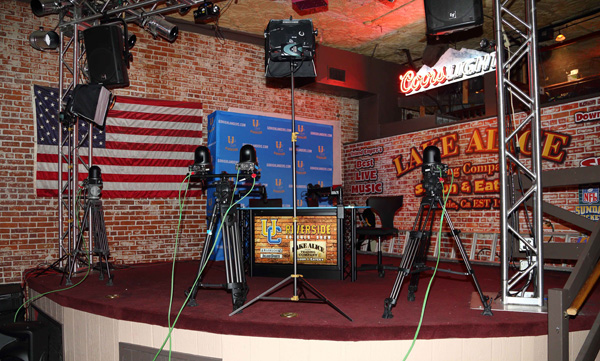 In September, RiversideTV purchased two extra PTZ cameras and a remote control to use in their studio. Because a jib is not practical for RiversideTV's small studio, one of these new cameras was installed to record a unique, high angle shot for various productions.
The second studio PTZ, however, is dedicated to 'Flavour of Riverside', a local cooking show. Originally, this program was shot in a chef's storefront before production moved between kitchens at local fire stations for a few seasons. In 2015, when the station moved to its current facility a short distance from City Hall, a kitchen set was built for the program in which one of the KY-PZ100s has been installed as an overhead camera.
Five more JVC PTZ cameras were purchased in January, and will be permanently installed in a frequently used conference room at City Hall.
More Local Productions
Beyond the PTZ cameras, RiversideTV recently bought other JVC cameras for varied projects. Its two GY-HM200SP sports production cameras, which have integrated graphics, were originally purchased to produce wider sports coverage without a production truck and now the cameras are regularly in use for press conferences as well.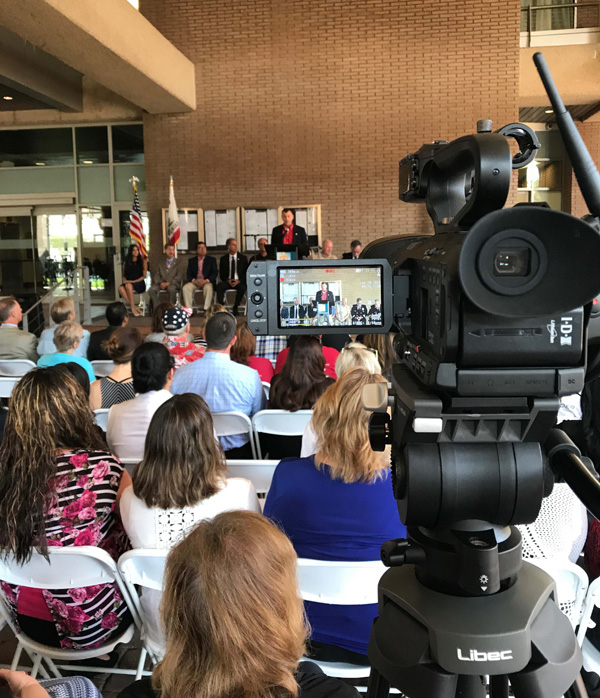 For example, the City of Riverside Fire Department hosted a press conference on the flu virus in January. A one-person crew was able to handle live coverage of the event, complete with a lower-third graphic. The JVC camera streamed live footage with integrated graphics directly to Switchboard Live, which distributed the press conference to the city's YouTube and Facebook pages. Regularly scheduled RiversideTV programming is available locally on cable and on the city's website.
Two JVC GY-LS300 4KCAM Super 35 cameras housed in Zacuto rigs are used for ENG shoots and other projects. During local business spotlight interviews, one GY-LS300 is mounted on a slider to set up a moving shot, while the second records handheld footage.
"We can be up and running in a matter of minutes, but the results look as though a crew spent all day setting up a film shoot," Peter said. "We can capture attrctive DSLR depth of field look, but have the advantage of a regular television camera." pro.jvc.com