Blackmagic Pocket Cinema Camera 4K Brings Dual Native ISO and 4/3 HDR Sensor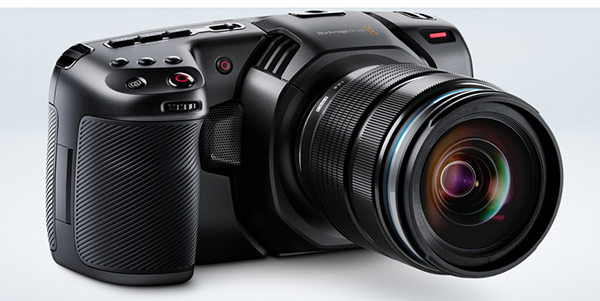 The new Blackmagic Design Pocket Cinema Camera 4K, introduced at NAB 2018, is a handheld digital film camera with a with a maximum ISO of up to 25,600 for low light performance and 13 stops of dynamic range. Instead of an external recorder, users have a high speed USB-C Expansion Port for recording to the internal SD/UHS-II and CFast recorders or directly to external disks, which can then be used for editing and colour correction. This port is also suitable for accessories such as flash drives and an SSD for external recording.
The compact body suits shooting independent films and documentaries, events, travel editorial, web videos, weddings, corporate video and sports. The camera shoots natively at 4096 x 2160 resolution with 13 stops of dynamic range for digital film quality. The 4/3 sensor is sized and designed to match MFT (Micro Four Thirds) lenses, reducing the crop factor considerably and resulting in a wider field of view.
The Blackmagic Pocket Cinema Camera 4K records 10-bit ProRes and 12-bit RAW, and has an HDMI output for on-set monitoring. It is supplied with an MFT lens mount, 5-inch touchscreen monitor, 3D LUTs, four built-in microphones, a mini XLR audio input with phantom power and Bluetooth wireless camera control. It employs updated Blackmagic Design colour science.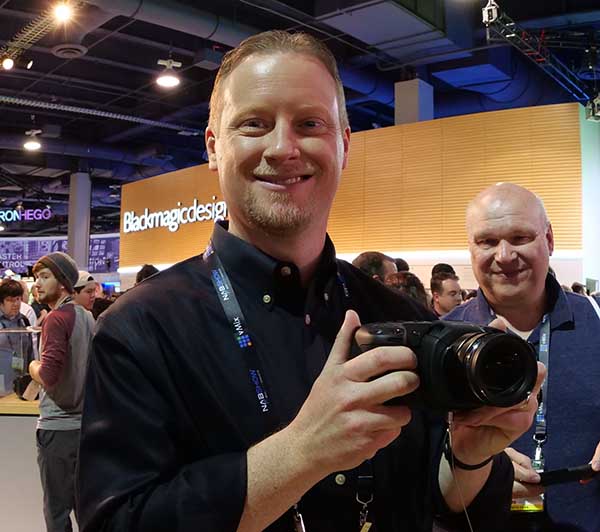 Blackmagic Design President Dan May with the Pocket Cinema Camera 4K at NAB 2018.
The body of the Blackmagic Pocket Cinema Camera 4K is built from carbon fibre polycarbonate composite for strength, rigidity and light weight, and designed for handheld work. The hand grip has buttons and dials for quick access to the primary shooting functions such as recording start/stop, still photos, ISO, shutter, aperture, white balance and power.
Blackmagic Design's colour science supports film, video and extended video modes. The extended mode is new and combines the latitude of digital film with an optimized video file, so that people working on fast turnaround projects can capture good-looking images without relying on colour correction or post production work.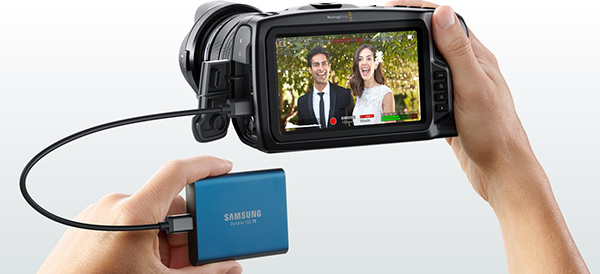 Images can be recorded onto standard SD cards, faster UHS-II cards or CFast 2.0 cards in either ProRes or RAW formats. The camera can record 4K images at up to 60 fps, which can be cut down to HD at up to 120 fps. It is also one of the first cameras that records directly onto the same external USB-C media drives used for editing and colour correction, avoiding extra transfer steps for video files. The USB-C drive may be unplugged and connected to a computer to start editing.
​​The Pocket Cinema Camera 4K uses the same MFT lens mount as the original Pocket Cinema Camera so customers can use lenses they have already invested in. The MFT mount is very flexible and supports different lens adapters so the camera can also accept PL, C, EF and other types of lenses from manufacturers such as Canon, Nikon, Pentax, Leica and Panavision.
The rear of the camera has a large, bright 5-inch touchscreen to use when framing shots, and when accurate focus is especially critical. Due to use of the same Blackmagic OS as the URSA Mini, ordinary tap and swipe gestures are used to adjust settings, add metadata and view recording status. On-screen overlays display recording parameters, status, histogram, focus and peaking indicators, and playback controls. The 3D LUTs can be applied both for monitoring and recording.
For audio, the camera includes a number of built-in microphones with an extremely low noise floor – that is, a measure of the signal comprised of all the noise sources plus the unwanted signals in a system, a mini XLR input with 48 volts of phantom power to connect professional lapel and boom mics, and a 3.5mm stereo audio jack for connecting different types of video camera microphones. The recording quality is high enough to prevent the need to carry a separate recorder.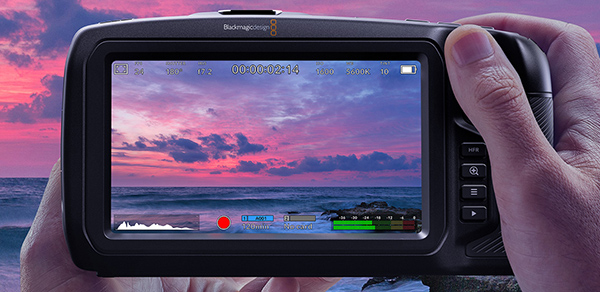 The HDMI connector is able to output HDR video as well as a clean 10-bit video feed - the on-screen overlays are optional. The camera uses standard LP-E6 batteries and can be charged via USB-C or the locking DC power connector, which protects the camera from being accidentally unplugged during a shoot.
The Blackmagic Pocket Cinema Camera 4K includes a full version of DaVinci Resolve Studio post production software, with expected availability from September 2018. www.blackmagicdesign.com