DP Lara Damiani Goes the Extra Mile for Video with a Conscience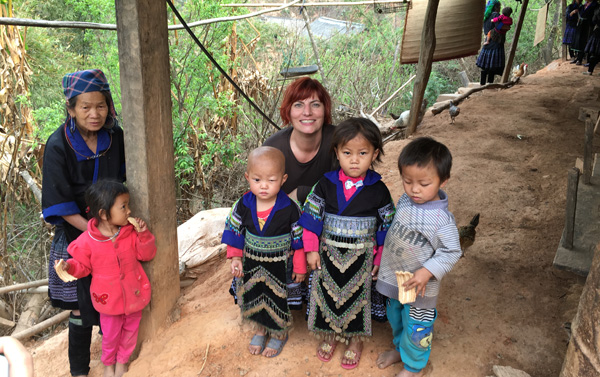 DP Lara Damiani has her photo taken with Bang, her sister Vang and other family members, the subjects of Lara's new project 'Little Bang's New Eye'.
Documentary filmmaker Lara Damiani has produced a film about the work of Dr James Muecke and the non-profit organisation he founded, Sight For All. The documentary, 'Little Bang's New Eye', follows the Sight For All team on their journey to eye clinics in Hanoi and tells the story of treating a young girl and her sister for retinoblastoma, a form of eye cancer that is potentially fatal.
In spite of less than ideal conditions for everyone involved, Lara captures key moments in this story in a fascinating way, including the effects on Bang's family, who live far from Hanoi, and how Dr Muecke and Sight for All are able to assist them.
Getting Started
Lara started editing video while she was trying to pursue a career in writing, and soon recognised the potential of videography for storytelling. Her first project was a documentary focussing on Tibet, titled 'Tibet's Cry for Freedom' that met with unexpected international success, receiving attention from journalists and the Dalai Lama himself, to whom she was able to hand a copy when he visited Australia in 2008.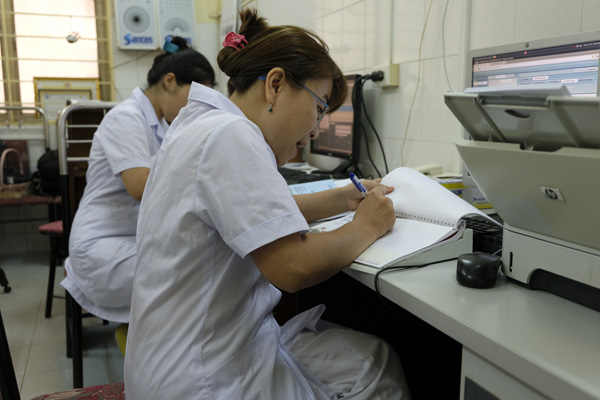 Dr Chau, the doctor who helped treat Bang at the clinic she attended with her father, at work in her small cluttered office. When Dr Chau is not working in theatre, this is where she completes paperwork and sees patients for eye check ups.
At the time of that first documentary, she learned the basics of filmmaking and video production from a friend. From there, her own experiences have been her principle teacher, and the stories and struggles of marginalised people is a theme that has persisted through all of Lara's work since then. Nevertheless, that first film, as successful as it was, had literally no budget. She funded it herself, and depended almost entirely on volunteers and donations. She explained that her ability to eventually complete it in a timely manner is owed mainly to an angel investor.
Local Resources
She spent 2010 recovering financially, but her enthusiasm for videography continued to grow. She now works overseas on projects that are smaller and less ambitious, mainly on behalf of various NGOs. Lara said, "Their budgets by definition are small and because I work essentially on my own, without a regular crew to maintain, I can be flexible and help limit their costs. Pieces of kit that most videographers take for granted, such as lighting for the interviews I need to conduct at locations, aren't practical. Not only would most of my subjects be intimidated, but also it's too difficult to carry more than the basic equipment, and I seldom have access to a power supply."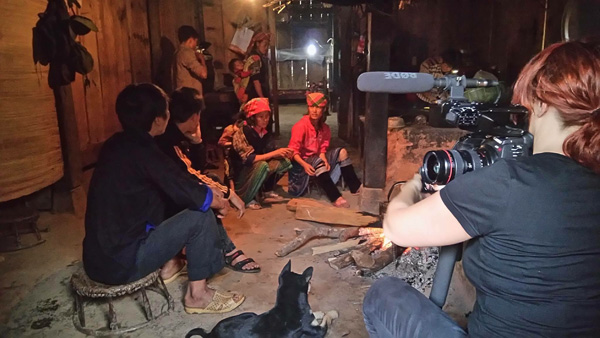 Lara visits Bang's village home, sitting in the kitchen around the fire used for cooking.
Sometimes local people serve as temporary crew, which has the double advantage of making everyone feel more involved and at the same time giving her a translator to work through. To save time and keep her camera operator presence to a minimum at whatever organisation, village or similar location she is working, she generally compiles a script and treatment, and plans her shots quite carefully before a shoot.
The Sight for All project was different in that the main focus of it, Bang and her family, only came to light after Lara arrived in Vietnam. Her intention was to shoot a documentary about Sight For All, and when she learned about Bang's illness, centring on this family seemed to be the best approach in terms of continuity and audience engagement. Nevertheless, that late decision changed her usual process. Unsure of the exact story, she shot considerably more footage than usual to give herself options in the edit, which in turn took much longer than for her other videos.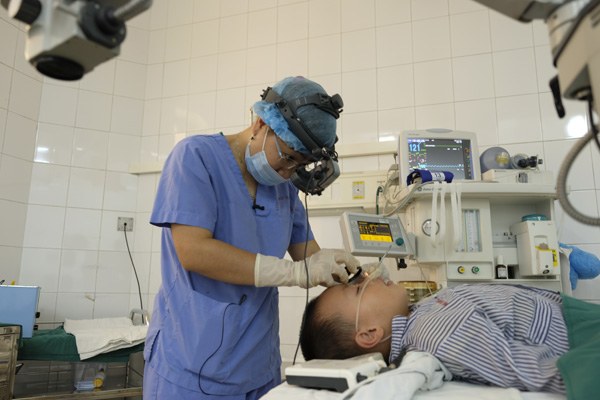 Dr Chau performs an examination under anaesthesia on a patient at the Vietnam National Institute of Ophthalmology (VNIO) in Hanoi.
Mobility
The need for mobility determines many of Lara's decisions about equipment. Her first camera was a Canon C100, a full broadcast camera with internal audio. The camera was excellent but it soon proved too large and heavy when her work continued to take her into remote locations. She now works with a mirrorless Sony a7S II. It needs external audio and lacks the dual recording slots in the Canon but its compact size and lighter weight make up for these features. "I am actually fairly particular about audio, and managed to receive sponsorship from Rhode in the form of mic kits and a boom, which has helped tremendously," she said.
She brings enough memory cards for about two to three days of recording, by which time she can usually get to a power source and spend time backing up. She has found that a tripod is worth carrying because of the frequent use of interviews in her productions. She owed her first tripod to sponsorship from Miller, and later on crowd-funded a super lightweight MeVIDEO Travel Video Tripod.
Branching Out, Moving Up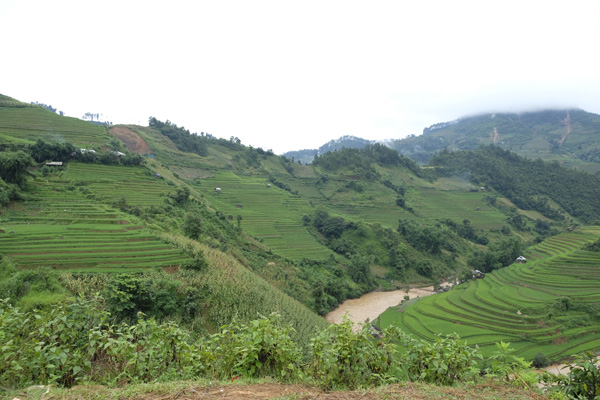 This beautiful steppe landscape can be seen on the way to Bang's village in Northern Vietnam.
Friends and other interested individuals volunteered colour grading skills, sound mixing and other post services for 'Little Bang's New Eye', but Lara completed all of the editing herself. "I started out editing on Final Cut Pro 7. When FCP X was released I tried working with it but was never impressed until recently, with version 3," Lara said. She keeps the graphics and text overlays on her films simple, so that she can handle the work herself.
She is also interested in using animation in different ways. So far, her most successful collaboration with animators was a piece on Aboriginal painters, which included animated clips cut together with live action, but she would like to try a project using animated elements composited into live action.
Lara has many other plans to expand the scope of her productions in the future. She has experimented with drones, trying out the DJI Phantom. She found this model a bit too large and heavy but likes the potential of drones for interesting camera work and is considering other models like DJI's Mavic. Virtual Reality is also on her list for future projects, especially if she could collaborate with an organisation with a budget to invest in a larger more complex production. www.laradamiani.com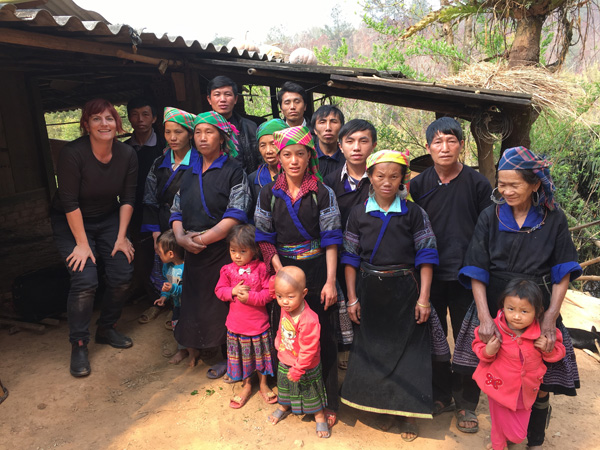 On this day, Lara interviewed Bang's mother and father and many family members from neighbouring homes who had come to visit. Everyone dressed in traditional costume, and they all had a photo taken together after the interview.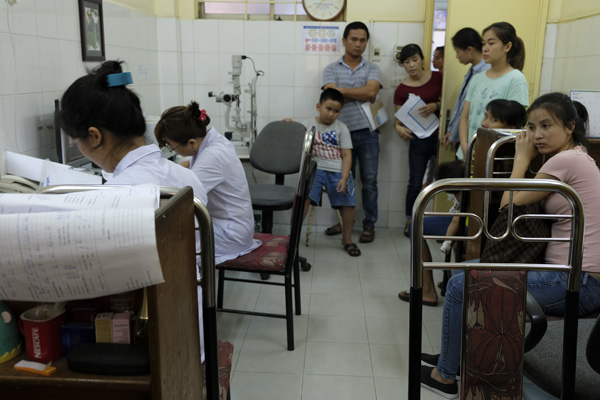 This picture indicates how cramped the conditions can be in Dr Chau's office. It's quite normal for patients to sit and stand inside the office, as well as just outside.