FUJIFILM Captures 4K HDR Video in a Portable Broadcast Zoom Lens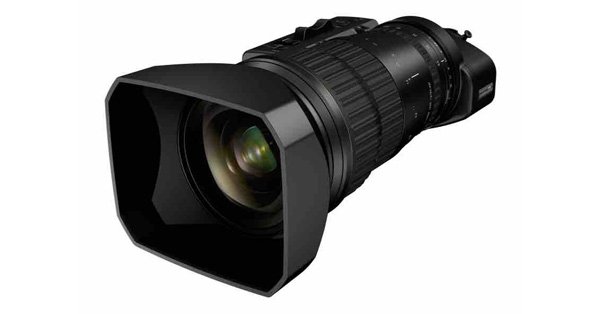 FUJIFILM's new FUJINON UA46x9.5BERD 46x portable zoom lens, with one of the world's highest zoom ratios in a portable lens for 4K video, is set for release in January 2019. The UA46x9.5 covers a focal length from 9.5mm to a magnification of 437mm, putting it among the world's widest angle lenses in its class. It is a portable broadcast zoom lens that supports shooting video in a wide variety of scenes. Its optical design suppresses colour aberrations to a very low level, at the same time achieving vivid colour reproduction and high contrast by improving light transmittance.
The lens preserves and allows reproductiion of complete high dynamic range colour information. Contributing to this, it creates a stable, accurate shooting environment due to a new anti-vibration mechanism and drive unit, especially useful when covering 4K sports broadcasts, nature documentaries, in-depth news coverage and other 4K video applications. It also supports a variety of production requirements when combined with an HD broadcast camera.
Interest in using 4K-compatible broadcast equipment is currently growing in sports broadcasts including football and baseball, and the amount of 4K video content is expanding worldwide. Demand for shooting high quality HDR images, which display vivid, life-like high contrast, for conventional HD productions is increasing as well.
Fujifilm says that, to match these changing requirements, high performance broadcast lenses are also increasingly in demand. The new UA46x9.5 achieves a 46x zoom ratio in a 4K broadcast portable lens. It suits a wide range of situations, from shooting an entire landscape to close-ups of subjects. Because it can also be mounted on HD broadcast cameras, higher quality HDR video can be captured while effectively using existing broadcast equipment.
Fujifilm is planning to continue expanding their lineup of portable broadcast lenses for 4K video production, with the FUJINON UA46x13.5BERD scheduled for release in early 2019. It is built with the same 46x zoom ratio as the UA46x9.5 and covers a focal length from 13.5mm to 621mm. http://www.fujifilm.com/