Video production company Ellroy in Tokyo conducted independent

tests comparing the image quality performance of Fujinon's zoom
lenses to that of single-focal length PL mount cine lenses.
---
Ellroy in Tokyo Tests Prime vs FUJINON Zoom Lens Performance
Ellroy, a video production company in Tokyo, has conductedindependent teststo compare the performance ofFujinon's zoom lensesto that ofsingle-focal length PL mount cine lensesin terms of image quality. Ellroy's crew assessed threeFUJINON 4K Cabrio PL-mountlenses - the 85-300mm Cabrio, 19-90mm Cabrio and 14-35mm Cabrio - alongside single-focal length primes on actual commercial shoots and performed a variety of quality checks. Led by veteranDP Kazumi Takahashiat Ellroy, their team focused onresolution, distortionand how the lenses handledcolour.

Ellroy uses prime lenses in their work every day, and have considerable experience shooting video at 4K and even 6K resolution. The company has a feature film production pipeline with a workflow integrated to handle all tasks from start to finish including planning, direction, shooting, lighting, editing and computer graphics.
Visible Resolution
To verify the resolution of the Cabrio Series, the crew tested them in comparison to a prime. The benchmark for 4K performance was aTVLof greater than 2000, measured on relevant charts. The TVL television lines specification, known also asLines of Horizontal Resolution, is defined as the maximum number of alternating light and dark vertical lines that can be resolved per picture height. Two patterns were configured corresponding to a maximum aperture and a T2.9 value. Footage of a female model was also shot to compare aspects of sharpness, such as lines, text, skin and hair.
In the T2.9 comparison, the PL mount prime lens imaging is at least indistinguishable from the Cabrio, but the FUJINON zoom is superior in the four corners of the image. Kazumi explained that capturing images with a wide range of light frequencies in a balanced manner at 4K resolution is complex because frequencies have to be quantified and then revalidated from scratch each time. He found that the sharpness Fujifilm has achieved across their whole zoom range could be seen very clearly.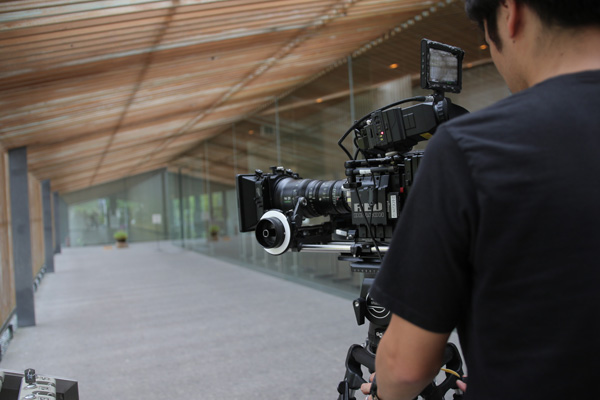 Preventing Distortion
Distortion is recognised as a inherent issue affecting quality in images captured with zooms, which Ellroy tested by shooting a simplegridof uniform vertical and horizontal lines that would reveal distortions fairly readily. Various PL-mount prime lenses, beginning with a 14mm wide-angle, were tested against the Cabrio ZK2.5x14 (14-35mm) and the ZK4.7x19 (19-90mm) with different focal lengths and T-Stops. At the 14mm wide angle setting, where peripheral distortion is most likely to occur, aslight distortionresulted fromboth lens types. As the focal length was extended to 24mm and 32mm, the performance from both sets of lenses was virtually identical.
The number of lens elements comprising a zoom is much higher than in a single-focal length prime. The Cabrio series lenses have about 30 lens elements. According to FUJIFILM, the lenses'large-diameter, aspherical designhelps prevent distortion, and the company has also made efforts to fine tune thecomposition ratioof low-dispersion glass and highly refractive index glass, which have different light dispersion properties, resulting in low distortion and high levels of contrast and 4K resolution.
Colour and Contrast
Ellroy noted that among the main advantages cited for choosing single-focal length primes is their ability to produce nuanced, pleasing images in terms of colour, contrast, blur quality and so on. To test this, the crew compared how they responded when capturing live models and on commercial shoots. Of the Cabrios, Kazumi said, "The skin tones and hair colour on our live models was very natural, including the sharpness and accuracy of the contrast between light and dark areas and a softly blurred quality in other areas."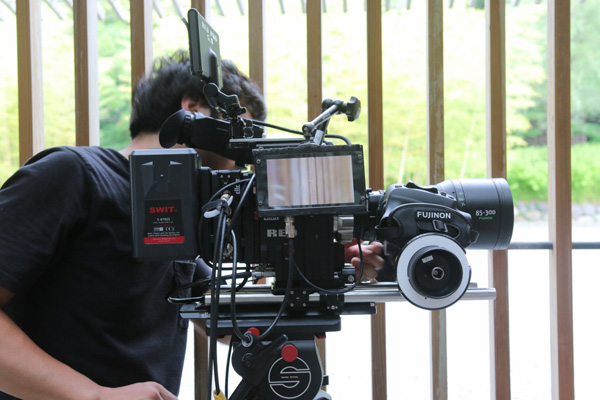 He also regards the Cabrios'nine-blade aperture diaphragmas an advantage when compared to other possible aperture configurations. "The nine-blade aperture captures light in a beautiful, circular shape in all scenes, whether set at a wide or narrow setting. When shooting crepuscular rays [streaming sun rays], it draws out beautiful rays without excessive glare," he said.
FUJINON's Cabrio PL lens series includes the PL 25-300mm, PL 19-90, PL 85-300, and PL 14-35mm. The PL 19-90, PL 85-300, and PL 14-35 Cabrio have detachable servo drive units. The PL 25-300 servo is optional, making all four Cabrios suitable as astandard PL or ENG-stylelens. The digital servo's 16-bit encoding helps assure the accuracy of the lens data output including the position of the zoom, iris and focus. All of the zooms supportLens Data Systemand/i Technology metadataformats, and can be controlled using either cinema industry standard wireless controllers, or existing FUJINON wired and wireless units. www.fujifilmusa.com