Marshall to Release Compact True 4K Cameras, HDBaseT Receiver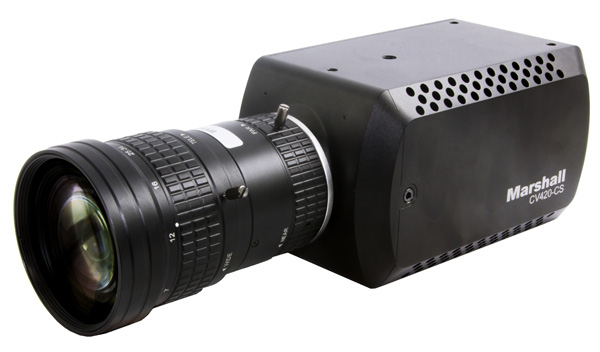 Marshall Electronics' three new compact and miniature cameras suit applications from broadcast and live events to cinematic and film production. The compact true 4K60 Marshall CV420-CS, the compact true 4K30 CV380-CS, and the new high-speed CV506-H12 were shown together at NAB New York 2018 earlier in October.
The CV420-CS is due for release in November 2018 and will work well at live events where large projection screens require true 4K resolution image capture, 4096 x 2160p @ 60. Other uses are film production, sports broadcasting, reality television and others. The camera is built with 12G, 6G, 3G, HD-SDI and HDMI 2.0 outputs, and has either a varifocal or fixed CS/C lens mount capability with a DC Auto-Iris plug-in for custom lens adaptions. Auto irises automatically adjust the iris opening as the light changes through the day. This DC iris has an in-camera motor.
The CV380-CS, recording up to 4096 x 2160p @ 30, is designed for point-of-view (POV) camera applications where a small, miniature camera is needed that can fit into distinctive locations to set up interesting angles and viewpoints. Like the CV420-CS, the CV380-CS has a varifocal or fixed CS/C lens mount with DC Auto-Iris capability and can accept a range of interchangeable lenses to customise productions. It will launch in December 2018.
The CV506-H12 is built to capture high-speed motion for detailed, high-definition, slow-motion video in progressive HD and interlace HD resolutions, and has frame rates up to 120 fps in 1080p/720p. The CV506-H12 can be controlled remotely through RS485 (Visca cable) protocol and has adjustable image settings including Paint (Red/Blue), White Balance, Gain, Base Black level, Gamma, Shutter and so on.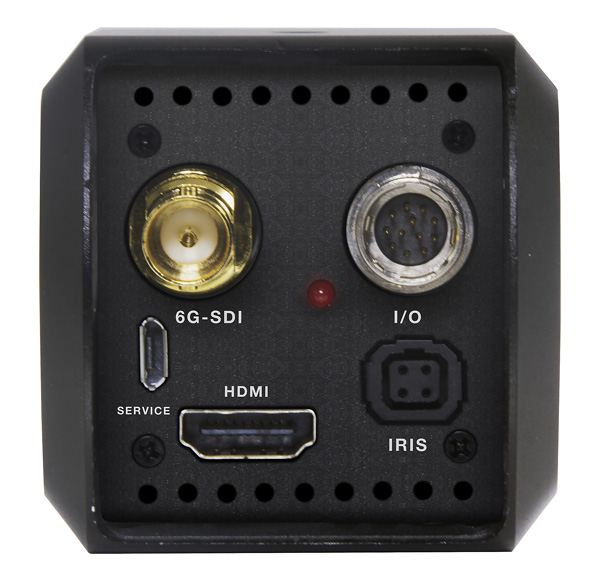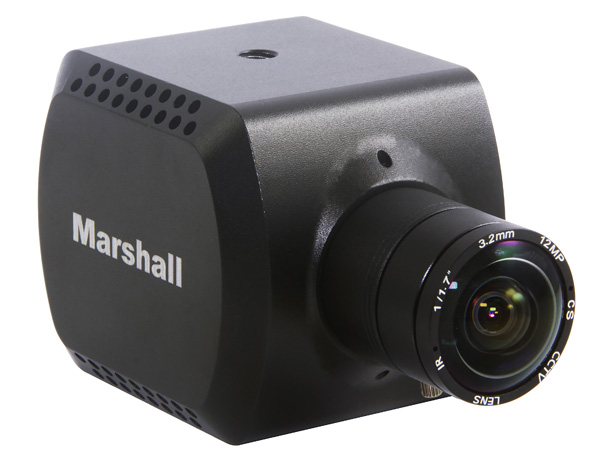 Marshall CV380-CS
It has a 2-Megapixel, 1/2.8-inch sensor with single HDMI 2.0 output. The M12 lens mount can be used with fixed prime or varifocal lenses, and the very small, lightweight housing means it can be placed easily into tight, hard-to-reach locations for special angles and points of view. Expected availability is January 2019.
Both the CV380-CS and CV506-H12 are some of the first cameras in Marshall's new series of compact and miniature cameras that have a redesigned body structure and exterior. For better durability in the field, the new build gives more protection to rear connectors during use.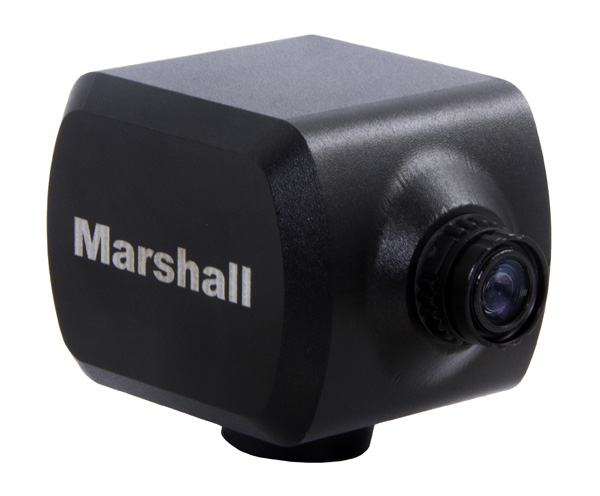 Marshall CV506-H12
Marshall HDBaseT Receiver
Marshall also released a new HDBaseT receiver, the VAC-HT48-PoE-R, that converts an HDBaseT signal to HDMI 1.4, supplying 48V power and allowing control via RS-485/232 protocol. The VAC-HT48-PoE-R adds compatibility and makes workflows more straightforward when matched to Marshall cameras or any other HDBaseT equipment.

Through a single cable, it converts HDBaseT into a controllable power supply, receiving uncompressed video up to 4K30 through a single CAT 6a/7 cable at 4:4:4 8-bit, 4K60 at 4:2:0 8-bit, and full HD resolutions of 1080p, 1080i and 720p. the VAC-HT48-PoE-R can be used with HDBaseT equipment, such as cameras or monitors, as a means to connect with HDMI equipment over long distances.
The VAC-HT48-PoE-R supports DTS-HD Master Audio and Dolby TrueHD Audio in eight channels and passes HDCP encryption and EDID (Extended Display Identification Data) metadata. It can be wall mounted, positioned and concealed for custom installations. The VAC-HT48-PoE makes a straightforward approach to connecting pieces of equipment over long distances using HDBaseT. www.marshall-usa.com