Blackmagic RAW and URSA Mini Pro Give Weezer's 'Africa' a New Life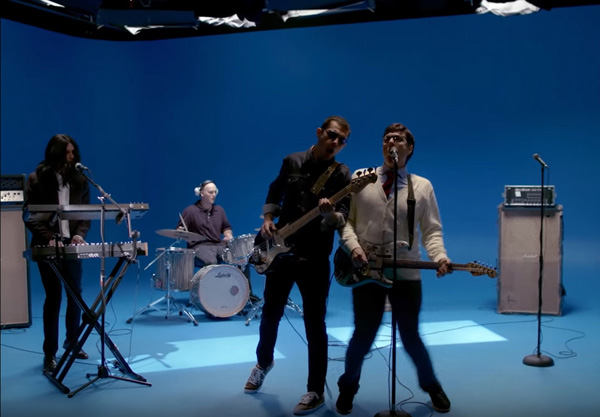 Jade Ehlers and Brendan Walter from Crush Music directed a deceptive video for the band Weezer's cover of the 1980s pop song called 'Africa'. However, the video aims to revive another classic as well – it recreates, move-for-move, the music video Weezer made of their hit song 'Undone (The Sweater Song)' in 1994.
The video is produced as a one-take project that captures the band – played by stand-in musicians acting for the actual members - playing inside a bright blue, monochromatic studio while the camera manoeuvres in and out among them. Starting in front of the band, the camera's journey also takes it from well-lit to dark parts of the set, as well as capturing low and overhead shots looking up at and down on the band.
"A week before we were going to shoot, the Blackmagic RAW codec was announced," said co-director Jade Ehlers. "It turned out to be great timing. It matched our requirement, for example, to accommodate the fact that the original 'Sweater Song' production was actually not a video – it had been shot on film. We were looking for a digital camera that could capture a filmic look, with a shooting and post workflow that could fit into a tight budget and extremely tight schedule. The combination of Blackmagic RAW with the URSA Mini Pro worked very well," said Jade.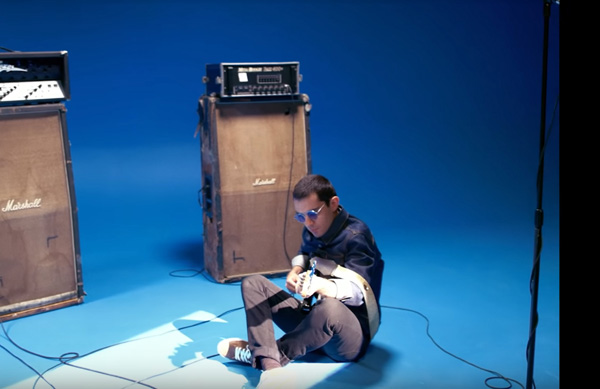 Intelligent Codec
Blackmagic RAW is a new codec that aims for both high image quality and fast performance. It was developed with a level of intelligence concerning encoding options that focus on either constant quality or constant bitrate. The constant bitrate option is similar to most codecs that are set to stay below a chosen data rate. Users choose one of four ratios, based on the unprocessed file size of a single frame from the camera sensor and designed to give the best possible images with predictable and consistent file sizes.
The new constant quality options preserve image quality by removing any upper data limit, so that complex frames are encoded at higher data rates to preserve detail and maintain quality. Users select either minimal quantization (lossy compression) to achieve higher quality, or moderate quantization for more efficiency and smaller files.
The Blackmagic RAW codec completes part of the de-mosaic process inside the camera where it can be accelerated by the camera's hardware, making encoding more efficient and resulting in smaller file sizes. The RAW files combine image data with information about the unique characteristics of the camera sensor, which preserves image quality more effectively even at high compression settings, and allows the photographer to keep control over the RAW settings such as ISO, white balance, exposure, contrast, saturation and custom colour spaces.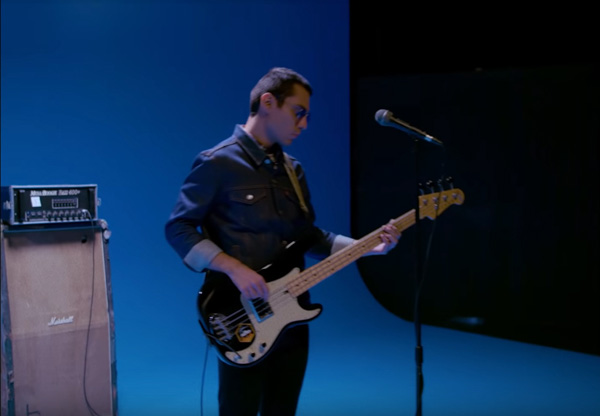 Metadata support in Blackmagic RAW includes user customizable sidecar metadata files that may override the file's embedded metadata without overwriting it. The codec can access GPU and CPU acceleration, and uses Blackmagic Design Generation 4 Color Science.
URSA Mini Pro
In terms of the camera itself, Jade and cinematographer Nathan Presley needed a lightweight camera on set, due to the one-take style of the video. The URSA Mini Pro, the first Blackmgic camera eqipped with the RAW codec, weighs about 2kg, and when combined with its Super 35mm 4.6K sensor with 15 stops of dynamic range, it proved to be the right camera.
"It took us six shots to get the shot we needed, and that meant Nathan had to carry the camera, all its rigging, lens and media for every second of each take," Jade said. "The fact that the URSA Mini Pro could be fully rigged and still weigh less than 13kg with a very small profile, was a great help. We have used the URSA Mini Pro on a number of shoots before, but shooting with Blackmagic RAW made it seem like a new camera with a different sensor in it."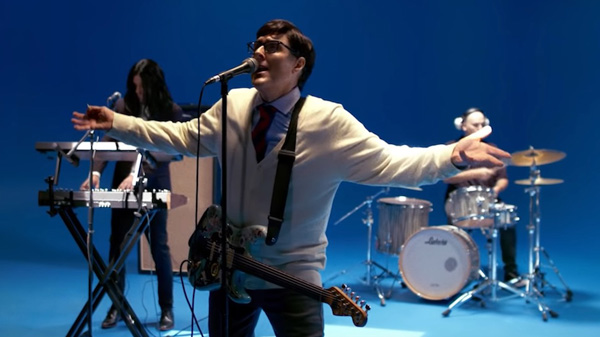 Lights and Colour
Before RAW became available, they had planned to use one of the compressed formats, but then found they could shoot the project more easily in RAW. One advantage was being able to capture a much larger amount of data in each image in order to make up for the production's compromised lighting. Five lighting technicians handled different sections of the stage, and were working to match lighting changes to a constantly moving camera, while trying to make sure each part of the shot mirrored the original older video very closely. The result was patchy lighting in much of the footage as it came from the camera.
"The blue wall reacted to the light differently in different places, and we ended up with a number of dark splashes in several spots. We had to shoot a couple of stops down and at 800 ISO because we were worried and had to hope that we could fix the look after the shoot," said Jade. "Blackmagic RAW really saved us on this point. In DaVinci Resolve Studio, we were able to bump up the lighting to 1600 ISO, adjust the saturation as needed to see every detail fairly easily. It gave us great image quality, fine detail and very small files."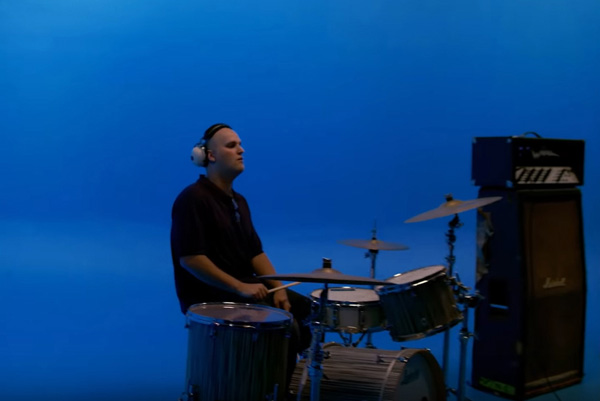 A crew and team can shoot in Blackmagic RAW, and then edit and grade projects all from a single file format. Picture adjustments and settings made in the camera can be accessed in Resolve via metadata and are entirely editable. RAW settings can also be altered in DaVinci Resolve – when the files are then opened in other applications that support Blackmagic RAW, including those on different platforms, the settings will automatically be visible.
Jade said, "With Blackmagic RAW, we had extra colour to work with in each shot, but what really impressed us was that we could play back the RAW files right away on the laptop we had on set. Once we had shot the footage, we could then edit and grade the same files. This advantage alone saved us half a day to eight hours of work. Instead of stopping to spend time exporting, we were free to work in post with the original camera files." www.blackmagicdesign.com