Indie Filmmakers Capture 'The Oath' with URSA Mini Pro and DaVinci Resolve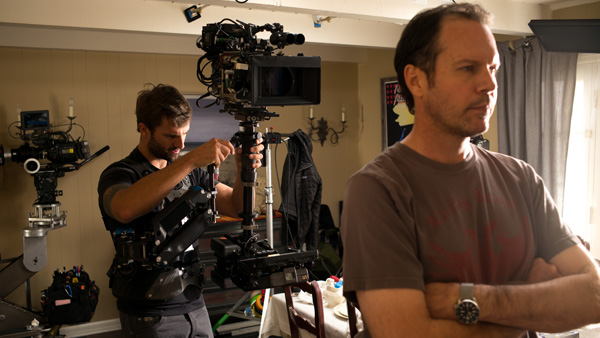 Ike Barinholtz wrote, directed and starred in a new independent film titled 'The Oath' in which a man struggles to survive Thanksgiving without destroying his family in politically divided America. Recently premiered at the LA Film Festival and currently in cinemas, the film portrays mounting tensions after the government mandates that all American citizens sign 'The Patriot's Oath'.
DP Cary Lalonde used an URSA Mini Pro PL and two URSA Mini Pro EFs to support the main unit cameras while shooting the film, supported by a Blackmagic Design Video Assist 4K monitor and recorder. The colourist Mark Sachen and editor Jack Price carried out post production on the DaVinci Resolve Studio system at the Sugar Studios LA facility in Los Angeles, which was equipped with a DaVinci Resolve Advanced Panel for the grading work. http://sugarstudiosla.com/
Adaptable URSA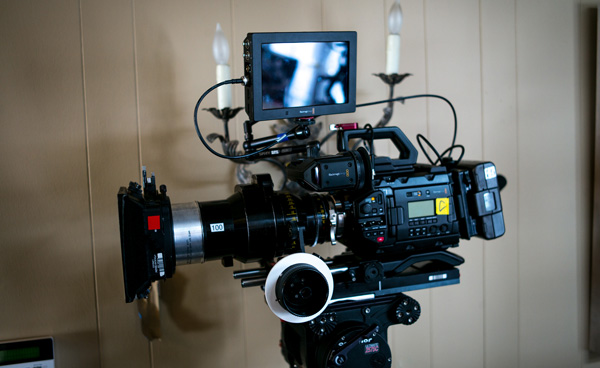 "The URSA Mini Pro's design and interface are straightforward to work with. During the shoot, all three Blackmagic cameras were equipped with URSA Viewfinders so that everything, from their placement to the cameras' dials and buttons - felt natural," said Cary. "Having built-in ND filters available at our fingertips helped save time while shooting because we could dial the effect in and out as lighting conditions changed during exterior shoots."
According to Cary, the URSA Mini Pro footage could be matched successfully to the main cameras in the shooting package, so they didn't need to spend too much time in post handling consistency issues. "For example, in one set-up we used the URSA Mini Pro PL alongside two other, different cameras to capture a six person group scene," he said.
"We used three cameras to shoot in three different directions at the same time, which was the most efficient way to shoot a relatively long, four-page scene in one set-up. Each camera was set to a flat two shot – that is, two characters per shot, both a similar distance from the camera - which worked well for the improvisational nature of the scene."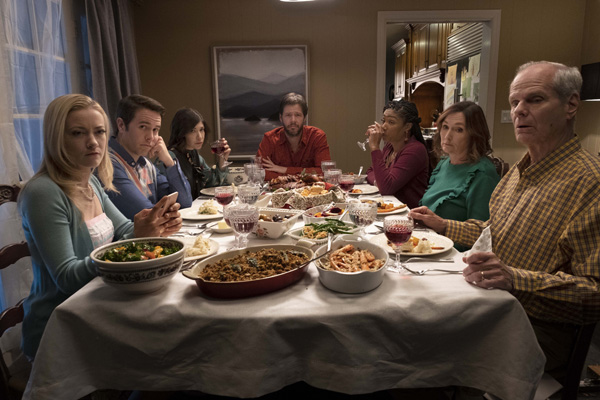 Working on Set
Cary and the crew also used the two URSA Mini Pro EFs to capture establishing shots. He said, "This was especially helpful during the 'magic hour' as the sun was setting. To help show the progression of the film, we wanted to establish the house in daylight and at nighttime, with traditional and non-traditional camera angels, so we could match the style of the house to the mood of the film. The film starts very traditionally but there's a sense of derailment as the story progresses."
Mark Sachen, the colourist, used DaVinci Resolve Studio on the set to grade dailies, as well as for the final grade. While on set, Mark could help with assistant editing work on Resolve Studio as well by inputting metadata, synching the dailies, creating string outs lining up the takes from each scene in one sequence and similar tasks. Editor Jack Price completed the editing on DaVinci Resolve Studio as well.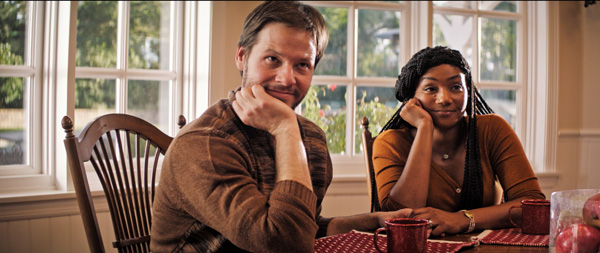 Split Screen
"While editing, I'm a big proponent of using split screens for different takes to ensure that we're using an actor's best performance, even for nonverbal reactions. We used this technique often in 'The Oath,' especially since the characters are being inundated with news broadcasts throughout the film," said Jack. "Picture in picture comps and image stabilisation were fairly simple to work out in DaVinci Resolve Studio.
"Overall, the system's layout and keyboard shortcuts are intuitive. With editing, ultimately the less time spent trying to deal with technical challenges and the more time spent on storytelling and emotion, the better. There are a huge number of tools and options within DaVinci Resolve Studio. If you're looking for a certain tool, chances are it's there. Its video playback is also sophisticated, to the extent that I was able to edit native 2K ProRes 4444 files on a MacBook Pro."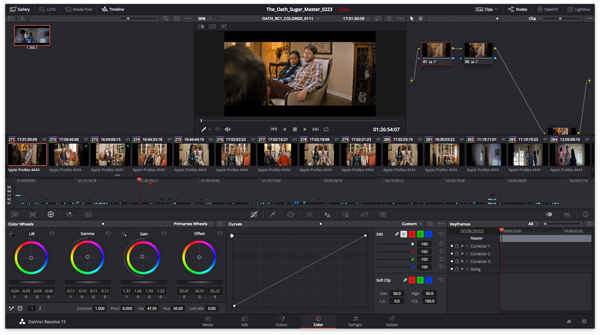 DaVinci Resolve Gets a New Version 15.2
DaVinci Resolve has just been upgraded to version 15.2 with an editing timeline that draws at a higher frame rate to makes editing and trimming feel faster and more responsive. New animations have been added so that clips can slide in and out of position, showing clearly how different edits affect each other in the timeline.
Visual duplication detection indicates when the same clip has been used more than once, and clips displayed in the bin now have usage indicators for the current active timeline. Timecode entry has been simplified throughout the application.
'Pancake editing' of clips between multiple timelines is now easier and faster. Timelines or compound clips can be loaded into the source viewer and edited into the current timeline in their decomposed state. By tapping the X key, editors can instantly mark a clip in the source timeline and edit that clip directly into the active program timeline.
The inspector, on-screen controls and metadata viewer on the Edit page now automatically update to show the relevant information for the highest visible clip under the playhead - users no longer have to manually select a clip to change a parameter.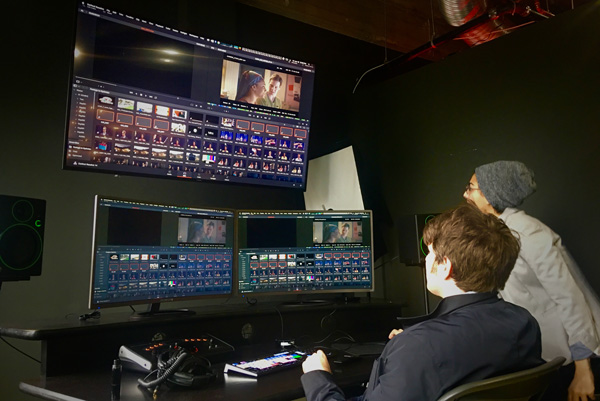 DaVinci Resolve 15.2 includes new ResolveFX plugins. The Blanking Fill plugin automatically fills black letterbox or pillar box areas of the screen with defocused video. Editors can use vertical video or photos in standard widescreen timelines without having to manually create a background. The new Beauty plugin gently and realistically smooths textures and blemishes on skin and other surfaces. Colourists have new plugins for ACES transformations and limiting gamut and can bypass mixer node inputs.
The Fairlight page includes dozens of refinements along with new FairlightFX plugins that make fixing common problems and mastering final audio faster and easier. The new Stereo Fix plugin has presets for the most common channel mapping operations so clips can be fixed with a single click.
A new Multi-band compressor has realtime spectral analysis and four different independently adjustable frequency bands. This means users can achieve the desired overall volume without creating artifacts when mastering. www.blackmagicdesign.com