George Gittoes Sees a Bigger Picture with Sony's Compact 4K Cameras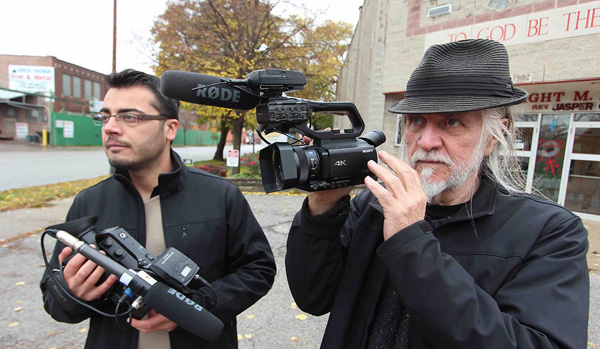 George Gittoes (right) with co-DOP Waqar Alam.
Dr George Gittoes AM is an artist, cinematographer, film producer, director and writer who has been making documentaries for over 45 years. George's work - drawings, paintings and writing as well as films - expresses his commitment to social justice and humanitarian concern for the effects of war and conflict.
Until the mid-1980s, he worked mainly in Australia but following a trip to Nicaragua in 1986, most of his projects have taken him overseas. He has travelled to and worked in many regions of conflict in Southeast Asia, Africa and, most recently, the Middle East – Israel, Palestine, Iraq and Afghanistan.
During his lengthy career, he has witnessed the many transitions in media as well, from 16mm film to 4K video. He now notes that the films he shot in standard definition are now almost impossible to re-market because television and cable companies today need to be able to broadcast HD.
Small Cameras, Big Decisions
This fact, in turn, became one of the contributing factors in his decision to shoot his latest film titled 'White Light' in 4K with Sony cameras. The project is a feature documentary about crime-ridden neighbourhoods in South Chicago that culminates in a massive street protest. He is also aiming to produce 'White Light' as a cinema release.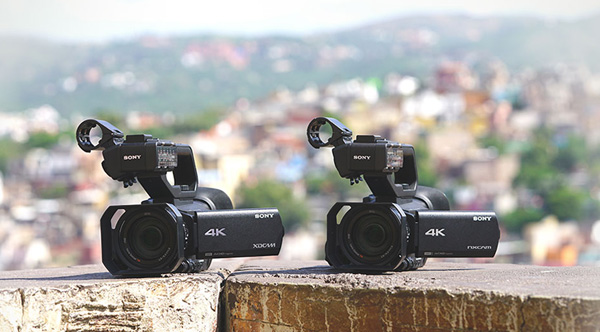 He said, "When I see television sets on sale, many are already set up for 4K. It didn't take me long to recognise that if I shot 'White Light' with my older model HD cameras, the format would no longer be viable for sales within a couple of years. Also, for me as an artist and cinematographer, the extra detail that is possible with 4K is most welcome.
"For my current project, I am using three small Sony PXW–Z90 cameras that have fixed lenses 9.3 to 111.6mm, with Sony shotgun mics and radio mics. Purchasing these cameras instead of going for larger models with interchangeable lenses was a big decision, since there was always a chance the overall video quality could suffer.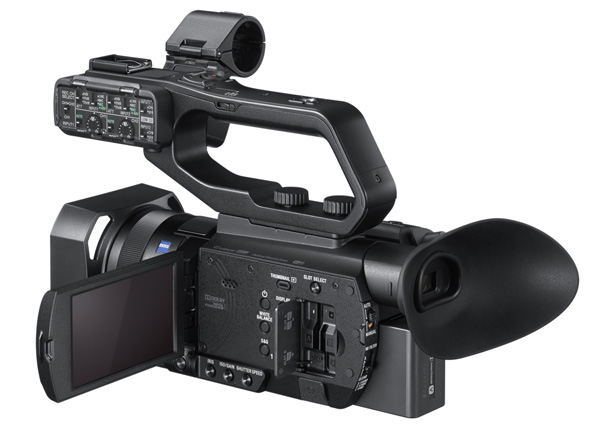 "However, in terms of detail and definition, the footage is a huge improvement on my previous work with Sony HD cameras and looks wonderful. Furthermore, the cameras' compact size allows freedom of movement and attracts less attention in intimate and dangerous situations than a conventional camera."
Keeping to Budget
George is usually very conscious of costs when making his films, which was particularly true during pre-production and production of 'White Light' and became another reason to shoot on the Sony cameras.
He said, "The kind of budget I am able to raise in Australia is generally much smaller than the funds available to documentaries made overseas in America and Scandinavia, for example. I often find my films in festivals competing against projects with much higher budgets. I compete by shooting everything with two or three cameras.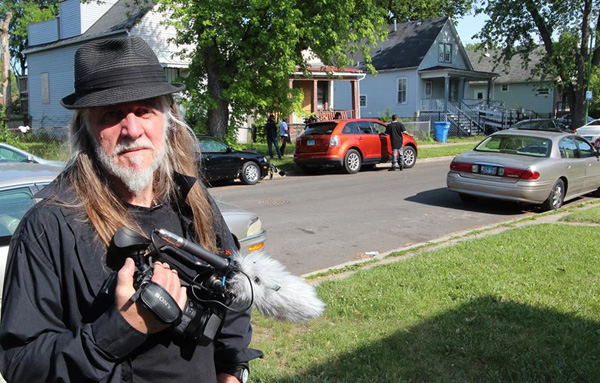 George Gittoes in Chicago
By carefully placing the cameras, the editor can cut at a fast pace and always avoid jump cuts in interviews. All my docos have many more cuts than is usual. That compensates for other factors we have to economise on, although using two or three cameras does mean you have to pick the right ones at the right cost. The Sony PXW–Z90, therefore, is a good choice."
His economical approach extends to trying to capture events the first time, as they happen, and avoid re-takes. He also relies on his long-time co-DOP Waqar Alam, who has been shooting films with him for 12 years, to keep up with new gear and methods, such as flying their drone camera.
Ready to Roll
However, he said, anyone can use the Sony PXW–Z90, a fact the crew put to good use. He said, "We have a third Sony camera with us at all times that we sometimes leave rolling unattended on a tripod. At other times we will give it to some friend or someone with an extra pair of hands who is involved in a particular situation and quickly show them how to use it. A big advantage of these small Sony PXW-Z90s is the ease with which non-camera people can successfully use them, switched to full automatic mode, and get good results without much instruction."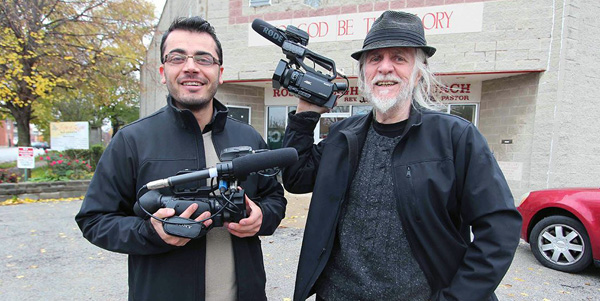 He has also been fixing his third Z90 to car dashboards while interviewing drivers, a technique that has influenced the style of the film. "On previous films we have used ultra-small GoPro cameras in cars and similar tight situations, but the GoPro footage has not been easy to match to our other material and was either noticeably different when cut into the story or had to be scrapped because it was jarringly out of place."
Southside Chicago, the subject and location of 'White Light', has earned the name 'Chiraq' because of claims that the number of gun deaths and levels of violence in the district exceed those experienced in Iraq during wartime. The local priest, Father Mike Pfleger, organised a full-scale protest against gun violence in July 2018, during which the city's Dan Ryan Expressway shut down due to the thousands of marchers.
Street Credibility
The event became a huge filming effort for George and his crew. "In these vast crowds we needed to capture the big picture plus our two protagonists, Father Pfleger and the father of a victim of gun violence," George said. "We had an extra part time cameraman who I asked to follow the victim's father. Meanwhile, we knew that if the march succeeded and protesters broke through the police barriers, we would all need to gather during the culminating moments to capture our characters' triumph.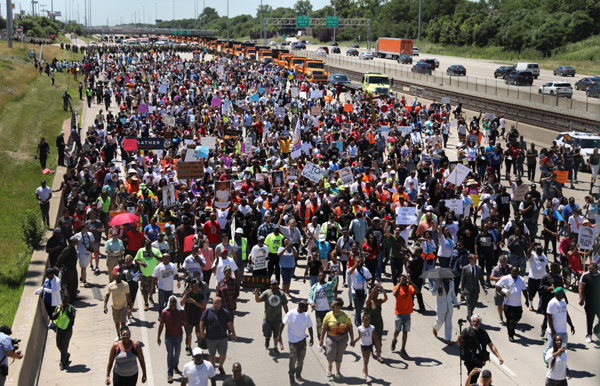 Dan Ryan Expressway in Chicago, shut down during the protest in July
"I found myself just an arm's length in front of Pfleger with activist and former US senator Jesse Jackson and Police Superintendent Eddie Johnson as they locked arms and made history. I was thrilled to know we had successfully shot the most climactic event in our film with perfect timing and coordination. With our small Sony 4K cameras we had managed to shoot something as big as any sequence in a Hollywood blockbuster, with production values any director would envy."
George believes the choice of equipment and cameras, on this or any project, comes down to experience, conditions, budget and intention. He said, "Using small unobtrusive cameras without lights or tripods allowed us to sink into local spaces as nonthreatening recorders of the emerging stories and interactions. The scenes I like the most in 'White Light' are all in low light with a ghostly, smokey atmosphere. I cannot praise the PXW-Z90 cameras more highly for the way they captured these dark, moody interiors as well as the wider, crowded street shots." pro.sony/en_AU