Shiyan Daily Builds its Live Streaming 4K Future on Blackmagic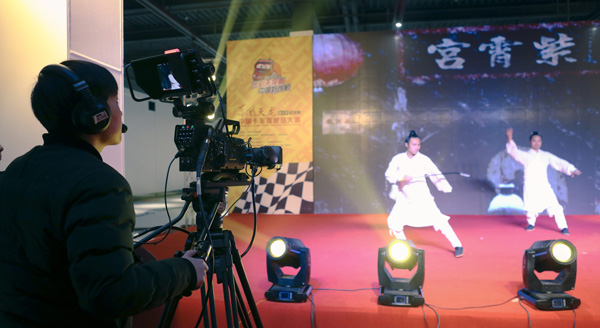 Shiyan Daily Media Group has been among the first print newspapers in China to transfer to digital media and operations. Its Shiyan Evening News won 'China's Leading Digital Media Brand' award in 2012 and has more than one million followers on WeChat, China's messaging and social media app. The newspaper has been one of the top ten popular newspaper WeChat accounts in the country for many years. Most followers are from Shiyan itself, a prefectural level city with a population of about 3.5 million.
'Mobile and Video First' Strategy
"We have been doing well with new media because we started our migration very early on. Now that the time for commercial use of 5G has been confirmed, and is expected to make capturing Ultra HD sources from the mobile Internet much easier, we set our 'mobile and video first' strategy and founded a dedicated video team in 2017," said Zhiguo Gan, deputy managing editor, multimedia division, Shiyan Daily Media Group.
At first, the video team created streaming content for Shiyan Daily's new media platforms with smartphones and other simple devices, but these tools were not suitable for critical events that required multi-camera production, so they decided to purchase equipment made specifically for professional live productions.
Regarding their standards for choosing equipment, Gan said, "Our new gear had to be reliable, and have advantages over what our competitors are using, We also looked for hardware that is future proof as far as possible, acquiring new functionality via updates, and meanwhile be easy to use and maintain. We wanted to find a supplier that would deliver professional support in a timely manner as well."
Connected Workflow
A six-camera 4K OB van, designed by Vijita Technology in Wuhan and based on Blackmagic Design's 12G-SDI equipment, won the contract. It includes two URSA Broadcast cameras and one URSA Mini Pro, each equipped with a Blackmagic Camera Fibre Converter, which is connected to a Studio Fibre Camera Converter housed in the van using a SMPTE fibre cable that supports bidirectional transmission of video, audio, talkback, Tally and camera control.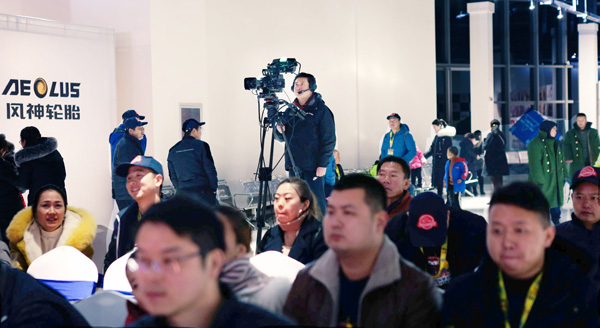 A Blackmagic Studio Camera 4K is directly connected to the van with the fibre connection. All four camera feeds and two wireless feeds go into the Smart Videohub 20 x 20 router, which assigns and distributes the feeds to the ATEM Television Studio Pro 4K switcher and a backup switcher, monitors and a streaming device. It took less than three months to design, build up and deliver the OB van to Shiyan Daily Media Group.
Looking back on the process of choosing products, the head of the video team Zhenyu Zhang said, "We saw how Blackmagic Design's 4K OB van live streamed an Intangible Culture Heritage event in Jingzhou. We visited Wuhan TV's first HD broadcast studio as well, which was built completely with Blackmagic Design products, where most of Wuhan TV's live shows are produced. Seeing the devices in action gave us confidence in their reliability.
Flexible and Future-Proof
"In terms of the longer term value, even though most new media and even broadcasters actually still use HD products, every Blackmagic product in the van, including the camera, video router and switcher, supports 4K. But the costs are still lower than that of other HD systems. Even compared with other 4K products, Blackmagic Design could save costs by one third, which can be put toward future upgrades such as adding 5G transmission devices."
Plus, purchasing all products in the van from a single manufacturer generally increases the compatibility between all components, compared to systems consisting of various brands
Zhang noted that the versatility of the individual Blackmagic products in effect reduces the complexity of the system, making the van smaller, easier to use and maintain. "For example, on the ATEM Television Studio Pro 4K, each input includes a re-synchroniser and format converter. so we don't need extra devices because the switcher can take in any feed in any format - 720p from a drone, a non broadcast standard output from a computer, or any frame rate," he said.
"Also, both the URSA Broadcast and URSA Mini Pro can be used as a studio camera with a B4 lens mount or as a film camera with an EF or PL lens mount. Consequently we don't need more cameras right now, allowing us to keep the crew small and, in turn, lower our operation costs."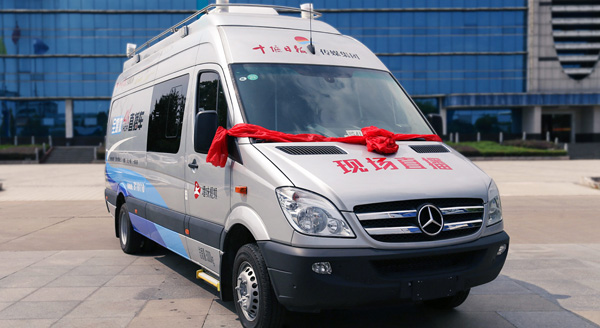 Keeping it Small
With only seven crew members, sending the van to small or medium-scale events pays off, whereas a typical, large OB van has to be maintained by a much larger crew that cuts into profits whenever the van attends smaller events. The small size of the van itself, a Mercedes Sprinter, makes them more flexible and competitive as well. It has enough space to house all of their equipment, and they can travel in to many places that large OB vans cannot reach.
Before acquiring the van, most of the video team members had used small video cameras and DSLRs but had rarely worked with broadcast equipment for multicam productions. Nevertheless, within a few days after the van was delivered, they were able to start streaming with it.
"Blackmagic products and user interfaces have been relatively easy to master. We can find the functions without searching through menus. Less than a week after the first training, we completed our first multicam live streaming for a high school military training programme with the van, and then went on to live produce many other, more complex events over the nexttwo months. The China (Shiyan) Auto Products Expo (CIAPE), which is made up of several separate venues and uses IMAG screens, is one example," Zhang said. www.blackmagicdesign.com