Blackmagic URSA Mini Pro G2 Gains New Super 35 4.6K HDR Sensor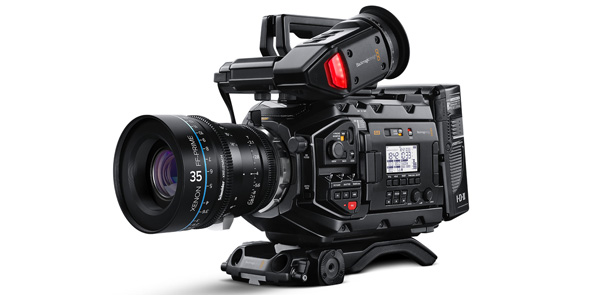 Blackmagic Design's new URSA Mini Pro 4.6K G2 camera update has a new Super 35mm 4.6K image sensor with 15 stops of dynamic range combined with redesigned electronics to shoot at high frame rates up to 300 fps. It also supports Blackmagic RAW and is built with a new USB-C expansion port for direct recording to external disks.
The new Super 35mm 4.6K image sensor captures up to 4608 x 2592 pixels with 15 stops of latitude at up to 3200 ISO. Owing to the higher speed processing, full sensor 4.6K images can be recorded at up to 120 fps, windowed 4K DCI at up 150 fps, and windowed 1080 HD at 300 fps. Suggested applications are stylised fast action documentary capture, nature photography and sports.
For feature films, television programming, commercials and indie projects, URSA Mini Pro 4.6K G2 can capture Blackmagic RAW images in film and extended video modes. Broadcast news, studio and certain live multi camera productions are other options.
Codec and Colour
Regarding Blackmagic RAW, this codec records visually lossless images and includes competitive metadata support with optimised GPU and CPU accelerated processing. The intention is to combine the image quality and workflow characteristics of traditional RAW formats with the speed and ease of use of standard video codecs. Compression levels up to 12:1 are necessary to work with the highest frame rates, but will typically result in images that can still be used for feature films, documentaries and broadcast programming.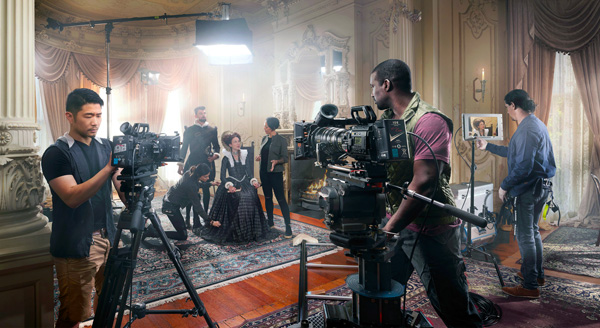 URSA Mini Pro 4.6K G2 uses Blackmagic Design Generation 4 Color Science, tuned for pleasing skin tones and lifelike, accurate colours. Blackmagic RAW images are encoded using a custom non-linear 12-bit space designed to preserve as much of the colour data and dynamic range as possible. These formats can be recorded onto CFast or SD cards, or directly to flash disks using the new USB-C expansion port built into the camera.

On the compact magnesium alloy body is an external high visibility backlit LCD status display, a foldout touch screen for reviewing shots when an on-set monitor is unavailable, professional connections such as 12G-SDI, XLR audio, built-in stereo microphones and so on. Plus, all controls on the camera are redundant, including the power, so that the camera can still be used if the shoot is compromised.
Filters and Lenses
The camera has neutral density (ND) filters with IR compensation to reduce the amount of light entering the camera. The 2, 4 and 6 stop filters are specifically designed to match the camera's colour system and increase latitude, even under harsh lighting conditions. As a result, different combinations of aperture and shutter angle to achieve shallower depth of field, or specific levels of motion blur, in a wider range of situations.
The IR filters evenly compensate for both far red and infrared wave lengths to eliminate IR contamination. The ND filters are true optical filters with a precision mechanism that quickly moves them into place when the ND filter dial is turned.
The broadcast camera design of URSA Mini Pro 4.6K G2 puts the external control buttons, switches, knobs and dials on the outside of the camera, which gives direct access to the most important camera settings. The controls are laid out in a logical order that makes them easy to remember so cinematographers can operate the camera without having to look at the buttons, look through menus, or take their eyes from the action. A status screen, backlit for visibility in dimly lit studios or outside in direct sunlight, displays basic information such as timecode, shutter and lens settings, battery, recording status and audio levels.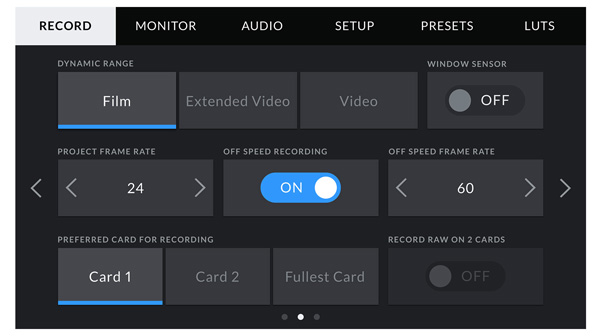 The URSA Mini Pro 4.6K G2 comes with an interchangeable EF lens mount and includes a standard 12 pin Hirose lens control connector. If the camera is to be used on a film or commercial shoot that needs large cinematic lenses, the mount can be removed and replaced with an optional PL mount or, for jobs with broadcast HD lenses, with a B4 broadcast lens mount.
Recording
The camera has dual recording slots for both C-Fast 2.0 cards and SD UHS-II cards. C-Fast cards suit full resolution Blackmagic RAW 12-bit recording, and the UHS-II SD cards are cheaper and commonly available, suitable for recording Blackmagic RAW 8:1 or 12:1 for Ultra HD and regular HD files.
The dual slots for each media type are automated - when the first card is full, it automatically continues onto the next card and meanwhile the user swaps out the full cards for empty ones, without stopping the camera. The new high speed USB-C expansion port was added for connecting accessories such as an SSD for longer-term external recording directly onto the same external disks you will use for editing and colour correction.
URSA Mini Pro 4.6K G2 is available now. Like the other URSA cameras, this one includes the full DaVinci Resolve Studio software, which works natively with Blackmagic RAW files from the camera. Users can transfer them directly into post production without conversion or alteration. All colour and image information is preserved and available within a lossless workflow. www.blackmagicdesign.com