Timeline TV Customises Remote Live IP Production with URSA Broadcast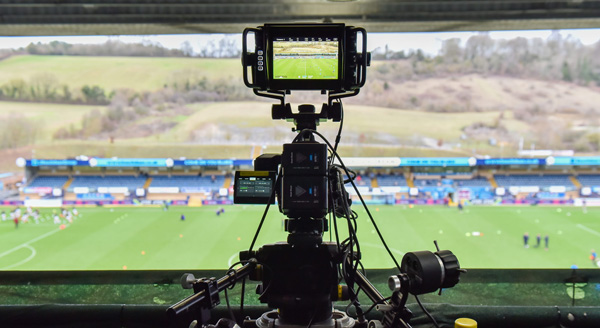 Timeline TV undertook live match coverage of the FA's Womens Super League for the current season by building a custom remote IP outside broadcast system based on the Blackmagic URSA Broadcast. In order to meet the WSL's requirements, the Timeline team needed to reconsider their approach to eqipping a four multicamera outside broadcast. It needed to be deployed at any ground in the country while still delivering a competitive level of quality to suit their production partner, Whisper Films.
The crew has implemented a custom remote production system built on the Blackmagic 3G-SDI Shield for Arduino and URSA Broadcast camera. Concerned mainly with image quality, Timeline's managing director Dan McDonnell said that the URSA Broadcast was a good choice for them. "When paired with our B4 lenses, the URSA Broadcast delivers excellent images, both on and off the pitch," he said.
The broadcast B4 lens mount on URSA Broadcast includes optics with spherical aberration correction specifically designed to match the camera's sensor. Because B4 lenses are parfocal and have a very wide depth of field, the image stays in focus as you zoom in and out, making it unecessary to re-focus while shooting. Not having to change lenses or re-focus between close up, medium and wide shots helps camera operators work faster, especially when following the action in fast-paced sports. Electronic B4 lens control is also possible so that you can adjust the focus, iris and zoom using the camera's controls, or remotely from an ATEM switcher using the SDI camera control protocol.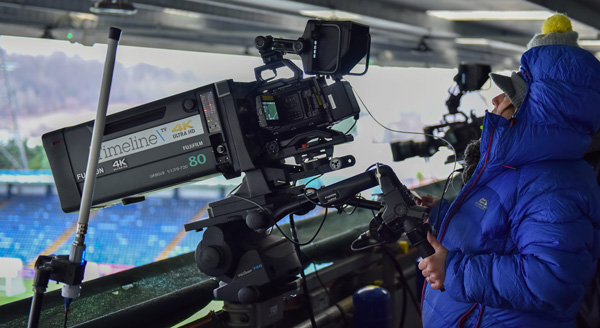 Controlling the URSA Broadcast, in fact, presented a challenge for Timeline's IP engineering team. "Remote camera moves were essential and required a new approach to data transmission while keeping the on site operation as simple as possible," said Dan. The Blackmagic 3G-SDI Shield for Arduino, which Timeline bought with the URSA cameras, is a small expansion board that connects to a programmable Arduino electronics prototyping platform.
With the Arduino, custom controllers for Blackmagic cameras can be built using the SDI camera control protocol. "There was nothing else on the market that would afford us the same flexibility, quality or control unless we deployed a full OB set-up," Dan said.
Timeline developed an IP transmission system that resides in a backpack. It integrates a transmitter and the camera control interface systems needed for acquisition and live transmission back to the companies Ealing Studios' headquarters, where each weekend's coverage is produced. Dan said, "Essentially, we've eliminated the requirement for a full, static router, which normally is in place for a camera control unit to feed through. As well as the high resolution camera signals, an extra low res feed is sent carrying all the necessary camera settings.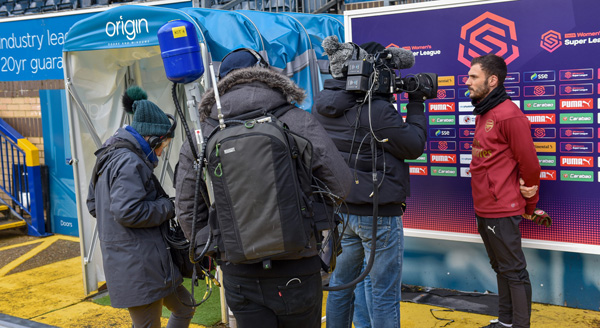 "Working over IP channels generates reliable and consistent remote signal feeds from wherever we are around the country, and this, combined with Blackmagic's open protocol has given us the flexibility to devise a high quality remote production system that meets broadcast standards for live sports coverage." URSA Broadcast has built-in remote control, colour correction, talkback, tally and other functionality, which can be remote controlled via SDI using the Blackmagic SDI Camera Control protocol.
Timeline will continue to cover all Women's Super League footage with the remote system, but they now believe that its efficiency and technical capabilities could be effectively transferred to other sporting leagues, tournaments and touring events.
"The ability to control an entire multicamera system via IP means that we can produce comprehensive coverage of high profile events from anywhere in the world, without having to send a huge amount of staff or equipment out to the venues," Dan said. "Once the operators are on site, it's mostly a matter of switching on the receivers and the cameras, and we're ready to go." www.blackmagicdesign.com