ARRI's Large-Format Camera System Gets Smaller with ALEXA Mini LF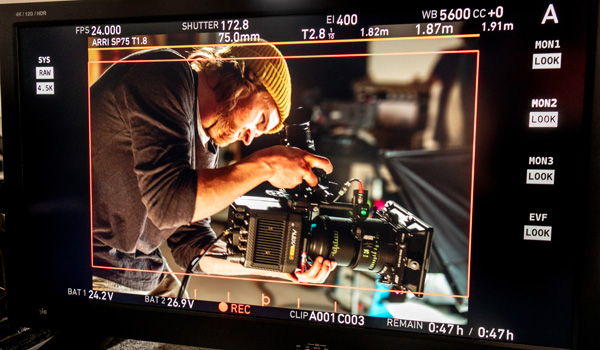 User interface on the ALEXA Mini LF's MVF-2 HD viewfinder
The new ARRI ALEXA Mini LF camera combines the ALEXA Mini's lightweight, compact size with the large-format ALEXA LF sensor, in order to add more creative options to the ARRI large-format camera system. Emphasising overall image quality for large-format shooting, it is built with three internal motorised FSND (Full-Spectrum Neutral Density) filters, 12 V power input, extra power outputs, a new Codex Compact Drive, and a new MVF-2 high-contrast HD viewfinder.
ARRI's large-format camera system originally launched in 2018, based on a 4.5K version of the ALEXA sensor – that is, twice the size of ALEXA camera sensors in 35mm format, with twice the resolution. This extra size gives filmmakers a chance to develop different interpretations of large-format looks. The camera also improved on the ALEXA sensor's colorimetry, skin tones, noise level and suitability for HDR and Wide Color Gamut (WCG) workflows.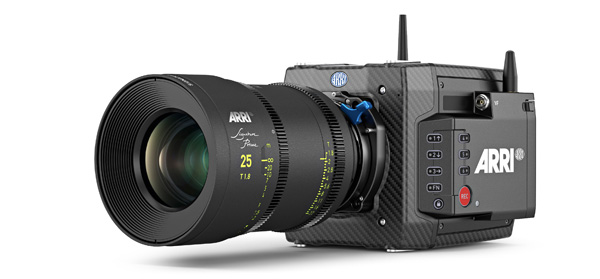 ALEXA Mini LF is a new element in the existing LF system, which includes the original ALEXA LF camera, ARRI Signature Prime lenses, LPL lens mount, PL-to-LPL adapter and Lens Data System LDS-2. The combined functionality, high-speed capabilities and form factors of ARRI's two large-format cameras are intended to cover the on-set requirements of most productions.
Recording and Compression
ALEXA Mini LF records MXF/ARRIRAW or MXF/Apple ProRes internally in several formats and aspect ratios. It is also the first camera made to work with the new Compact Drive recording media produced at Codex, an ARRI technology partner. Sold as small, lightweight 1 TB drives, a USB-C Compact Drive Reader comes with them that can be used on Mac or Windows computer without extra software or licenses. A Compact Drive Adapter is also available to use with other docks that accept SXR capture drives, potentially boosting download speeds.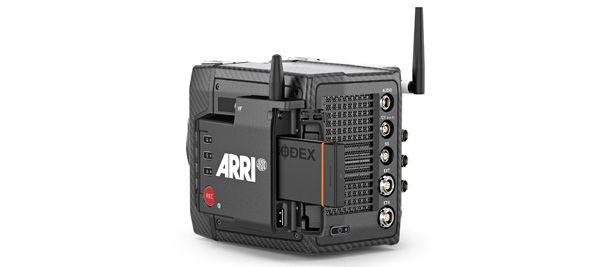 1TB Codex Compact Drive
Another development from Codex that makes large-format shooting more practical and affordable is Codex High Density Encoding (HDE), a type of loss-less encoding able to reduce ARRIRAW file sizes by around 40% during downloading or later in the workflow. The result is lower storage costs, shorter transfer times and faster workflows, all of which which save time and money. HDE is free to use with Codex Capture or Compact Drives. According to ARRI, ARRIRAW Open Gate 4.5K can be encoded using HDE at 24 fps on a modern MacBook Pro.
MVF-2 Viewfinder and Accessories
The new MVF-2 viewfinder developed to tune focus, dynamic range and colour on the ALEXA Mini LF has the same high-contrast HD OLED display, colour science and ARRICAM eyepiece as in ALEXA LF's EVF-2 viewfinder. The MVF-2 includes a 4in flip-out monitor that displays the image or the camera control menu, to suit different camera configurations, with a new UI, an eyepiece lens heater for de-fogging and a headphones connector. The MVF-2 can be fitted to either side of the camera and connects via a new CoaXPress VF cable with a reach of up to 10m for remote operations.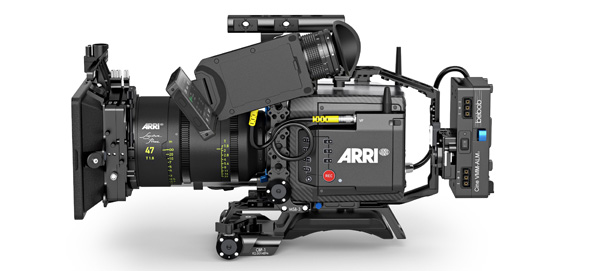 Compatible with most of the ALEXA Mini accessories.
The Mini LF has a carbon body and withstands a temperature range of -20° C to 45° C. Each camera undergoes a stress test before leaving the ARRI factory – from that point it can be supported locally by ARRI service centres.
ALEXA Mini LF is compatible with almost all of the ALEXA Mini accessories, and has some advantages compared to the Mini camera design - like extra connectors including regulated 12 V and 24 V accessory power. Others are a new 6-pin audio connector, built-in microphones and better WiFi. Six user buttons can now be accessed on the camera's operating side, and the camera and viewfinder each have a lock button. User access to the recording media and VF and TC connectors is also easier.
ALEXA Mini LF cameras are scheduled to start shipping from mid-2019. www.arri.com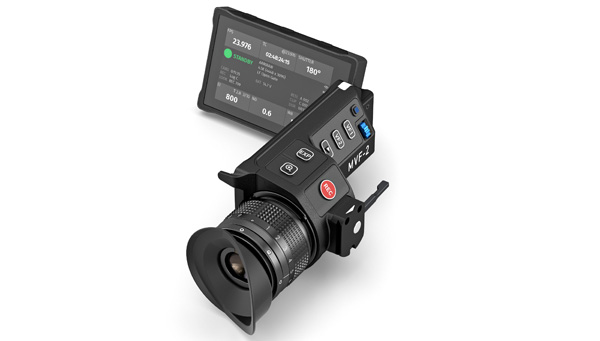 NVF-2 Viewfinder