Blackmagic RAW 1.5 and Video Assist 12G Update Capture and Compression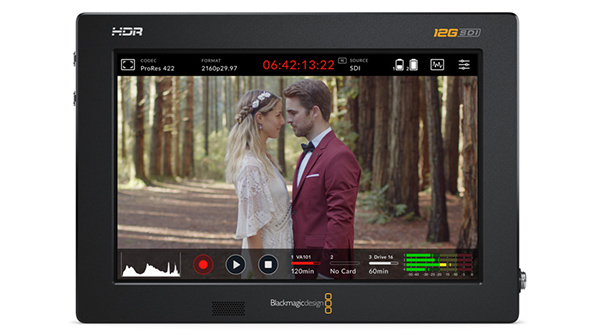 Developed for digital cinema shoots, live production mastering, broadcast testing and measurement, the Blackmagic Video Assist camera monitoring and recording device now has a 12G upgrade with brighter HDR screens, built-in scopes and 12G-SDI connectivity. Blackmagic Video Assist 12G will be available in September 2019 from resellers and was demonstrated at IBC 2019.
The new Blackmagic Video Assist 12G adds HDR monitoring and recording to SDI or HDMI cameras in all HD, Ultra HD, 2K and 4K DCI formats, up to 2160p60. It also makes a good upgrade device for older cameras. Because 12G SDI supports 4K 60 from a single link and 8K 30 from dual links, it helps to reduce system complexity in a 4K workflow. Instead of four 3G SDI cables to result in 4K, systems can be built with a single 12G SDI cable.
By recording in Apple ProRes, Avid DNx and Blackmagic RAW codecs, users can take data from Video Assist 12G directly into post workflows based on most editing and finishing software packages.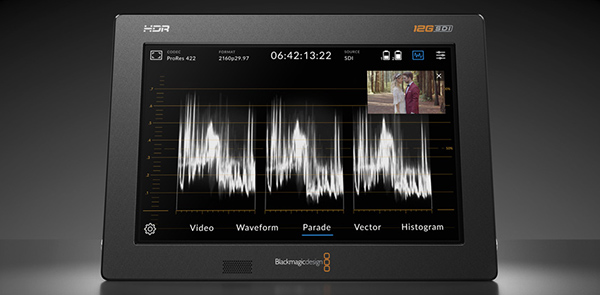 Made in two versions, 5in and 7in, the Video Assist 12G build has been updated with brighter screens for HDR work, a tally indicator, four built-in scopes, better focus assist and 3D LUTs. In order to supply the brighter HDR screens and higher speed Ultra HD electronics, rear battery slots for two standard Sony L-Series batteries are included.
Both versions have a touch screen user interface with deck controls for play, stop and record, plus a basic timeline for scrolling through recordings. Alternatively, users can image swipe to jog. Scopes can be enabled via the touch screen, as well as focus and exposure assist, and the 3D LUTs may be loaded and saved. The LCD includes a heads up display of timecode, video standard, media status and audio meters.
Video Assist uses standard SD flash memory card media, or faster UHS-II cards, and the files are small enough to allow long recordings on SD cards. The larger 7in 12G model includes two SD card slots so that customers can set up infinite recording during a shoot by swapping out full cards.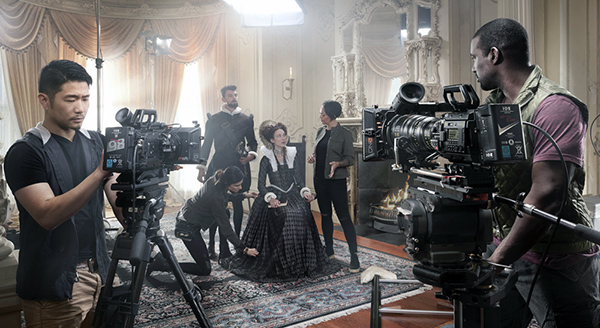 Blackmagic RAW Version 1.5
The Blackmagic RAW codec can be recorded natively onto the Video Assist 12G from supported cameras, including the Panasonic EVA1 and Canon C300 MK II. The codec has just been updated with a new version 1.5 software update, demonstrated at IBC 2019 also, adding support for Adobe Premiere Pro and Avid Media Composer.
The 1.5 update includes Blackmagic RAW Speed Test, which is now available on Windows and Linux. The Speed Test is a CPU and GPU benchmarking that tests the speed of decoding full resolution Blackmagic RAW frames on users' hardware systems. Multiple CPU cores and GPUs are automatically detected and used during the test. Results are displayed in a table that shows how many frames per second the computer can decode at a constant bitrate of 3:1, 5:1, 8:1 or 12:1 for all supported resolutions.
Editors working in Premiere Pro and Media Composer can now work with Blackmagic RAW files using the free plug-ins found in version 1.5. Editors can work with Blackmagic RAW directly, without transcoding or creating proxy files and conform edits for finishing.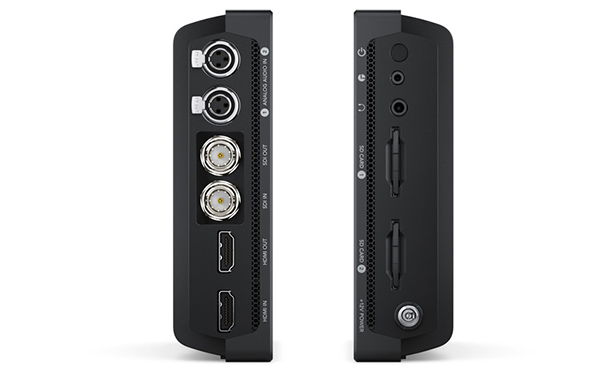 Recording in Blackmagic RAW is a way to avoid problems with codecs such as H.264 that may result in noise and processing artifacts due to compression. It also saves camera settings as metadata - users can set ISO, white balance and exposure and then override them later while editing without losing quality – and creates files that are small and faster and easier to work with.
When projects are moved from Premiere Pro or Media Composer into DaVinci Resolve for colour correction and finishing, all of the camera RAW metadata and image quality are still there. Blackmagic RAW 1.5 is available now for download from the Blackmagic Design web site. www.blackmagicdesign.com