French Crew Captures Sci-Fi Romance 'Osmosis' with Cooke's S7/i for Netflix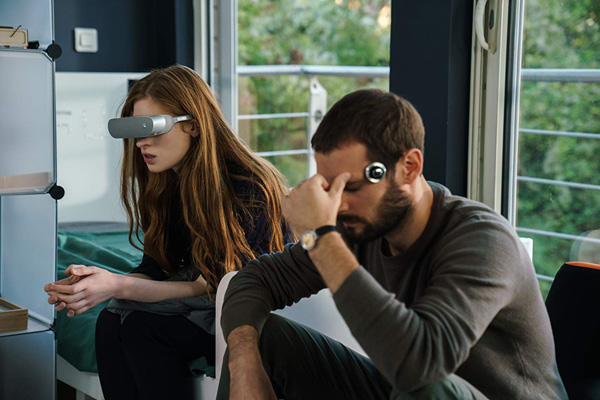 'Osmosis', a French-language 8-part original series from Netflix, is set in the near future when a dating app is developed that can match individuals with their soulmates using articial Intelligence to mine data from their brains. Netflix chose cinematographer Jean-François Hensgens to shoot the first six episodes of the series. As he would be working with several different directors, including Julius Berg, Pierre Aknine and Mona Achache, his work involved maintaining visual and artistic continuity from episode to episode.
Jean-François shot with two RED DSMC2 BRAIN camera bodies with an 8K MONSTRO sensor, using the entire sensor but with a fairly high compression ratio, between 9:1 to 16:1, in order to end up with manageable file sizes.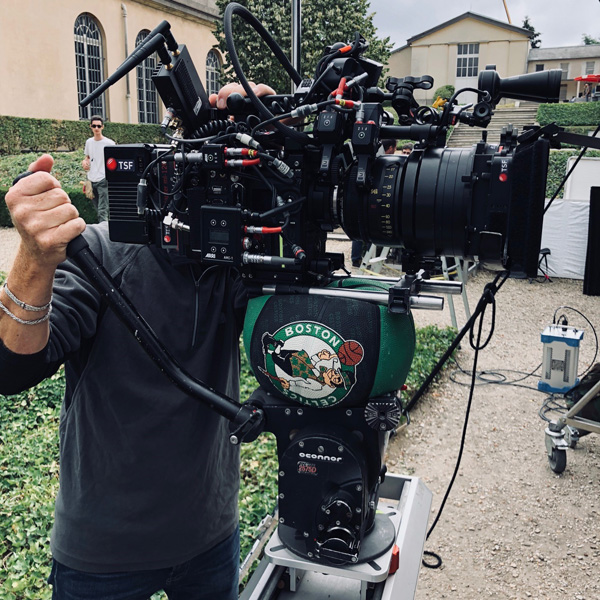 Jean-Francois Hensgens at work.
"When we started this project in May 2018, there were only a few lenses that could cover the full frame. I tested and compared almost all of them, from many manufacturers, including the Cooke S7/i and Anamorphic/i Special Flair lenses," he said. "I immediately saw the beauty of the images shot with the S7/i lenses, especially at T2, which just seduced me."
The crew worked through the entire shoot keeping both cameras on the shoulder, either simultaneously or shooting with one camera while the other was prepped. Jean-François' S7/i lens kit contained the 25mm, 27mm, 32mm, 40mm, 50mm, 65mm, 75mm, 100mm and 135mm primes, choosing the 65mm for the majority of shots.
"We only had one set of S7/i's, so we did our best to share focal lengths, and at times used a 2x extender," he said. "Sometimes, we changed the camera settings to 7K lengthening the focal length on one camera to match the other's, and set up the ideal reverse-angle shot."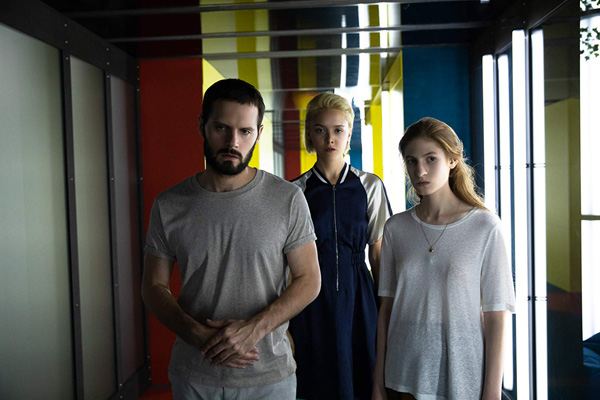 Lighting played an important part in the set design because Jean-François wanted the audience to feel that, in the near future, light is alive and that it breathes. He used large light boxes filled with Litepanel Honeycomb 60 Deg Gemini LED fixtures. "We essentially used LED sources such as Litepanels and Astera tubes, which allowed us to constantly evolve the light on the various sets. That technique worked especially well in the offices of the dating app's start-up, where everything is controlled by an artificial intelligence, and where the light continuously reflects its state of mind," Jean-François said.
"I also wanted to make sure that there was a visual difference in the way people look today and how they and the world might look in the future. For that, I collaborated with the production's key makeup artist, who is makeup designer Mabi Anzalone, to create a special shine on the skin of the main protagonists. We were also inspired by the photographic work of Erwin Olaf, a specialist in highly stylised portaits, and did a lot of camera tests to determine what we liked, keeping in mind that in about 20 years, global warming will have a significant impact on the look of the atmosphere and on the skin."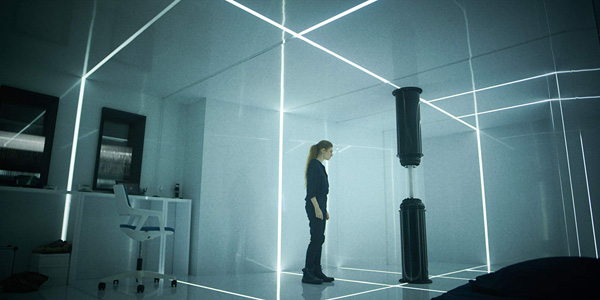 After having shot 30 feature films and several TV series during his career, Jean-François has regularly used Cooke lenses, especially the Cooke Anamorphic/i primes. "I love the flare characteristics and the beautiful drop-off that you get when using these lenses with a large opening. I have found this with the S7/i's as well - they have the continuity of the S4/i's with the same smooth transitions," he said.
"On the other hand, using full frame sends us a step further with shallow depth of field, especially at open aperture settings. The faces in close-up leave nothing in the drop-off. That's something you don't get when using other lenses in full frame 8K, and that historic roundness of Cooke lenses was always present." www.cookeoptics.com