Scouts Livestream 2019 Jamboree on Panasonic ProPTZ Camera Network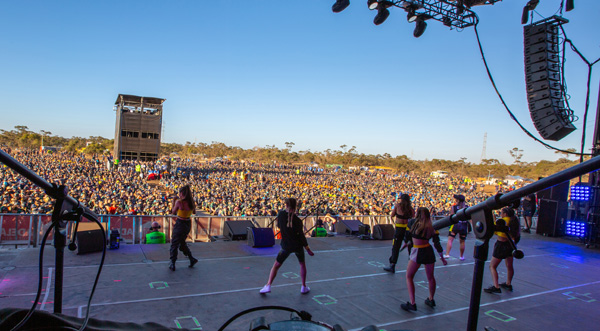 Crowds watch the mainstage at Australian Jamboree
The Australian Scouts Jamboree, held every three years, is a surprisingly big event, attracting about 10,000 young Scouts from across the country who participate in activities that challenge their technical and trade skills and abilities in sports and entertainment.
Jamborees take place in January and are typically hosted in relatively remote areas, which adds to the challenge and tends to limit their scope to the Scouts themselves. Up until now, the Scouts have also lacked the resources to operate the equipment required to capture and broadcast the action. But this year, for the 25th Australian Scouts Jamboree held at Tailem Bend, South Australia, that scenario changed.
The Livestreaming Challenge
Assistant Scout Leader Robert Zamora, a radio broadcast engineer and photographer, and Panasonic helped the participants implement a temporary, fully functioning radio studio equipped with a network of Panasonic ProPTZ cameras, controllers and monitors. Scouts Australia was able to include about 35,000 friends, family and fans from around Australia and the world in the Jamboree by livestreaming the entire event.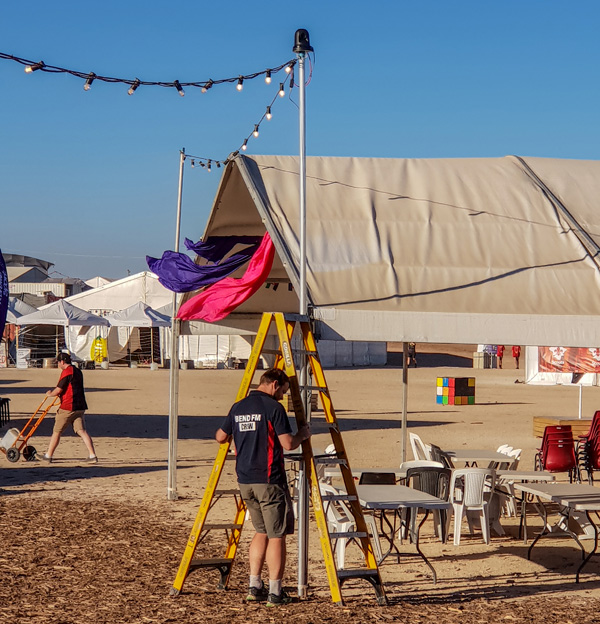 A Panasonic ProPTZ overlooks the Jamboree from atop a flag pole.
Robert has used Panasonic PTZs in radio studios for many years, extending content beyond the airwaves to digital platforms using online video streaming, and contacted Panasonic about employing a similar model at the Jamboree.
They were using several different Panasonic PTZ camera models including the very small AW-HE2 with professional functions like tally, presets and an integrated stereo microphone, up to the AW-UE70 4K remote camera with 20x zoom.
The main controller was the AW-RP120G remote that uses IP connections to set up large-scale, flexible, simple configurations in networks comprised of large numbers of cameras and simultaneous use of multiple controllers. It has a very responsive joystick for pan and tilt, and a new control panel with colour adjustment dials.
All About Volunteering
A team of volunteers was able to record audio and video content from the event's two stages and one studio, while basing themselves in the central radio station's master control room (MCR) where they had set up three monitors. The ability to set up and operate the cameras remotely considerably reduced the resources required and allowed everyone involved in the event to contribute to the creative output.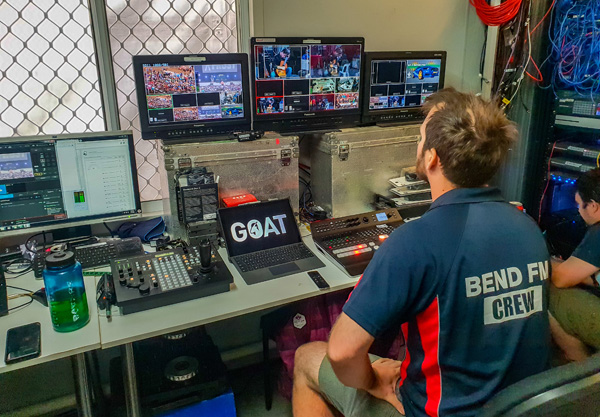 Volunteers monitor the PTZ feeds from the control room.
Robert said, "Jamborees are all about volunteering, so the content we create relies on the people available to help us. Through a fibre cable network, we could control cameras from all sides of the Jamboree using the Panasonic controller and stream online. It was very easy to operate them with a small number of people.
"With cameras set up at two stages and in the studio, we were able to capture the entertainment at each location across ten days and stream it live to friends and relatives back home. We had 35,000 people tune in for the opening ceremony alone, which was streamed from the main stage using four Panasonic PTZs."
Jamboree Workflow
The cameras were capturing 1080/59.94p video and had built-in H.264/MJPEG encoders outputting seven channels of video at up to 25Mbps, ready for streaming. Between the main stage and MCR, Reidel MediorNet MicroN devices were used as a point-to-point link for bi-directional HD signals.
As the camera feeds came into the MCR, all went through a Blackmagic Design Smart Videohub 40X40 router and ATEM 1 M/E Production Studio 4K switchers before being sent, without editing, to one of two streaming PCs. One delivered a video stream that was hosted on Livestream or YouTube, and the other went to a private site via Microsoft Stream. The audio-only radio stream was hosted on Caster.fm stream hosting service after routing the audio stream via the Lawo Crystal radio broadcast mixing console.

Scouts Australia has also been constrained in terms of resources and time to capture promotional material, however the PTZs' ease of use has made it possible to not only support livestreaming, but also capture a solid bank of content for future promotion.
"The Panasonic equipment allowed us to put cameras in places where we couldn't normally in the past. We could put the small PTZ cameras around the site, including at the top of a flagpole to get a bird's eye view of the Jamboree, and could control all of the equipment through a central hub to make sure we were capturing the best content at any given time, with no time wasted running between areas."
Perfect Match
Mathew Alexander, Product Marketing Manager for professional and broadcast video products, Panasonic Australia said, "When Robert approached us about using Panasonic equipment for the Jamboree, we were excited about putting the cameras to use at such a fantastic event. But to be honest, at first I didn't appreciate the size of the Jamboree and the scale of Robert's vision for the event until he explained it to me.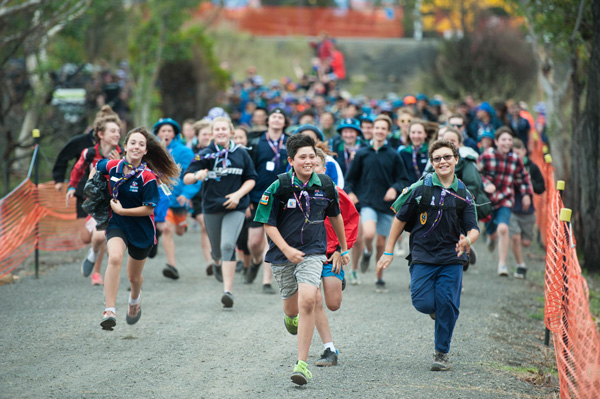 "Then, when he closed with the comment, 'By the way, everyone on our team is a volunteer', we knew the pressure was on. In terms of set-up and expectations of what the equipment would be required to do, the event is similar to a large music festival."
"Fortunately, the ProPTZ cameras were a good match for the project. Not only do they record excellent video quality, their IP connectivity supports simple wiring and fast deployment to dispersed locations such as the event's multiple stages and studio. The straightforward operation means that after set-up, the operators learned quite easily how they work and got stuck into production in a very short time," he said. business.panasonic.com.au