Minnesota United FC Puts In-stadium Fans First with Sony Studio Cameras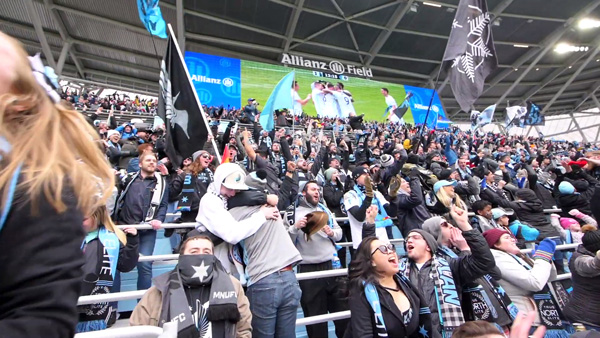 Minnesota United Football Club moved into its new home stadium at Allianz Field in St Paul, Twin City to Minneapolis, early in 2019, at the start of the year's US soccer season. Early on, new cameras for the stadium's large-scale video wall presentations were a major consideration. The organisation needed the video quality from the cameras to be of a high enough resolution to reproduce well on the outdoor 15mm HD LED board, concourse monitors and 2.5mm LED display inside the team's premier Stadium Club.
The team production engineer Cole Mayer's goal was for soccer fans at the stadium to see the same video quality or better than they would when watching at home. "We don't want them staying at home to see the best picture," said Cole. "Whether they're in the Stadium Club, watching the game in the concourse or replays from their seat, the image quality is what stands out to a fan. It attracts their attention and enhances the experience of being at the stadium."
Compact, Connected, Multiple Formats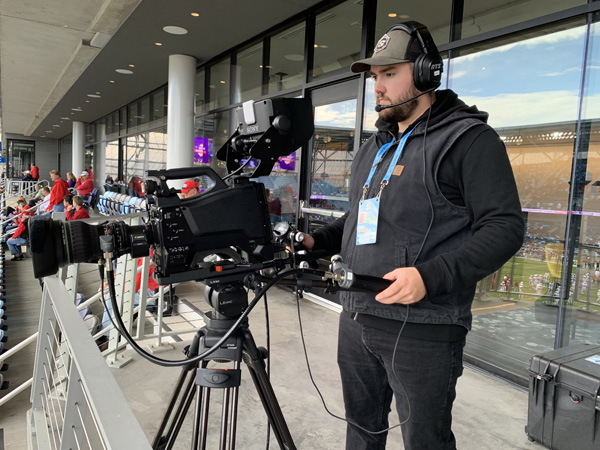 Camera operator at Allianz Field with Sony HXC-4300 HD studio camera.
As well as the resolution, the Club was looking for ease of use, and decided to purchase four Sony HXC-FB80 HD studio cameras with HXCU-FB80 CCU units and RCP-1500 panels for remote camera control, and one PXW-X400 shoulder-mount XDCAM camcorder. The HXC-FB80 is a full-HD studio camera system for live production with three 2/3-inch Exmor CMOS sensors and a 3G processor that pushes the HXC-FB80's performance to 1080/50p and 59.94p signal processing.
When used with the HXCU-FB80 4K/HD Camera Control Unit, the HXC-FB80's applications can be extended with 4K upscaling and, with a firmware upgrade, HD HDR support in HLG (Hybrid Log-Gamma). Its sensitivity of F13 and a corresponding signal-to-noise ratio of -60 dB means the cameras work well in low light conditions.
Cole remarked that both cameras are small, light and robust. The PXW-X400, also a shoulder-mount camcorder XDCAM with three 2/3-inch type Exmor CMOS sensors, is built with network connectivity, low power consumption and a built-in wireless module. Using the PXW-X400 with an upgrade kit supports a number of different 4K and HD formats, including HD XAVC Intra 1080 59.94p/50p and XAVC Long GOP at 59.94p/50p, and 4K QFHD at 50p/59.94p.
Connectivity includes a built-in wireless module, RJ-45 Ethernet 100B-T connection and near field communication (NFC) which makes Wi-Fi setup simpler for wireless LAN connection via a smart device, without manually setting up network parameters.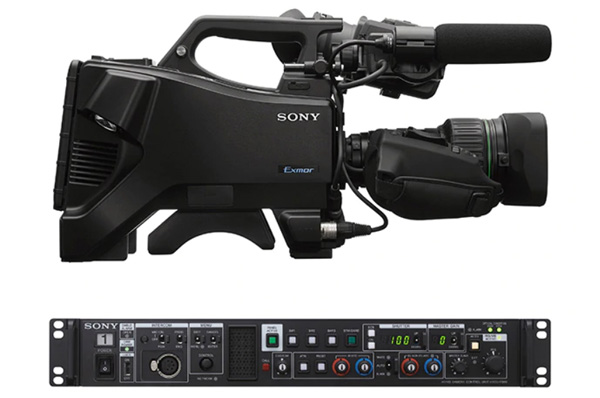 Sony HXC-FB80 HD studio camera and CCU
Live Production at Allianz Field
Allianz Field's video-control room is a 1080p 59.94 HD facility that the Minnesota United video team built in collaboration with audio/visual design firm WJHW and systems integrator Alpha Video. "Our configuration isn't necessarily the standard yet in terms of stadium presentation, but it is something that raises our presentation quality," Cole said. "Wherever a fan is watching the game within the stadium, the idea is to give them the best quality image for replays and regular game action with our new Sony cameras. That's a priority for us. We want to deliver to our fans."
The Sony system cameras fitted with Canon lenses are placed in various positions throughout the stadium – one HXC-FB80 with a Canon XJ80x lens is located underneath the large video wall, and another with the same lens runs in a far corner of the stadium. The remaining FB80s are equipped with Canon KJ20x8.2B lenses and placed in centre and left field.
At 22ft high x 116ft long with a resolution of 2304x456 pixels, the large Daktronics video display at the south side of the stadium, right at the top of the team fan section, placing a focus on them and allowing them to create an exciting atmosphere for the games. Slow motion replays and fan close ups, for example, are frequently shown on the board and require cameras with the resolution of the HXC-FB80 and PXW-400 to result in optimal video quality.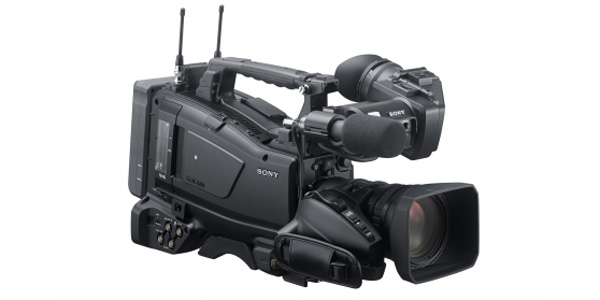 Sony PXW-X400
Cole said, "The big board is not so compatible with the 16:9 aspect ratio, so we can get some odd cropping on the video. What really helps the camera operators is being able to see the crop lines and outline the safe zone on the FB80's viewfinder instead of putting tape on them. The whole design of the cameras – especially their compatibility with the lenses and tripods and their format flexibility – makes operation easier."
SMPTE Fibre
The infrastructure at the new Allianz Field is also wired for SMPTE fibre, so a camera that is plug-and-play – directly in that environment - is essential. "We use SMPTE fibre at the stadium for our connections, and because the FB80 has fibre built into the camera body, it's set to go," said Cole. "Putting a single cable into each camera powers up the camera control, viewfinder and the lens in one step. It makes set-up and tear down during game days quite fast and simple."
Similarly, the Sony CCU units are integrated with the team's RTS intercom system, again, over SMPTE fibre connection. Once plugged into the camera, the headsets are operated through plug-and-play operation as well, and side communication has not been an issue.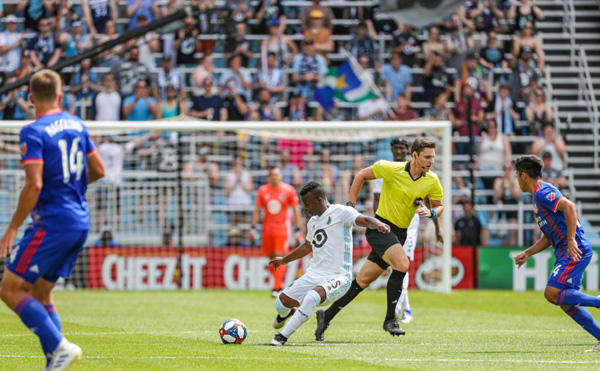 Credit: Jordan Johnson/Minnesota United FC
Remote Shading and Contrast
Another attribute that eases set up is the ability to shade and colour the HXC-FB80s digitally. Optical filter wheels for neutral density and colour correction can be controlled from the remote-control panel, RCP-1500, and gamma functions are used to fine-tune tonal values and control the contrast and detail. "This is the first time in my experience that we have been able to control the ND filter from the camera during a shoot," Cole said. "Being able to do that is very convenient for us because for some of the afternoon games, we don't have to move the cameras out of position and change the filters. The shaders can do that themselves remotely and adjust the colours precisely. It's been a huge help."
The Twin Cities (Minneapolis-St Paul) as a region has been comparatively brand loyal regarding Sony, and the fact that Sony cameras are in use at other stadiums and at major sports teams and universities in the Twin Cities makes operation and repair considerably easier. Cole, who has worked with Sony cameras in the past, noted that a good, wide-ranging level of brand loyalty allows their team to stay consistent within the market. When freelancers have to be hired to support larger events, the equipment is familiar to them. pro.sony