Panasonic's 4K 60p Camcorders Bring Live Streaming Support and LEICA Zooms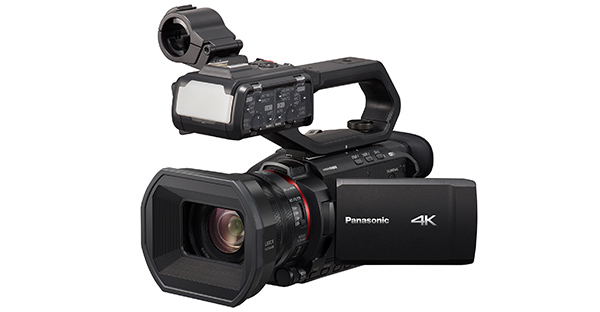 AG-CX10
Three new Panasonic 4K 60p camcorders for small production houses and news gathering agencies are due for release in early 2020. The cameras – HC-X1500, HC-X2000 and AG-CX10 – are lightweight and portable with live streaming support, optical and electronic image stabilisation and super slow-motion recording. The build includes fixed lenses, XLR audio input and ND filters.
With a new thin fan and heat-dispersing design, these are some of the smallest and lightest integrated lens camcorders capable of 4K 60p recording. By pulling in air from the rear panel and dispersing heat efficiently from the front panel, users can shoot reliably for extended periods.
Suitable for live news and event broadcasting, the camcorders have built-in Wi-Fi supporting HD live streaming. The AG-CX10 supports the P2 MXF file format, which is designed for broadcast, and is equipped for Ethernet HD live streaming. For use as a live camera, AG-CX10 has an NDI/HX-compatible IP connection.
Other capabilities include two rings for manual settings, an ND Filter, plus a built-in LED Video Light on the HC-X2000 and AG-CX10. All three cameras support 24-bit high resolution linear PCM audio recording, 4:2:2 10bit internal video recording up to 4K 30p and the HEVC codec for 4K 60p recording.
Integrated Lens
The camcorders' integrated wide-angle 25mm LEICA Dicomar lens (35mm camera equivalent) has a 24x optical zoom ranging from 25mm wide angle to 600mm tele, combined with intelligent zoom (i.ZOOM). When used in combination with optical zoom, Panasonic's i.Zoom system can increase zoom ratios up to 2x the original ratio while allowing only slight image degradation. In the case of these cameras, i.ZOOM achieves 32x at 4K resolution, and 48x at full-HD.

HC-X1500

A 4-Drive Lens System drives four lens groups independently, achieving the above specs in a compact body. The LEICA Dicomar lens design aims for precise resolution and contrast, suppressing flaring and ghosts. The two manual rings, one for focusing and the other for zoom or iris operation, are different sizes to make controlling the correct ring easier. ND Filters range from 1/4, 1/16 and 1/64 to clear – using glass protects against scorching from sunlight condensation.
Recording Modes and High Frame Rates
Slow-motion recording at 120 fps (to produce 59.94 Hz video) and 100 fps (for 50 Hz video) is possible in full-HD mode, supporting 10-bit, full sensor area recording. Auto focus can also be used at the higher frame rates.
The cameras all have the Panasonic Venus Engine processor, achieving 4:2:2 10-bit internal recording with maximum 29.97p in UHD, and maximum 59.94p in FHD.
When set for 10-bit recording, users can capture 4K 60p 4:2:2 10-bit HDMI output to an external recorder, or HEVC recording (LongGOP/10-bit 4:2:0/MOV) for recording 59.94p at a higher bit rate of 200 Mbps. As well as MOV, MP4 and AVCHD, the AG-CX10 will also support the P2 MXF broadcast format when recording to Micro P2 cards and, after a free future update, AVC-Intra/AVC-LongG codec recording (timing to be announced).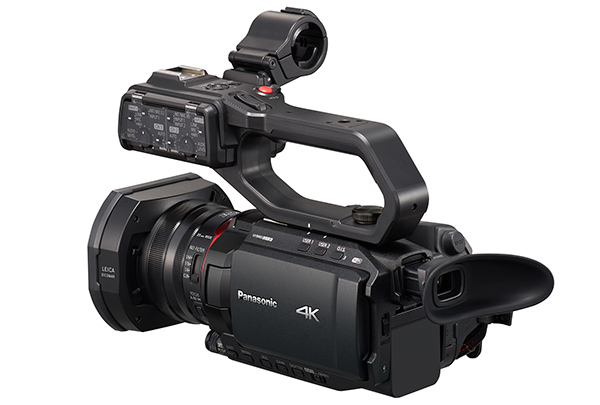 HC-X2000
Working with optical image stabilisation, electronic stabilisation operates to detect and correct camera operator's handshake in 5 axes in UHD and full-HD modes, including rotational blurring. This function can stabilise images at the lens' 24x optical zoom, under unstable conditions from low to high-angle shooting. A Ball OIS System reduces friction on the drive section, correcting even small-amplitude handshake.
These cameras have Face Detection AF/AE to improve the speed, stability and tracking ability of the focus lens drive, for both 4K and Full HD. Precise subject tracking can also be activated by touching the LCD panel, with skin tone recognition to distinguish between faces and backgrounds.
Professional Networking
Instead of connecting to a separate wireless LAN module, these camcorders have a built-in Wi-Fi module. Users can set wireless remote control, including camera settings and lens control using a remote operation panel for HC or AG cameras, HC or AG ROP, downloadable as a free tablet application. RTSP, RTP, RTMP or RTMPS-compatible HD streaming allows direct connection and streaming of concerts, sports events, news flashes and similar content over Facebook, YouTube and other sites.
The AG-CX10 is also NDI/HX compatible. Users can buy an activation key code supplied by NewTek – details and pricing will be announced. When the key is downloaded and NDI/HX mode is enabled, data transmission and camera control can be established via IP connection without an external converter, due to the AG-CX10's wired LAN capability.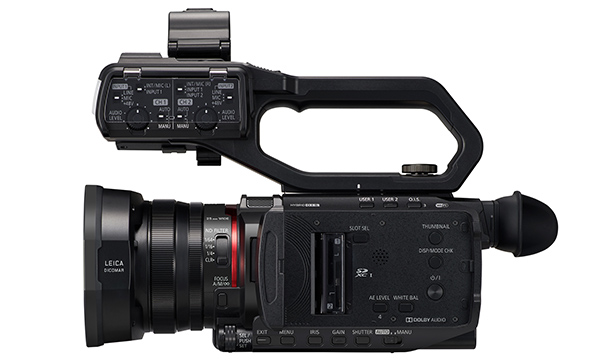 AG-CX10
Other network functionality includes compatibility with wired remote controls via the remote terminal and, for the AG-CX10 and HC-X2000, 3G-SDI for connecting to an external recorder. The AG-CX10 has a USB (micro AB) to LAN Conversion Adaptor and USB micro AB-Host Cable included.
Viewing and Monitoring
A bright video light is built into the handle of the HC-X2000 and AG-CX10 models, adjustable from 30% to 100% using the dimmer dial. For this light, HC-X1500 owners can purchase the optional VW-HU1 handle unit (see below). For shooting in darker conditions, regular infrared lights are supported, ideally 850-nm wavelength.
The 3.5-inch monitor has 2,760K-dot resolution for viewing under bright light, and an electrostatic touch panel. The 1,555K-dot tiltable viewfinder (EVF) and LCD output simultaneously. For users who prefer a manual focus, Focus Assist functions include Expand, Peaking and One-push AF. The included battery lies flush when attached and enables about 4.5 hours of continual operation.
Lights and Audio
Users can set up continuous relay recording using the two SD memory card slots in the camera bodies. Recording switches automatically from Slot 1 to Slot 2. The first card can then be removed and replaced. The maximum file size that can be recorded over multiple SD cards is 96 GB but recording will not stop even when the data size exceeds 96 GB. The two slots can also be used for simultaneous and background recording.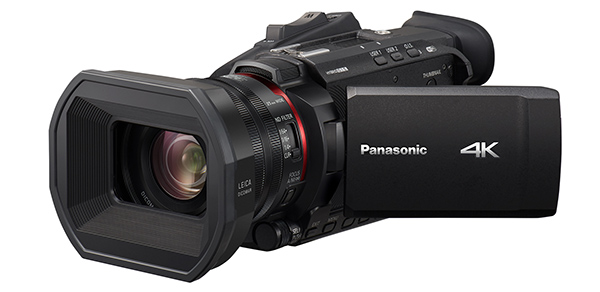 HC-X1500
In the handle of the HC-X2000 and AG-CX10 are +48V Phantom Power Supply, MIC or LINE selectable XLR audio input with manual volume controls, available for each of two channels. Other options are 16-bit AAC compressed (MP4), or Dolby Audio system (AVCHD) 2-channel audio recording. AG-CX10 users recording MOV/P2 MXF formats also have 24-bit linear uncompressed PCM (pulse code modulation) system support.
An optional Handle Unit (VW-HU1) has been added as an optional accessory for the HC-X1500. It is easily detached and equipped with a 2-channel XLR Audio Input, audio control and LED light. Operating the zoom lever attached to the Handle Unit maintains a constant zoom speed, which can be set in 7 steps from the menu.
The camcorders will be available in Australia in late March 2020 with recommended retail prices are expected to be AUD2,699 for the HC-X1500, AUD3,499 for the HC-X2000 and AUD3,999 for the AG-CX10. www.panasonic.com.au