FUJIFILM's Dual-Axis Projectors Light Up Adelaide Fringe Festival
FUJIFILM's FP-Z5000 ultra-short throw projector, built with a folded two-axial rotatable lens, is being used to project the Adelaide Fringe festival's primary installation 'Yabarra – Dreaming in Light', created by artist Karl Winda Telfer. 'Yabarra' is one of the projector's first public applications in Australia.
ProAV specialists Novatech Creative Event Technology supplied and installed the projection equipment for the festival's installation. The company first learned about the FP-Z5000 just before its release last year in April 2019 and bought four units.
Novatech co-owner, Milenko Novakovic said, "We hadn't invested in smaller projectors for a while and we were just in the planning phase for 'Yabarra – Dreaming in Light', which uses 30 projectors. Because the venue lacked the projection distance that short-throw fixed lens projectors require, we decided that the new FUJIFILM Z5000s could solve some of our design challenges."
Big Images, Small Venue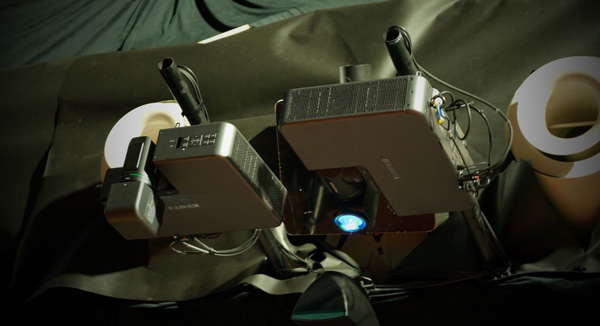 In two sections of the project, the festival's creative team wanted a wall and a floor projection to tie into one another and also wanted to see a large 6m wide image. At the same time, Novatech only had 2m of throw distance to work with inside the venue.
The folded two-axial, rotatable lens was developed so that the lens can be directed independently up, down, front, rear, left and right to project images in various directions without having to move the projector itself. This means it can project images not only on walls or screens but also on the ceiling and floor, and switch between vertical and horizontal display.
Milenko said, "We also didn't want the image interrupted as people came up close to the projection and that is what the Z5000's dual-axis lens design could make possible."
Most of what is interesting about the projector is due to the FUJINON lenses. FUJIFILM built the FP-Z5000 projector with a folded two-axial rotatable lens and extreme short throw functionality. Its combined capabilities and small size mean it can be set up in places where a conventional projector and certain projects could not be set up, due to space constraints.
What is a Folded Lens?
'Folded' in its name doesn't refer to the lenses themselves but to the arrangement of the lens elements. Instead of keeping them lined up in a straight row, they can be arranged in a bent configuration. Extra components inserted into the line-up, in two places, bend the beam of light when you bend the device. The lens and the main projector unit also fold up into a portable, box shape.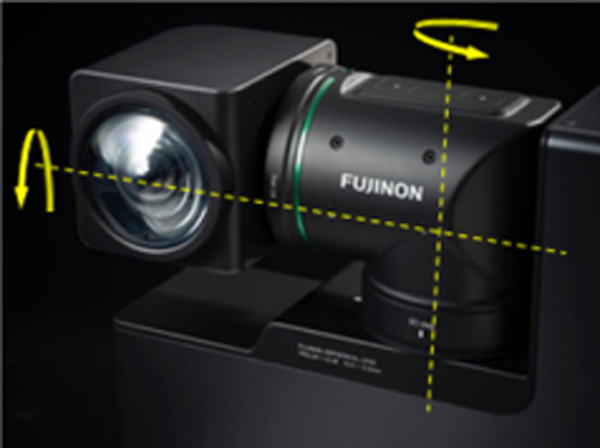 Folded two-axial, rotatable lens
The FP-Z5000 is built with large-diameter spherical and aspherical lens elements and a 5,000lm laser light source. The combination and build reduces distortion and aberration edge-to-edge for stable projection of bright images with HD (1920x1080) resolution. Its ultra-short throw lenses make it possible to project images onto a 100-inch screen [221.4cm wide], for example, from a short distance of only 75cm, giving a large throw ratio of 1:0.34.
Lens Shift
Once the image is projected in the required direction, a Lens Shift function of up to 82% vertical and 35% horizontal allows adjustment of the image position. This function takes advantage of the large image circle of its large-diameter lens. The percentage figures indicate the range of vertical and horizontal repositioning of projected images in relation to the height and width of the projected image on the screen or other surface. (See the diagram.) Rrotating the lens switches the orientation of projected images between portrait and landscape.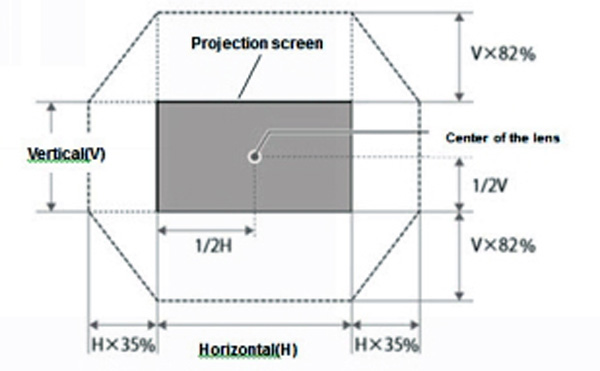 The 'Yabarra – Dreaming in Light' installation, on display until 15 March 2020, has been very successful for the festival and received critical recognition. Managing director Leko Novakovic commented, "The Z5000 is all about the FUJINON lenses and the dual-axis design. In this' installation, the projectors have remained stable and consistent throughout, with the colours bright and vivid. For Novatech, owning these projectors gives us creative freedom in our projection designs for events, custom activations and installations." https://www.fujifilm.com.au/