FUJIFILM Automates Focus and Exposure for FUJINON 4K and 8K Lenses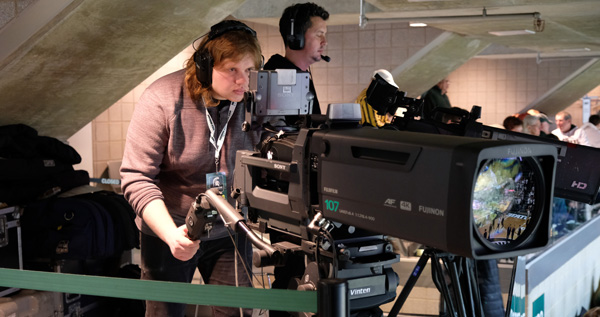 Dan Kissel using the UA107X AF to shoot a match live on a Sony broadcast camera.
FUJIFILM has developed two new lens functions, ARIA and RBF, that can be used with many of FUJINON's 4K and 8K UHD broadcast lenses. ARIA stands for Automatic Restoration of Illumination Attenuation and RBF refers to Remote Back Focus, and both of these features will operate with several of Sony's new series of 4K UHD cameras.
ARIA – Automatic Restoration of Illumination Attenuation
The ARIA function works by sharing lens design characteristics and positional metadata between the FUJINON broadcast lens and the camera. In the optical design of broadcast lenses, certain engineering compomises must be made to build in desirable zoom ratios while maintaining a practical size and weight. As a result, two major optical phenomena have persisted that the ARIA function was developed to eliminate.
The first issue is F-Stop, or exposure ramping, at the telephoto end of the zoom. Currently, this effect can be seen when the lens zooms from wide to telephoto, and loses exposure beyond a specific focal point. This ramping curve is a characteristic of that particular lens' design, and is consistent among all serial numbers of each model.
With ARIA turned on from the camera remote control panel (RCP), the lens transmits the known focal length position from internal 16-bit encoders, and the F-Stop/exposure ramping curve. In response, the camera adjusts the gain by the appropriate amount to correct the light in the image, resulting in a consistent exposure level throughout the zoom range of the lens. The encoders are there to convert position information into digital signals, outputting information about zoom, focus and iris positions as signals expressed with 16-bit precision.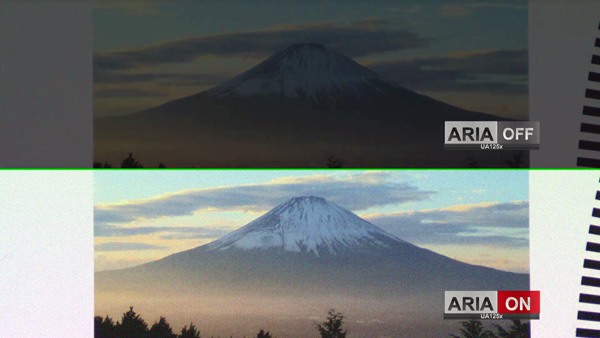 The second phenomenon is known as relative illumination, a result of the fact that all lenses are slightly brighter in their 'sweet spot' at the centre than at the edge of the image. In instances when this difference is visible, it may be referred to as corner shading or portholing. Again, the relative illumination characteristic of the lens is known and consistent between all serial numbers of a given model. With ARIA turned on, the lens communicates with the camera, providing relative illumination data throughout the full range of the lens, which then corrects the corner shading, giving the picture a consistent, flat illumination from the centre to the edges of the image.
RBF – Remote Back Focus
All broadcast lenses require calibration to the camera sensor to perform properly. The calibration process is sometimes called back focus, and may need adjusting at various times during production due to factors such as temperature fluctuations. Manual adjustment is usually done locally by a camera operator or technician, often in an OB van at sporting and entertainment events. But in many situations, adjusting the back focus from the lens is challenging or impossible due to the nature of the setup, for example, when the cameras is mounted on a helicopter, SkyCam or robocam, or in other locations with limited accessibility.
Most FUJINON 4K and 8K broadcast lenses have a 'Floating Back Focus' system, in which a servo motor is used to set the back focus. The RBF feature is operated solely by the video operator in the OB van or control room via the camera remote control panel (RCP) and does not require anyone to be at the camera position. This development gives smaller crews and individual operators a lot of flexibility.
The video operator has complete control of the zoom, servo focus and back focus functions of the lens from the standard camera RCP, and is therefore able to remotely adjust the back focus and calibrate the optical system for optimal performance - from all camera positions at all times. With RBF, back focus can now be set at any time or place, even when the camera operator is not available, the lens is not accessible by a person, or if it is not safe to access the lens.
8K Broadcast Zooms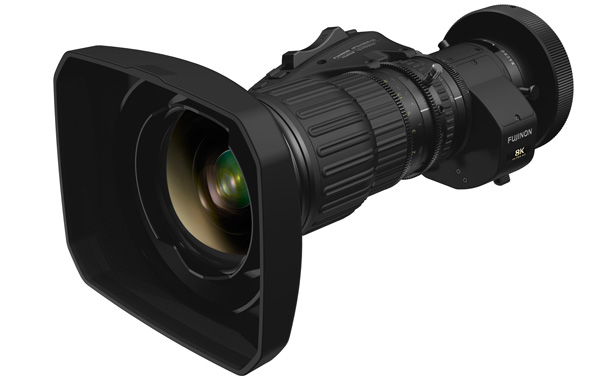 FUJINON HP12X7.6ERD
Two new FUJINON 8K UHD broadcast zoom lenses, due for release later in 2020, have been developed, increasing FUJINON's 8K series to a total of seven lenses designed for two camera formats – 8K 1.25" three sensor bayonet-mount cameras and 8K PL mount models. The two new lenses belong to the three sensor bayonet-mount group.
The FUJINON HP66X15.2ESM box lens reaches an extremely long 8K focal length of 1,000mm and one of the world's highest zoom magnifications of 66x. The FUJINON HP12X7.6ERD is a portable lens covering a range of 7.6mm to 91mm, with a very wide 8K angle of view at 93.3 degrees. Both have bayonet mounts targeting three 1.25" sensors for 8K resolution.
Fujifilm's multi-layer coating (High Transmittance Electron Beam Coating) increases the rate of light transmittance, resulting in vivid colour reproduction and tonal gradation needed for HDR images. Aspherical and fluorite elements are used to effectively control various types of aberration. Fluorite has a small chromatic dispersion in light transmittance and refractive indices, supporting optical design with very little chromatic aberration.
The lenses are built with a nine-blade aperture producing natural bokeh, and 16-bit encoders converting position information – zoom, focus and iris – into digital signals.
The HP66X15.2 also has a high-performance optical image stabilization mechanism to make 8K production at long focal lengths absolutely steady. Both lenses can be used with up to date focus accessories to achieve the extra focussing precision required for 8K resolution.
News of these two lenses was announced during a virtual press conference on 16 April 2020. The HP66X15.2ESM lens is expected to be released by mid-2020 and the HP12X7.6ERD a short time later.
4K Broadcast Lenses – Auto Focus and Extreme Zoom
At the same press conference, two new 4K broadcast lenses were shown. One of them, the UA107x8.4 AF, incorporates a new phase-detection auto focus sensor developed to achieve fast, sharp images with a response speed as fast as 0.45 seconds and an ability to track moving subjects very accurately. It also has FUJINON's proprietary image stabilization mechanism and a 107x magnification zoom that covers focal lengths from 8.4mm to 900mm (1800mm with 2x).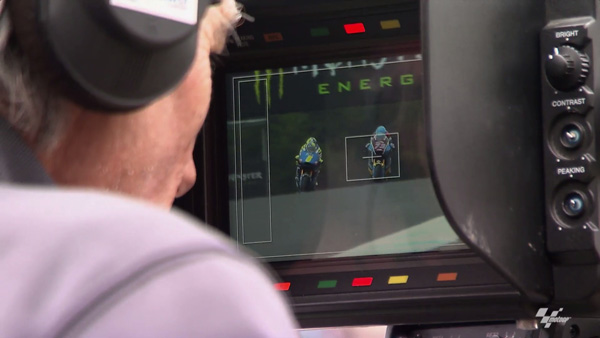 UA107x8.4 AF
Development of the UA107x8.4 AF's phase-detection AF sensor and dedicated algorithm was based on expertise gained from building Fujifilm's X Series and GFX digital cameras. "With the advent of 4K video, focus has become critically important in live production. Fujinon's assisted focus solves the problem with an adaptive, extremely fast, accurate tool that works in demanding lighting conditions," said David Lemmink, Director of Engineering/Director of Operations, Solotech integrated AV systems supplier.
HDR and vivid colour reproduction also make this lens a good choice for covering live sports, entertainment and houses of worship. Similar to the two 8K lenses described above, the UA107x8.4 AF uses aspherical and fluorite elements to control various types of aberration, and the FUJINON multi-layer coating to raise the light transmittance rate for vivid colour reproduction and HDR tonal gradation under bright sun or in near darkness.
Dylan Kissel, a student at Michigan State University and sports camera operator for Spartan Vision, the video production unit for the university's Athletics department, tested the UA107X AF and appreciated shooting whatever he wanted without worrying about focus. "I could shift quickly to a spot in the crowd and get the shot, trusting that the focus would be there and knowing I could get back to the game in time. By the end of the first time out, I was very comfortable with the operation. I didn't have to worry about taking extra seconds to focus, and the director knew I would be there in time."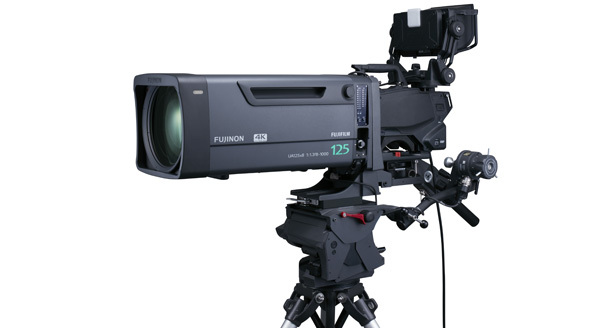 The other new 4K broadcast lens is the UA125X8BESM (above), a box lens with one of the highest zoom ratios available, 125X. This lens covers a focal length of 8mm~1000mm from the wide angle, with an F1.7 aperture. It is now the longest and widest 4K field lens for UHD applications in the FUJINON UA series, designed to use with newer 4K 2/3" cameras. The new lens has the company's proprietary optical characterstics, Fujifilm's multi-layer coating and aspherical and fluorite elements to support accurate colours and high contrast.
Supporting the high zoom magnification, the UA125X8 is built with high-performance optical image stabilisation, nine-blade aperture for natural bokeh and 16-bit encoders. A proprietary anti-fogging design minimises lens fogging and reduces downtime due to moisture, of concern when shooting in all weather conditions. www.fujifilmholdings.com