Canon Launches EOS C300 Mk III with DGO Sensor and Hybrid CINE-SERVO Zoom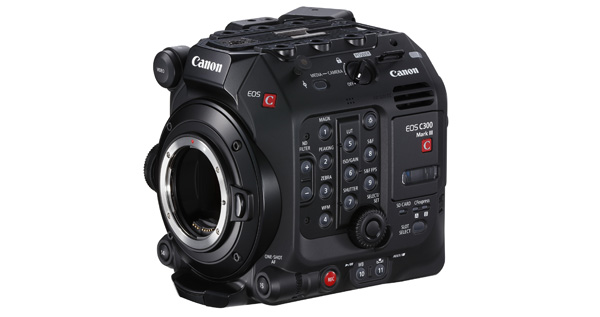 The new Canon EOS C300 Mark III has a new Super 35mm 4K CMOS Dual Gain Output (DGO) sensor capable of HDR output exceeding 16-stops of dynamic range, a configurable design and the ability to record up to 120fps in 4K Cinema RAW Light or XF-AVC. These specifications suit documentaries, dramas, corporate videos and commercials.
To capture effective HDR and achieve low light picture quality, each pixel on the DGO sensor is read out with two different amplification levels – one high and one low – which is then combined to make a single image. The higher amplification read out is optimised to capture clean details in darker areas, while the lower amplification read out is optimised to capture details in brighter areas. When combined accurately, pixel-for-pixel, the details and the qualities on the highlight and low light areas of the image are maintained and enhanced, achieving a dynamic range of up to 16+ stops.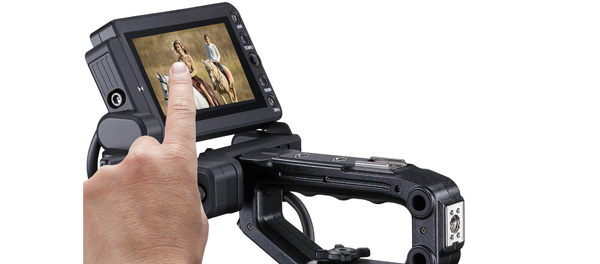 The DGO sensor is also compatible with the camera's Dual Pixel CMOS AF, which is sensor-based, phase detection auto focus tracking for video, suitable for movie shooting. When used with the touch panel of the LM-V2 LCD monitor, an optional accessory, you can precisely adjust the focus as you shoot.
Multiple-format Internal Recording
The camera records 4K Cinema RAW Light internally, an efficient format that keeps the advantages of uncompressed files in terms of flexibility in post production, but without the cost and challenge of storing RAW video. The camera's other internal recording formats are Canon XF-AVC at 4K DCI and UHD at 4:2:2 10-bit, 2K and Full HD.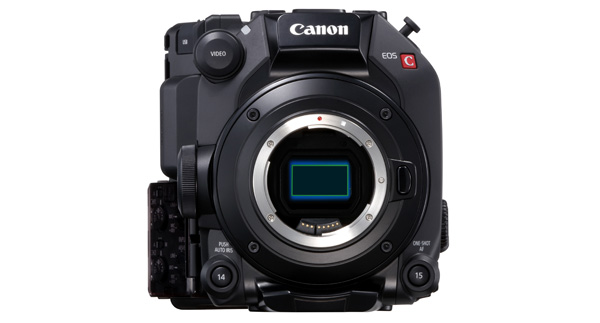 For non-RAW recording in XF-AVC, users can choose ALL-I or Long GOP to shoot with high compression for efficiency and longer recording times. When recording 2K or full-HD in Super 35mm, footage will have the 4K sensor's capabilities – that is, the recording is downsampled internally to record the footage at the selected resolution, but without cropping the sensor, keeping the image quality and entire field of view of the chosen lens.
Expansion Units
The user can also configure the camera using two different optional Expansion Units, EU-V1 and EUV2. These add extra connection terminals to the camera body and expand the camera's compatibility with various styles of shooting.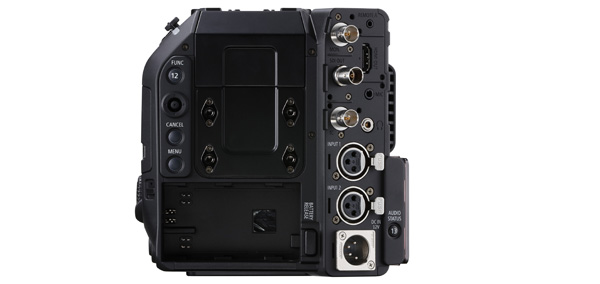 Extra connectivity in the EU-V1 means the camera can be used for remote operation and live production. A Genlock/Sync Out port accepts a genlock signal that slaves your camera to the same time base as the other equipment receiving the genlock signal. Sync Out allows your camera to feed other live production equipment to sync to it. The Remote B port allows control of the camera using RS-422 protocol, and the Ethernet port connects the camera to a LAN for control and live streaming.
The EU-V2 has a V-mount battery mount for power, plus five expansion ports that turn the camera into a full production camera, and adding two 3-pin XLR connectors for audio input. The V-mount battery plate incorporates a D-Tap output for powering accessories. The expansion ports include the Genlock/Sync Out, Remote B (RS-422) and Ethernet like those in the EU-V1, augmented by a DC Out (24V, 2A) to power accessories, and a lens control port allowing you to interface with specific lenses.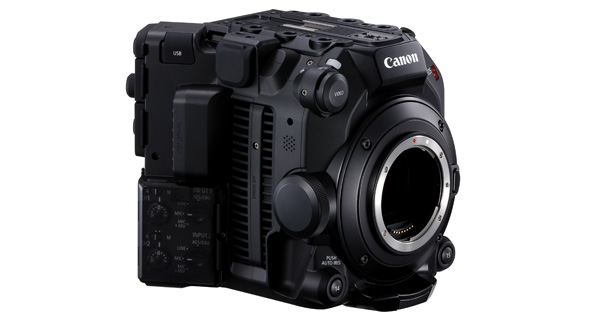 Even without the EU-V2, the lens mount can be changed between EF, PL and EF Cinema Lock mounts, giving producers many different looks without having to send the camera to an Authorised Service Centre.
Hybrid CN10X25 IAS S Zoom Lens
The Canon CN10X25 IAS S CINE-SERVO lens is a new 4K and 8K-capable 25mm-250mm 10x power zoom with a wide focal length range and compact, lightweight design. With hybrid broadcast/cinema capabilities, the CN10X25 IAS S lens was made to shoot drama, commercials, sports and documentary, and therefore is a good match for the new C300 Mark III and Canon's other Cinema EOS System cameras. The 11-blade aperture creates a soft bokeh highlighting the subject, and warm colour tones for a more cinematic look.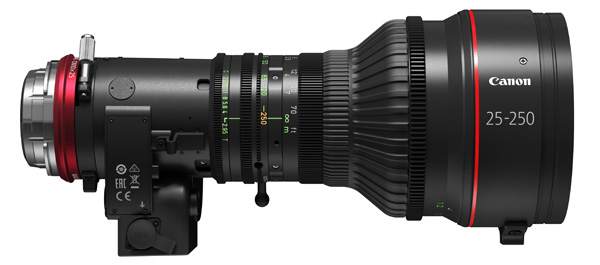 Built to capture images that are sharp from centre to outer edges, the power zoom can handle a range of shot types from 25mm wide angle, to 250mm telephoto. This range can be pushed to 375mm with a built-in 1.5x optical extender, supporting close-up capture of action happening in the distance. With the built-in extender it is possible to enlarge the image size of the lens to make it compatible with 35mm Full Frame sensor cameras such as the Canon EOS C500 Mark II.
The drive unit of the CN10X25 IAS S is detachable, suiting many different broadcast and cinema production requirements. Real and virtual images can be calibrated with precision position detection. The lens mount can also be interchanged between an EF and PL mount for further flexibility.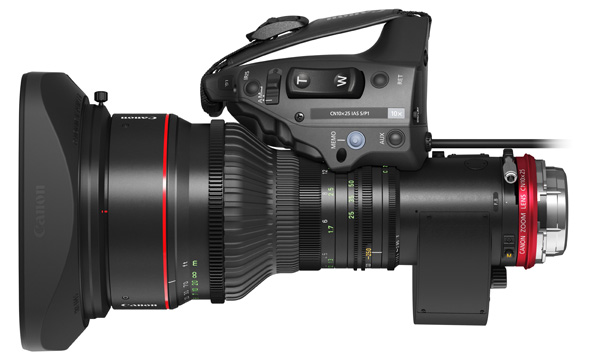 Its compliance with a good range of communication standards supporting EF communication with EF mount, and Cooke/i Technology with PL mount, gives extra support for unusual types of productions. A 12-pin serial communication is supported for broadcast standards, as well as a 20-pin connector outputting accurate lens positional data for various virtual systems.
The EOS C300 Mark III will be available from June 2020 and the CN10X25 IAS S is expectedfrom July 2020.
Cinema EOS System Camera Firmware Update
At the same time as announcing the new camera, Canon released a firmware update for its Cinema EOS System cameras. Among the 17 total updates are extra lens compatibility between the EOS C700 FF, EOS C700/C700GS, EOS C300 Mark II, EOS C200 and the new CINE-SERVO lens – the CN10X25 IAS S described above. The included support functions are Dual Pixel CMOS AF functions, chromatic aberration and peripheral illumination correction functions and the lens metadata recording.
XF-AVC Long GOP and XF-AVC Proxy recording formats have been added to the EOS C500 Mark II to meet industry requirements and for compatibility with multiple workflows.
Simultaneous HDMI and SDI output from the EOS C200 increases the camera's flexibility. As a result, users can use two output terminals for different purposes such as adding a recorder and a reference monitor while also recording internally. www.canon.com