Panasonic AG-CX10 Review – Compact 4K Recording for News and Streaming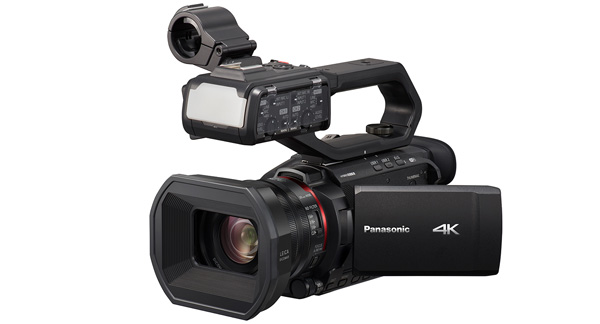 The Panasonic AG-CX10 is a near perfect camera for solo journalists, roving documentary makers, and any kind of vlogger or video streamer. But it is actually more than that – it is good enough for full-on ENG environments. With its broad-ranging functionality and small lightweight form, it is ideal camera anywhere that speed and ease of shooting are desirable.
The CX-10 has a large 1/2.5inch MOS sensor, and uses the Panasonic Venus Engine developed for the Lumix cameras to give it fast image processing. It records 10-bit 4:2:2 4K 30p video internally at up to 150Mbps, and 10-bit 4:2:0 4K up to 200Mbps in 24p, 30p and 60p.
Shooting in FHD records 4:2:2 for good colour definition at up to 200Mpbs, with up to 60p and super slow-motion recording in frame rates up to 120p.
The camera can capture in MOV, MP4 and AVCHD codecs, and Panasonic's P2 MXF that has numerous bitrate and frame rate options. Capture modes include Long GOP or ALL-I intraframe. The camera also has a full-sized HDMI out for uncompressed 10-bit video signals to an external recorder. To set up continuous recording, you have dual SD card slots.
Panasonic says the CX10 is the lightest 4K 60p camcorder with a fixed zoom lens on the market. But despite the small size and weight, I found that with the top handle attached, it is more than sufficiently sturdy with a professional feel.
Leica Lens
The AG-CX10 has many useful features, starting with the lens setup. It includes built-in ND filters, dual-programmable lens rings for focus and aperture or zoom.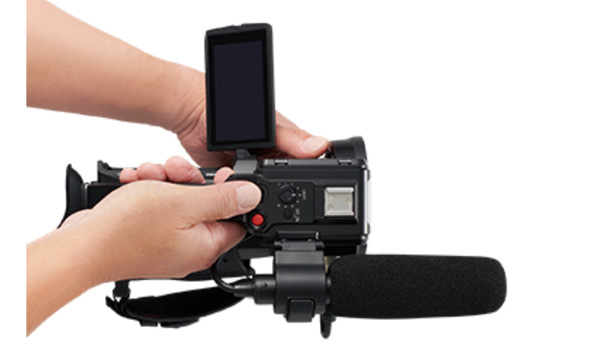 The CX10 has a 24x Leica Dicomar zoom lens giving a 35mm equivalent of 25-600mm of optical zoom. Shooting in iZoom digital zoom mode gives you 32x clear magnification in 4K and 48x in FHD. The zoom is smooth and easily controllable with zoom rockers on both the main grip and the top handle, which can be adjusted for a desired speed.
I shot with this lens in various situations and lighting conditions and found it to be very sharp, and it captures colours beautifully. This lens might be transformative for many solo video journalists, enabling them to capture great imagery without being a trained cameraperson.
Image Stabilization
The on-board image stabilization in this camera is top notch and is another feature that will transform an untrained camera op like me into a real pro. The zoom is steady all the way through the entire zoom range and no shake is noticeable even when used handheld.
Auto-Focus
This camera's autofocus is more accurate than any that I have ever used in a small camera. The AF/AE mode uses the colour in the image to track focus.
Audio
The detachable top handle mentioned above has two XLR inputs and volume controls. I used a Sony lavelier mic, but even the built-in mic is very good quality.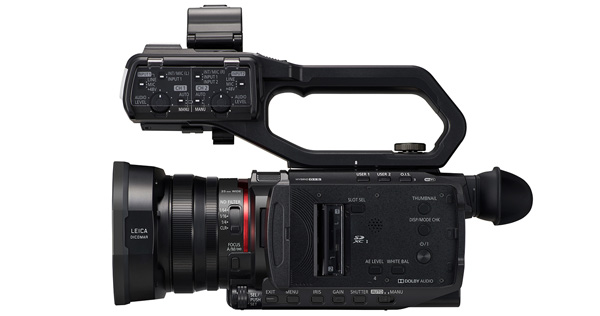 Built-in Light
Another very handy feature in the top handle is a 2in x 1in daylight LED light. It is very bright with a dimmer dial and makes it simple to shoot subjects with better lighting in any environment.
The EVF can be used with the flipped out LCD, since they both output simultaneously – that is, the image you are recording can be confirmed in the LCD monitor while viewing it on the EVF. The viewfinder is 0.61 cm (0.24-inch) with excellent image quality. Several user-programmable buttons are also available.
Streaming Encoder
You can stream directly to the web with the built-in Wi-Fi. The AG-CX10 also has an NDI|HX mode to use the CX10 in broadcast applications over networks that allow for external camera PTZ control. This means an external converter is not needed for data transmission and camera control via IP connection.
Panasonic's AG-CX10 is an excellent addition to their impressive range of cameras, raising the bar several notches higher. pro-av.panasonic.net
By Sean Young