Grass Valley LDX 100 Captures UHD HDR Video for IP Live Production Networks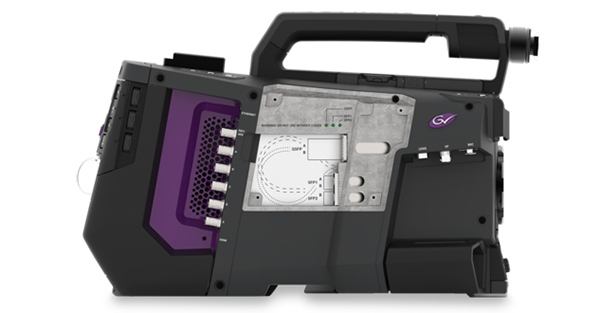 Grass Valley launched their new LDX 100 camera platform in April, built to use IP connectivity to integrate into broadcast workflows, and has a new 2/3-inch Titan imager to capture UHD images in HDR at up to 3X high speed. Not made to replace the company's earlier LDX and LDK cameras, its approach to image capture and processing and to live workflows is very different.
The camera works as a self-contained IP endpoint with IP network connections of up to 100 Gb/s supporting audio, video and control directly at the camera head to distribute camera sources wherever they are needed on the network. This approach avoids the delay caused by sending signals to a separate control hub first.
New types of signal topology – for example, mesh, star, bus, ring – are possible for acquisition and distribution. LDX 100 does not rely on traditional SDI interconnection, giving more options for distribution including remote integration that uses less bandwidth because only the necessary signals are transmitted. Creative teams have immediate, non-conflicting access to all camera sources, wherever on the network they need to work, which they can use to design efficient configurations.
Video Capture
Available bandwidth and processing capability have been limiting factors in the development of broadcast production tools for the new video formats. In particular, high-speed capture of images for 4K and UHD super slo-mo is not often available in traditional cameras. LDX 100 cameras can record up to 3X high-speed UHD image capture from the same camera — in a single cable — directly from the camera head.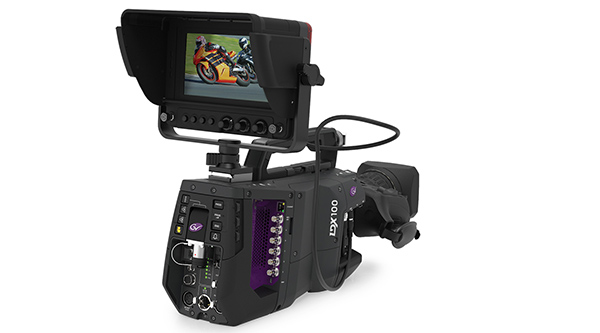 LDX 100 with VF7-100X flat panel viewfinder
The LDX 100's three Titan UHD sensors increase resolution and enhance colour reproduction, and its support for HDR maintains the high contrast in the image. For the audience, it reveals detail that wouldn't otherwise be visible.
Camera shaders working with Grass Valley's Creative Grading control can access the camera's wide colour gamut, using it to create a memorable, branded look and apply it across all the cameras on the network, giving productions a signature style. On-board GPS results in a faster network response time by detecting the physical location of a camera, not just its IP address.
Networked
For camera operators, the LDX 100 boots quickly and has indicators with onboard diagnostics that generate immediate feedback on camera status. Viewfinder menus directly access resolution, frame rate and other settings, and are logically grouped so that operators can change settings without accidentally affecting other parameters while on-air.
Modern production and distribution environments require multiple separate content versions from a single production. LDX 100 cameras support the creation of multiple formats with native IP connections directly into the network. Standards-based IP makes it straightforward to connect, convert resolution, map HDR and use as needed across the network. LDX 100 deploys a functional model for collaboration. Whether working locally or remotely, every creative team immediately has access to the sources they need for their parts of the production.
Specialised for Live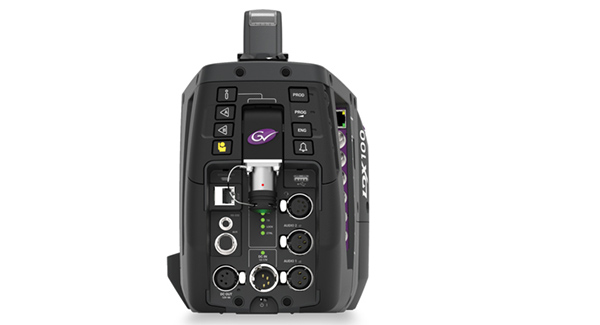 The number and variety of inputs and outputs for a live production continues to grow as live video becomes more valuable, although production budgets may not have risen at the same pace. Grass Valley says that the new camera system makes live production more viable through ease of use, speed and less reliance on infrastructure
Because the LDX 100 camera doesn't use an XCU or cradle, on-site or REMI set-up is faster, the 2RU of rack space and weight per camera that the earlier LDX system cameras occupied is no longer needed. Instead of relying on external equipment to manage the communications, LDX 100 is a native IP camera that serves as the active IP endpoint in the network.
Under this system, which Grass Valley calls NativeIP, users add cameras to the production system from wherever a network connection is available. In short, less hardware means less time to set up and configure while the number of potential camera locations is increased.
Use of common IP standards makes integrations simpler – audio, video, control and PTP timing. Support functionality includes connection and discovery of the cameras on the network along with management of camera tally information, audio levels, control panel button presses and status using standard integration. AMWA-NMOS protocols are implemented to make the camera instantly identifiable to a network control system such as Grass Valley GV Orbit, and users can switch to new camera configurations with one click.
Scalable and Upgradable
The nature of the system's scalability allows cameras to be added anywhere in the network. Authorised users can simultaneously access the same video and audio streams from any workstation and consequently do not have to wait for a return feed from a central facility. Overall, signal delays and total network bandwidth requirements are lower.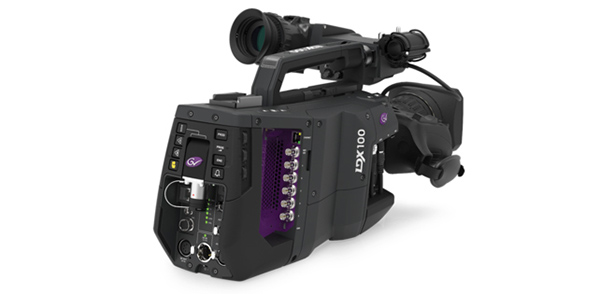 LDX 100 with EyeCatcher EC 2-100 colour LCD ocular viewfinder
Switching between production formats is simpler, as changing to a different bandwidth SFP connector in the field only takes a few seconds. The dynamic connectivity made available through multiplexed IP connections is also very fast.
LDX 100 is an upgradable camera – you can start deploying it as an HD camera doing 1080p productions and continue to add functions up to triple-speed UHD as production needs change. Because it is possible to pay for certain features only when required, using LDX 100 on a production also makes it to accurately match production costs to a specific job, on a daily or multiple day basis.
For crews that now work mainly in HD SDI, LDX 100 is still compatible with Grass Valley's existing XCU, however, the same camera can later be plugged into an IP network or moved to a hybrid environment.
Viewfinders
This camera operates with two of Grass Valley's viewfinders. The EyeCatcher EC 2-100 colour LCD ocular viewfinder aligns what the user, the control room and the viewers see. It has a fast response rate of 16ms, qHD resolution of 960x540 (about 300dpi to view) and measures 2.0in diagonally with -3 to +1 diopter compensation range to fine tune the vision to the user's eyes.
The 7in VF7-100X is a HD flat panel colour viewfinder with high brightness and contrast, and a fast display refresh rate. As well as adjusting the viewfinder settings, the menu structure calls up the camera system menu via the viewfinder controls. The operator can also adjust colour temperature of the display to match the colour temperature of the scene, without affecting the main video signal. www.grassvalley.com