Panasonic LUMIX G100 for Online Videography Captures Immersive Audio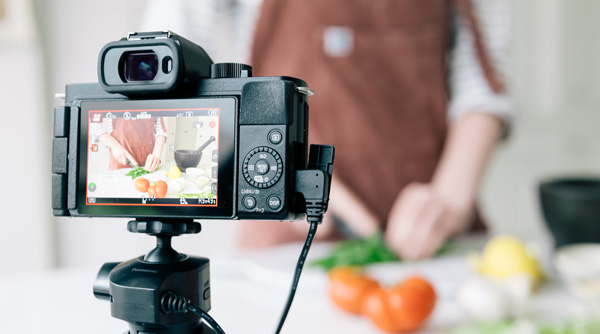 The new Panasonic LUMIX G100, a Digital Single Lens Mirrorless camera designed and developed for vloggers and online video content creators, is able to control and record high quality audio directly in-camera using the OZO Audio system by Nokia.
The LUMIX G100 is one of the first interchangeable lens cameras (ILC) built with OZO Audio, which incorporates three microphones that capture immersive sound. Whether the operator is behind the camera narrating, or in front of the lens speaking to camera, the OZO Audio system will track and capture sound as required for the production, making an external microphone unnecessary.
The G100 has a 20.3MP MOS sensor without a Low Pass Filter, creating sharp images with low noise. This large sensor is capable of capturing a shallow depth of field, enhancing image quality with more visual interest and expression. It also allows low-light shooting at up to ISO 25600.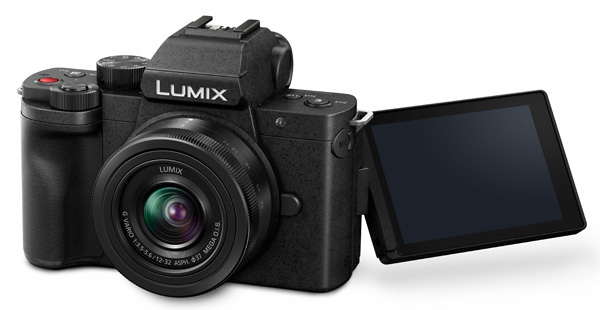 Other new functionality, described below, are content sharing via smartphone, LUMIX Video Selfie using a free-angle monitor, and Frame Marker with a range of aspect ratios. General capabilities include 4K video, Quick and Slow video modes and V-Log L recording, which is pre-installed for precise colour grading support.
OZO Audio Capture
OZO Audio suits video intended for universal playback and sharing across social media platforms. It functions with minimal equipment and improves audio quality by allowing the user to control the source of captured sounds, depending on where the speaker or other subject is located relative to the camera. When working with a subject in front of the camera, OZO Audio works in tandem with the G100's auto focus system to track and follow the sounds of the subject in focus.
The G100 has three built-in microphones the videographer uses to track and prioritise the subject while recording by selecting from five capture modes – Tracking, Surround, Front, Back and Auto.
The Tracking mode was developed for vloggers and on-camera presenters, and works in conjunction with Panasonic's Face Recognition system. Face Recognition analyses the scene and automatically adjusts the three microphones to converge on the location of the presenter or subject. The result is a voice recording with consistent levels, overcoming interference from crowds or locations with ambient noise.
The Surround mode, on the other hand, records audio in all directions, giving the audience a 360° sound experience, effective for conveying the ambience of a scene, such as the sounds of nature or a sports event.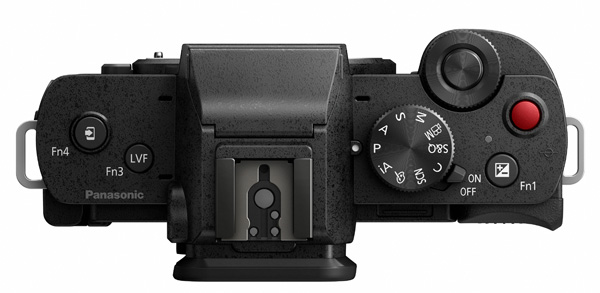 The Front mode captures sound in front of the camera while suppressing noise behind it, and helps to isolate voices in interviews or when recording live performances such as concerts, theatre or corporate presentations. The reverse of Front mode, back recording is useful for solo travellers and independent content creators and is usually not practical with an external microphone in any case. So, the back recording mode can make new creative options available. The camera operator can directly narrate the scene they're shooting in real-time as events unfold.
Auto mode is included for unpredictable scenes and general recording situations. It automatically switches between Tracking and Surround modes, allowing the operator behind the camera to interact with a presenter in front of the lens. The operator can also combine the 360° soundscape of a scene with realtime narration in camera and avoid the task of editing together audio from multiple sources in post-production.
Video Assist Functions
The LUMIX Video Selfie mode captures the vlogger holding the camera and the background, using the cameras's large 3.0-inch 1840k-dot touch monitor (see below). The G100 enters this mode automatically when the screen is flipped outward to face the operator, becoming a free-angle rear monitor that can also be positioned to capture high or low-angle shots.
Other shooting assist functions for solo content creators include Frame Marker for checking composition during recording. A number of different aspect ratios are supported, including those for common social media platforms – 16:9, 4:3, 1:1, 4:5, 5:4 and 9:16. Also, the REC Frame Indicator displays a clearly visible red frame for checking at a glance if the camera is recording or not.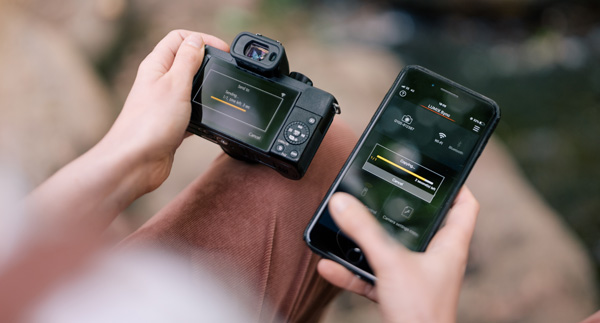 The G100 captures 4K video at 3840 x 2160 resolution at 30p, 25p or 24p with a 5-Axis Hybrid I.S. (Image Stabiliser) for shake suppression, particularly while walking and talking or following events.
Bluetooth, Wi-Fi and HDMI Connectivity
The camera supports content sharing with smartphones using Bluetooth 4.2 Low Energy connection and 2.4GHz Wi-Fi (IEEE 802.11b/g/n). With a constant connection using BLE4.2 (Bluetooth Low Energy), images can be geotagged and a smartphone can be used as the camera's remote control. Pressing a dedicated button on the G100 transfers images and videos to the user's smartphone for editing and sharing to social media.
The camera also supports video output over HDMI, allowing it to be used as a streaming webcam with high quality sound and images, and expressive depth of field. Note that live streaming 4K video is not possible, and while using the HDMI output function, video cannot be recorded at the same time.
Frame Rates and Viewfinder
Users can create 4x/2x slow and 8x/4x/2x quick motion footage in full-HD, as well as capturing Time Lapse videos. For videographers planning a detailed, creative colour grade in post-production, the G100 supports V-Log L recording, which yields a wider dynamic range for the colourist.
The camera has a high-performance 3,680K-dot equivalent centre-aligned viewfinder. Useful 4K functions include LUMIX 4K Photo mode, for example, allowing photographers to capture unexpected fast-action shots on-the-fly by shooting at burst speeds of up to 30 fps. Post Focus mode allows the user to choose the focal point of an image after the shot has been taken, and Focus Stacking combines focal points to achieve continuous foreground to background focus.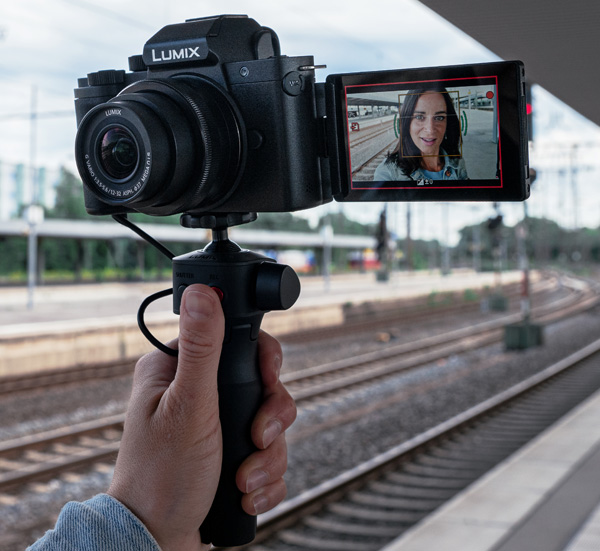 Compact Build
The G100 is compact and mobile. When used with the LUMIX G Vario 12-32mm f/3.5-5.6 ASPH. MEGA O.I.S. lens, the combined weight is 412 grams. A new optional Tripod Grip has also been released, which works as both a lightweight handgrip and mini tripod. The grip connects via USB to start/stop video recording, release the shutter and enable/disable Sleep mode. The camera battery can be recharged either via AC or USB.
The new G100 will be available in Australia from late July 2020. Anticipated prices are as follows –
DC-G100GN-K – Body only RRP $1,099
DC-G100KGN-K – Kit with LUMIX G VARIO 12-32mm f/3.5-5.6 ASPH. MEGA O.I.S. lens
(H-FS12032E-K) RRP $1,299
DC-G100VGN-K – Kit with H-FS12032E-K lens and DMW-SHGR1E Tripod Grip RRP $1,399
www.panasonic.com