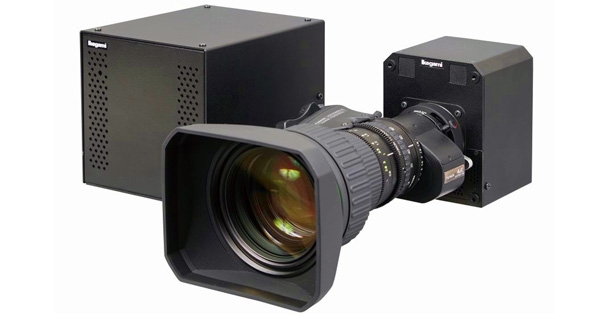 Ikegami's new UHL-F4000 is a compact, lightweight 4K HDR camera that achieves very low power consumption, designed for use in applications such as aerial video capture and studio robotic operations. It is capable of capturing broadcast quality colour video across an extremely wide range of night or daytime conditions. Image adjustment capabilities include haze removal, backlight correction and digital zoom.
"Aerial photographers working from helicopters now choose to use 4K cameras more often," said Michael Lätzsch, Broadcast & Professional Video Division Manager at Ikegami Electronics. "However, because 4K models tend to be larger and heavier than HD cameras, they require a larger anti-vibration gimbal and, if placed in a sealed stabilising unit, their higher power usage causes the internal temperature to rise. This shortens the camera's lifetime and may lead to sudden failure. As a robust, compact camera head with low power requirements, the UHL-F4000 overcomes these challenges, and is built to deliver very high image quality as well."
AXII High-speed Video Processor
The UHL-F4000 camera head measures 100w x 128h x 90d (mm) and weighs only 1.1 kg. While the head itself consumes very low power, all the video processing is performed in a separate base station. Because high speed processing is needed to handle standards such as 4K, 8K and HDR, it uses the same AXII high-speed video processor as is built into Ikegami UHK-430 and UHK-435 studio/broadcast cameras, supporting different imaging styles.
Chroma and hue level can be adjusted within 16-axes individually, in real time, both in straightforward production and to allow colour-matching with other cameras. The processor conforms to the ITU-R BT.2020 colour gamut and performs correction for various video formats with a 3D LUT system. Due to DDR3 SDRAM, lens chromatic aberration and fixed noise correction are available, with digital zoom, video frame rate conversion and viewfinder picture-in-picture.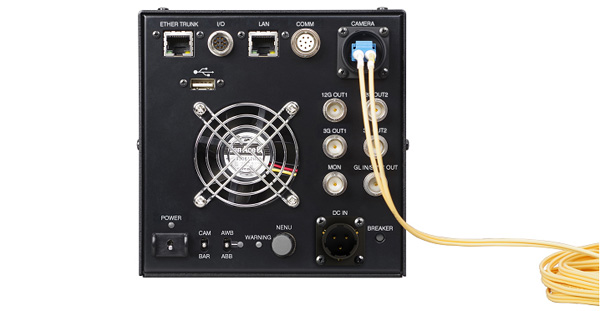 Rear panel of the UHL-F4000's base station
4K Mastering
Developed from Ikegami's high-definition HDL-F3000, the UHL-F4000 is useful to producers who want to extend the life of their work by mastering in 4K. Its output is versatile, able to deliver HD cutout images as well as 2160p 59.94 or 50 Hz 4K. The image sensor unit uses three CMOS global shutter elements, preventing rolling shutter distortion, for example, in aerial imaging applications where subjects are constantly moving in parallel.
Other attributes include variable contrast control which can handle situations of limited visibility caused by fog or smoke. It incorporates an image sharpening function and a vertical image reversal mode for mounting the camera upside down. The operator can adjust the camera's level of noise reduction in real time when shooting at night with high gain.
Digital zoom, from 1.01x to 10.0x magnification in increments of 0.1, produces smooth zooming including gradual acceleration. The effect can be combined with a BTA S-1005B-mount optical zoom lens to achieve more natural-looking long-range effects from wide-angle to close-up.
Digital zoom shrinks down the visible angle of view of a video image, cropping it down to a central area with the same aspect ratio as the original. Then, the image is brought back up to the same pixel dimensions and resolution of the original – usually by using interpolation. Recall that enlarging the central cropped area also enlarges the pixels, reducing the image resolution and the image quality.
Minimum illumination level in standard operating mode is 0.0015 lux at F12, similar to starlight, but virtually no loss of information is caused by differences in illumination – the camera can produce high image quality under most conditions, day or night. Focus Assist Function is achieved by outputting the edge components of the 4K image via the HD MON OUT signal to precisely focus 4K images using an HD monitor.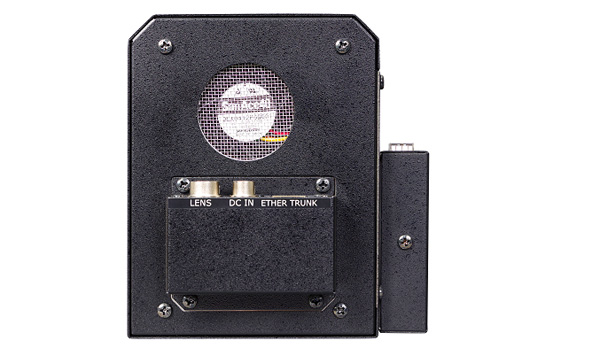 Back panel of the camera head
Aberration correction can be carried out with data from the lens servo block, but aberration correction is also possible if the block needs to be removed from the lens when fitting it into the limited space of a gimbal. An integral motorised neutral density filter can be set to 1/4, 1/16, 1/64 or 1/256. Colour correction can also be adjusted using the Rec 2020 3D LUT system.
Base Station
Like the camera head, the base station is also compact, measuring 145w x 145h x 173d (mm) and weighing 2.5 kg. It simultaneously outputs 4K and HD video suitable for HDR processing. A 40 Gbps duplex optical fibre connection communicates between the camera head and the base station, which can be positioned up to 10km apart. The optical fibre can be integrated into one bidirectional core via an optical circulator and passed through a single-core optical rotary joint used for a small gimbal.
The camera head can be mounted on a motor-driven pan/tilt head for robotic operation in a studio. In this configuration, the genlock or remote control cable can be connected to the base station so that the cable does not interfere with the camera movement. www.ikegami.de