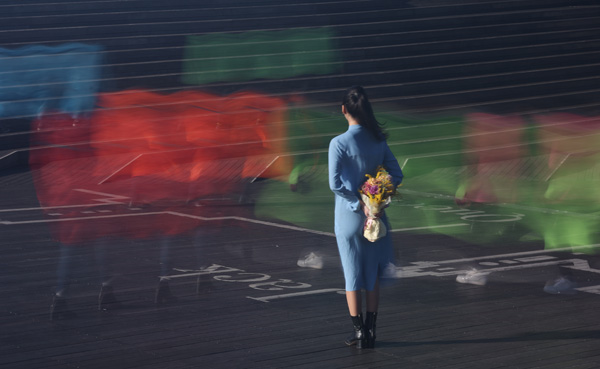 The EOS R5 and EOS R6 are Canon's new full frame mirrorless interchangeable lens cameras built on the RF mount. The EOS R5 professional camera captures 45 megapixel stills at up to 20fps and records 8K RAW up to 29.97fps internally and 4K to 120p. The EOS R6 is built for enthusiasts, and professionals interested in moving to mirrorless production, and captures 20.1 megapixel stills up to 20fps, 4K video up to 60p and Full HD at up to 120p.
EOS R5 and EOS R6 can shoot up to 20fps with the electronic shutter in near silence with auto exposure and auto focus (AF) tracking. The mechanical and electronic first curtain shutter – when the exposure is started electronically by the image sensor and finished by closing the rear shutter curtain – can shoot continuously at up to 12fps.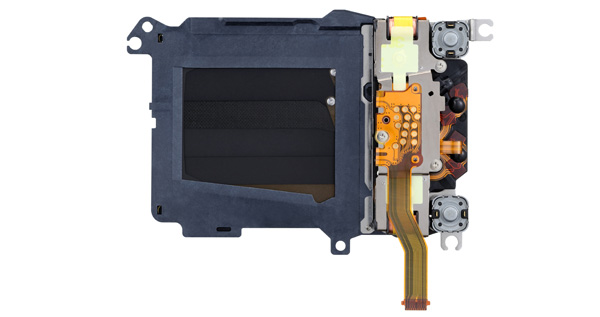 EOS R5 Shutter Unit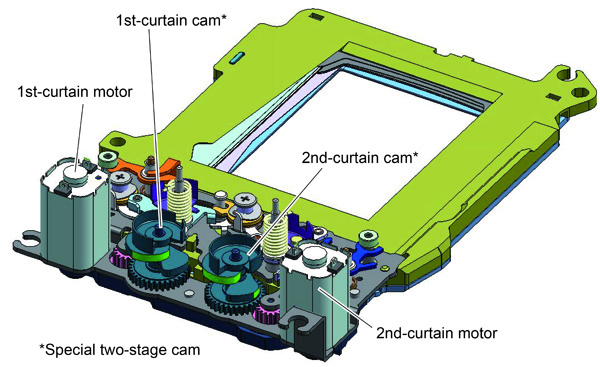 EOS R6 Shutter operation
EOS R5 and EOS R6 are the first in the EOS series to incorporate the 5-axis In-Body Image Stabilizer. Designed to work with the Optical IS system of RF lenses, the RF lenses and the sensor work together to correct pitch (tipping up and down) and yaw (turning side to side), while the sensor corrects X-to-Y and rolling movements. This intelligent stabilisation system corrects at up to 8-stops to help when shooting handheld at slow shutter speeds or filming without a tripod.
The 54mm diameter of the RF Mount is wide enough to allow light to reach the entire sensor surface out to the corners, even with the sensor movement introduced by In-Body Image Stabilizer. The diameter also allows RF lenses to be designed with larger image circles to accommodate the larger movements of the body IS system. As a result, some non-IS RF lenses such as the RF 85mm F1.2L USM or RF 28-70mm F2L USM can also achieve up to 8-stops of image stabilisation.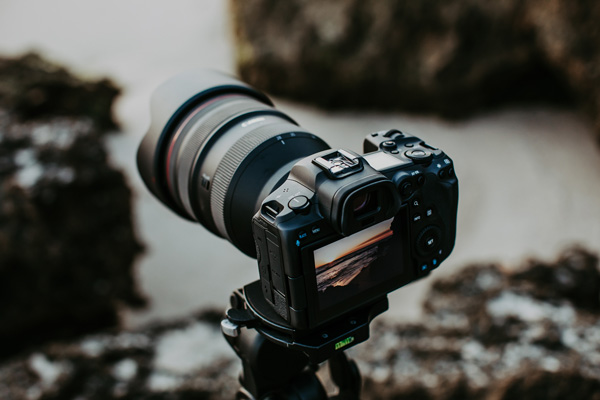 EOS R5
Autofocus
The camera's DIGIC X processor, the same one used in the EOS-1D X Mark III, supports Dual Pixel CMOS AF II. EOS R5 focuses in only 0.05 of a second and can focus in light levels down to -6EV (exposure value). EOS R6 has a minimum EV for AF of -6.5EV. The AF is still effective in poorly lit or low contrast shooting conditions.
The iTR AF X AF (Intelligent Tracking and Recognition Auto Focus) system has been programmed using algorithms so that its face/eye detection mode keeps subjects sharp when moving unpredictably with a shallow depth of field. If a person turns away for a moment, his or her head and body continue to be tracked.
The trained tracking mechanism recognises faces and eyes of humans, and now includes cats, dogs and birds, in still and video modes. The focus and tracking are unaffected by the subject's size, posture, orientation or direction of the face helping users to shoot unpredictable subjects reliably.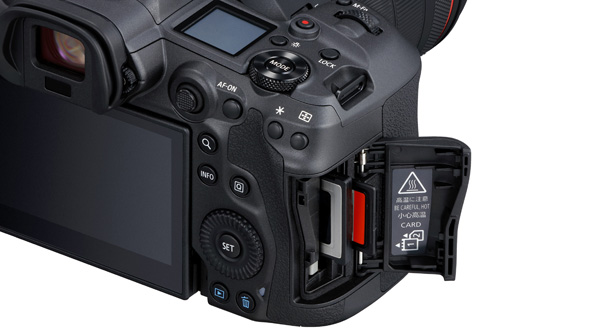 Connectivity
With built-in Bluetooth and Wi-Fi, the EOS R5 (5Ghz Wi-Fi) and EOS R6 (2.4Ghz Wi-Fi) can be connected to a smartphone and networks for high-speed file sharing and FTP/FTPS transfer. This functionality also allows the cameras to be remotely controlled using the Camera Connect and EOS Utility apps, tethered to a PC or Mac via Wi-Fi or high-speed USB 3.1 Gen 2. The EOS R5 and EOS R6 support automatic transfer of image files from the device to the image.canon cloud platform to share and print images or integrate with Google Photos or Adobe Cloud workflows.
EOS R5
EOS R5 captures 8K 12-bit RAW video internally using the full width of the sensor with continuous eye and face AF tracking for people and animals. 4K DCI (full frame) and 4K UHD can be shot at frame rates up to 120p with 4:2:2 10-bit quality, producing high resolution, smooth slow-motion with full AF. The 4K HQ mode reproduces high detail at frame rates up to 30p by internally oversampling 8K footage.
The camera achieves up to 100% AF coverage, capable of 5,940 user selectable AF points, and has an ISO range of 100-51,200 to keep subjects in focus in extreme low light conditions. Dual-card slots support high-speed CFexpress and SD UHS II cards.
Canon's multi-controller, an eight-direction key with a central button used earlier in the 5D Mk III, has returned as part of EOS R5, used to select the AF point, correct white balance, move the AF point or the magnifying frame during Live View shooting, scroll around images during playback and so on. You can also touch and drag the AF using the touch screen, a 3.2inch variable-angle screen with 2.1 million dot resolution.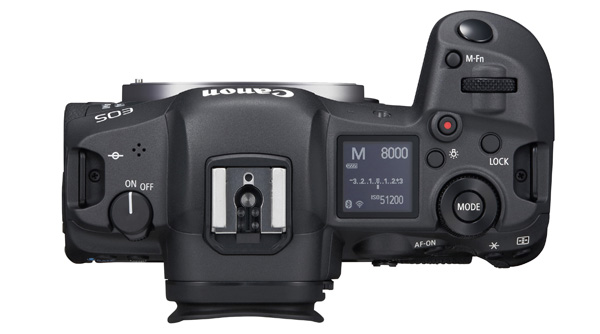 Because Dual Pixel RAW also supported, correction of the focus and contrast in the background and changing the lighting in portraits is possible in post. The sensor's pixels have a dual photodiode construction, so that the sensor can receive an A and B signals from the subject and detect phase differences between the two signals, attaining focus within the Dual Pixel AF system. When capturing the image, the sensor receives picture info from the combined A and B signals, making both focusing and image shooting possible with the same sensor.
Meanwhile, during shooting, a single RAW file saves two images into the file – one contains A+B image data and the other only A image data. Thus, each Dual Pixel RAW file contains the normal image plus any parallax information, from which subject distance information is extrapolated. Microadjustments of the position of maximum sharpness can then be made using the depth information contained within the file.
The 0.5inch electronic viewfinder (EVF) refreshes at 120fps with 5.76 million dot resolution, giving an accurate view of the world comparable to an optical viewfinder.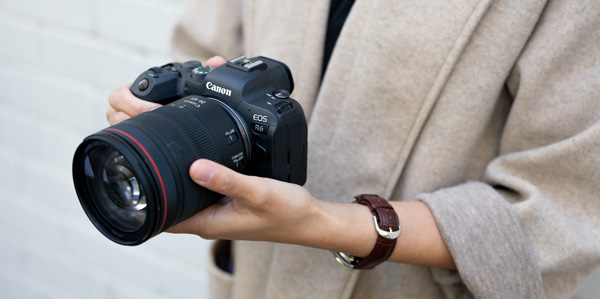 EOS R6
EOS R6
EOS R6 suits handheld video, including sports and wildlife shoots, with speeds up to 20fps, up to 6,072 selectable AF points and algorithms supporting automatic face, eye and animal AF tracking modes. The 20.1 megapixel CMOS sensor gives a 100-102,400 auto ISO range improving results in low light environments such as weddings and indoor events.
The EOS R6 records in 4K UHD resolution at up to 59.94fps by oversampling from 5.1K, and outputs slow-motion footage with AF support using Full HD at up to 119.88fps. While shooting video, zebra display can be used to guide exposure, which is useful in conditions that may result in overexposed highlights. The option to record internally in 8-bit H.264 or 10-bit YCbCr 4:2:2 H.265 and Canon Log allows more flexibility in post.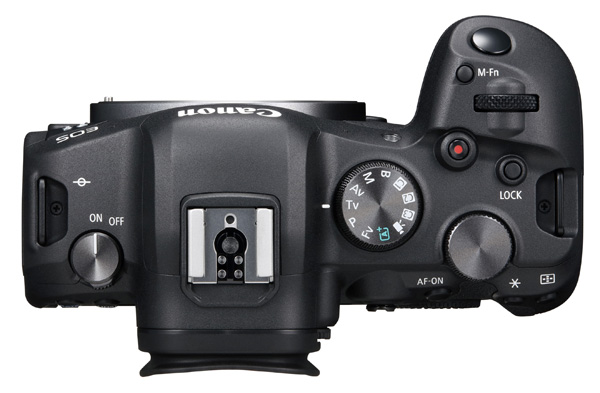 The 0.5inch 3.69 million dot EVF, working at 120fps maximum refresh rate, keeps lag rates low for a responsive view of the subject, which is good for sports. The camera also has a 3-inch varible-angle 1.62 million dot LCD screen and dual card slots, holding two SD UHS II cards and recording to both cards simultaneously in different formats.
The EOS R5 and EOS R6 are both supported by Canon Australia's local 5-year warranty and are available for pre-order now. www.canon.com