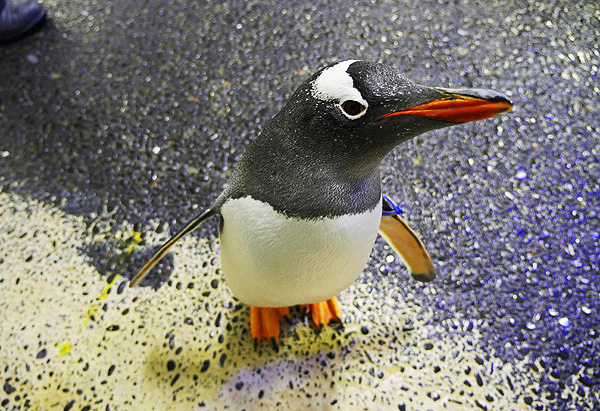 Although SEA LIFE Sydney Aquarium has re-opened to the public, capacity must be reduced in order to follow physical distancing measures. To keep museum supporters and nature lovers engaged with and informed about marine life, the Aquarium staff has launched a live stream called TANK TV. Its video, continuously rolling through the day, gives viewers an almost-real-time view into one of SEA LIFE's best known exhibits, a colony of penguins.
The SEA LIFE exhibit is home to a colony of King and Gentoo penguins, a major part of the museum's Penguin Expedition experience portraying the sub-antarctic environment of Macquarie Island, where both these species can be found. The island lies about halfway between New Zealand and Antarctica.
Life Among the Penguins
A Panasonic AW-UE4 ultra-wide angle integrated camera with digital pan/tilt/zoom (PTZ) is wall-mounted in the penguin enclosure to capture the everyday lives of the birds. The camera was initially installed on a handrail in front of the 'Day and Night on the Reef' exhibit – where it attracted over 72,000 views shortly after it was installed – and is periodically moved around the aquarium to give viewers at home a continuously changing vision of diverse undersea life.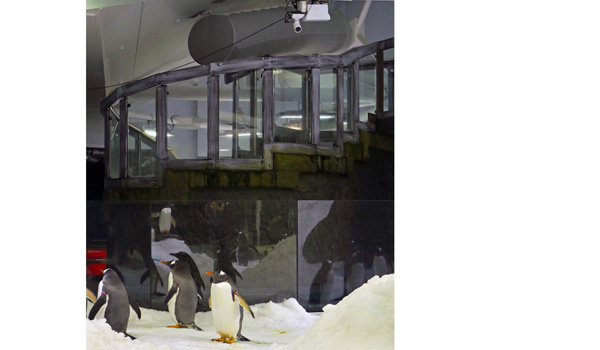 General Manager Richard Dilly at SEA LIFE Sydney Aquarium said, "The species we have here are native to Australia and its islands, and we make understanding the birds and their habitats a priority. Now, SEA LIFE supporters at home can study the behaviour of these beautiful creatures with us."
To watch the Penguins on TANK TV, check this link at various times of the day.
Penguins are inquisitive, intelligent animals, and viewers can watch the SEA LIFE keepers interact with them regularly – which means activities like playing soccer with them as well as feeding them and monitoring their health. The 24-hour Macquarie Island environment is temperature controlled to around 5 to 6 degrees Celsius and includes a sunrise and a sunset each day. The penguins also live through a natural progression of summer and winter conditions, which allows them to follow a natural breeding cycle.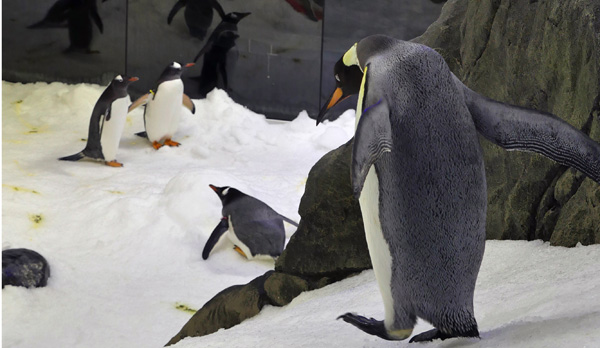 Discreet and Flexible
SEA LIFE needs to be able to place the camera discreetly, in various locations inside the museum. The AW-UE4 is small and compact with an easy to position head. It can be placed on a rail, ceiling or wall, and mounted almost anywhere within the aquarium, and the 110-degree angle lens gives a very wide field of view, keeping most of the scene in shot. The aquarium only needs to decide the best viewing angle and then positions the camera accordingly.
In the period when no visitors were permitted during lockdown, the camera was delivered and installed by SEA LIFE's in-house AV/IT team of two, with the aid of a brief Skype demonstration. The AW-UE4 was set up within a day, linked to SEA LIFE's internal network and from there was soon streaming to SEA LIFE's YouTube account. Once installed, the AW-UE4 streamed 24/7 with no further control needed.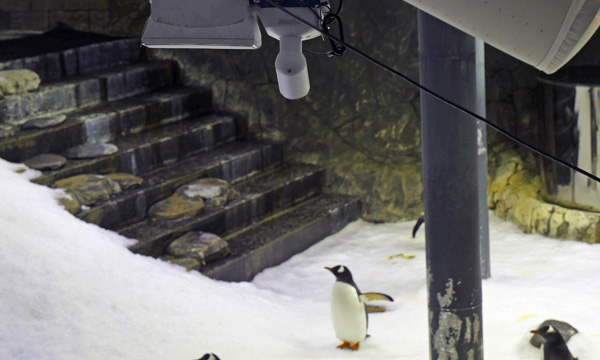 Mathew Alexander from Panasonic Broadcast said, "The camera only needs one CAT5e or CAT6 cable for power, video and control, and then you're ready for RTMP (Real Time Messaging Protocol) streaming to YouTube, Facebook, Twitch or any other RTMP/RTMPS service. This single-cable control also makes it much easier to move the camera when you need to."
Connecting and Streaming
To configure the connectivity, the camera has a LAN port used with a single ethernet CAT5e/CAT6 cable. This port simultaneously brings power and the control signal in, and carries audio, video and data out, over the one cable.
The IP video stream can be configured for either RTSP streaming or RTMP. Having both types is useful. IP cameras support the RTSP protocol, which breaks down the streaming data into smaller chunks for extremely low latency delivery. On the other hand, RTMP is essential because it is used as an ingest protocol by most streaming applications like YouTube Live, Twitch, Facebook and Zoom, and by most mobile devices.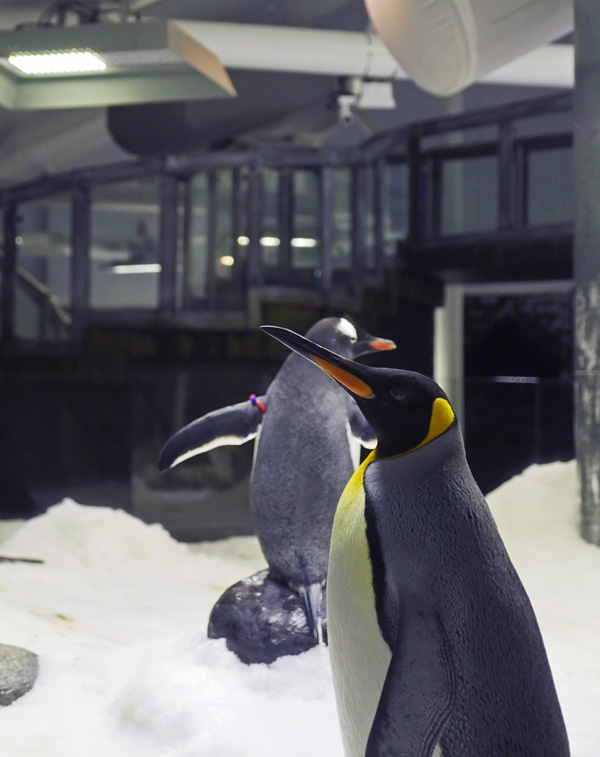 The camera is designed to compensate for the variations in lighting and colour in the aquarium environment. A sharp 4K sensor and lens means it is possible to achieve very high picture quality when streaming, while it is also simple to scale back depending on the bandwidth you want to use. In SEA LIFE's case, the TANK TV bandwidth was reduced as necessary to allow for the higher than normal network traffic during the COVID-19 lockdown.
PTZ Everywhere
As well as streaming live to YouTube, the AW-UE4 can display the same feed on any screen with an HDMI connection, so SEA LIFE also has an option in the future of showing this output to visitors at the penguin enclosure, or elsewhere in the building as a way to entertain people waiting to get close to a display. Its LAN, USB and HDMI output ports can all be active simultaneously. The HDMI output can also be recorded if, for example, SEA LIFE wanted to keep it for research purposes.
The AW-UE4 is built for resilience in commercial environments where web cameras aren't an option. Its design allows it to perform day in and day out in demanding situations, and to be connected to a number of ancillary display devices, with outputs for 4K or HD IP streaming, 4K or HD HDMI and 4K or HD USB.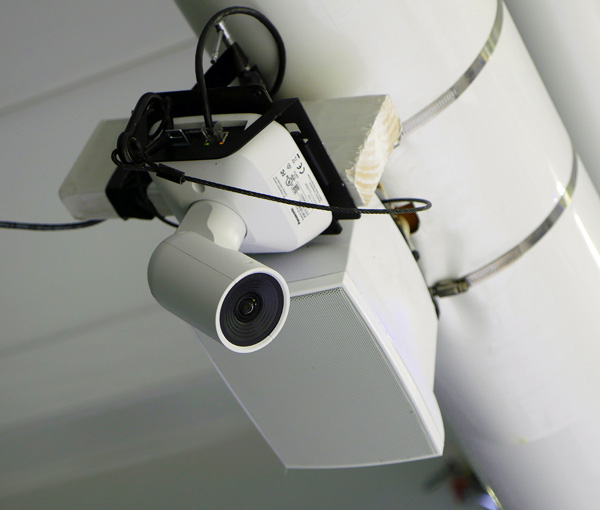 Panasonic AW-UE4 ultra-wide angle integrated PTZ camera
The potential for PTZ-style streaming cameras can be seen in the diverse environments now using them around the world – which has grown from the TV and radio industry to encompass live music concerts and theatre performances, webinars and virtual panels, parliamentary broadcasts and university education.
Changing Face of Museums
After closing their doors to the public, their main concern was to make it possible for people to continue interacting with the museum and learning about underwater life. Richard Dilly said, "We are really pleased about the response to TANK TV as a way for people to connect with us and our animals at any time of day. Our displays are so interesting, but often you can miss some amazing things happening if you only have time for a cursory glance.
"While schools were closed, a number of teachers contacted us to say they were using the TANK TV stream as part of remote learning for students. I've personally set up TANK TV on one of my two monitors at home, so that I can work with this video playing in the background."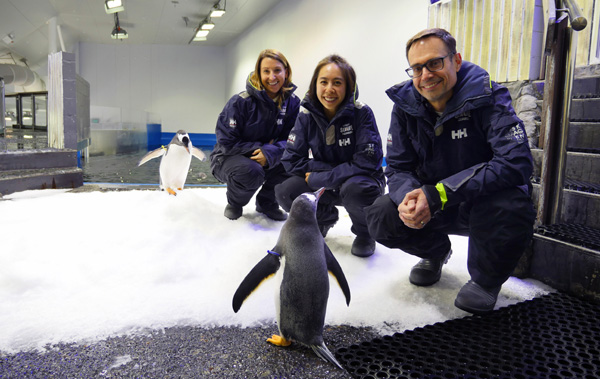 "The camera lets people experience the colony close up, and is also unobtrusive for on-site visitors," said Richard. "We are receiving an enthusiastic response and look forward to deciding where to position the camera next.
"Disruptive times like these often yield new ways of working, connecting and delivering your product. Live streaming, in my opinion, has and will become the norm. What is exciting for us now is working out how we can continue to evolve what we do virtually. We want to keep it fresh and interesting for viewers, while also using the platform to let people know our doors are now open for their next visit." pro-av.panasonic.net