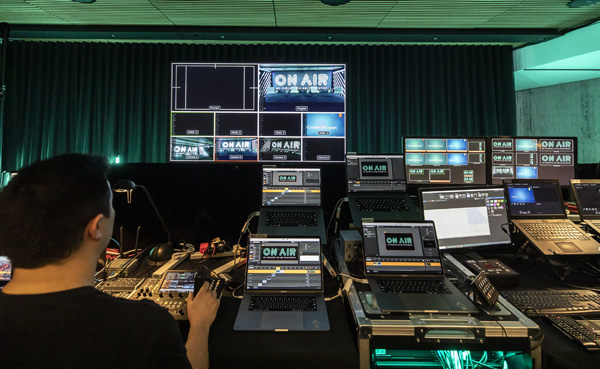 Physical distancing and travel restrictions have compromised the way most companies do business, but few have been as heavily impacted as conferences, theatre shows and festivals, which have been forced to postpone or cancel their events. Virtualising live projects is proving to be the answer, but such businesses may lack the skills and the resources needed to produce and stream broadcast quality live events.
Three organisations in Sydney – Create Engage, Audio Visual Events (AVE) and the Sydney Masonic Centre (SMC ) – have collaborated to launch ON AIR, a semi-permanent studio equipped with up-to-date audio visual and virtual event capabilities. The facility, called ON AIR is located in central Sydney and helps local companies with physical resources and also to develop the expertise and creative skills that, ultimately, will build industry agility in live, virtualised event production.
Alternative Spaces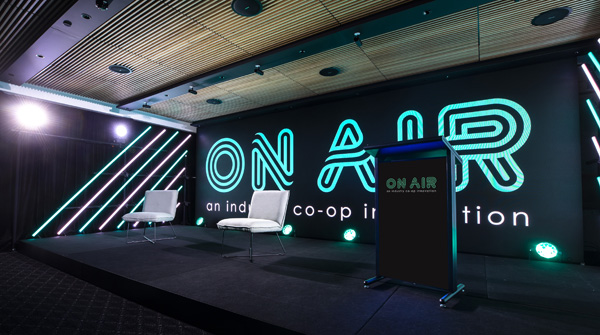 The stage can be set up to suit different events.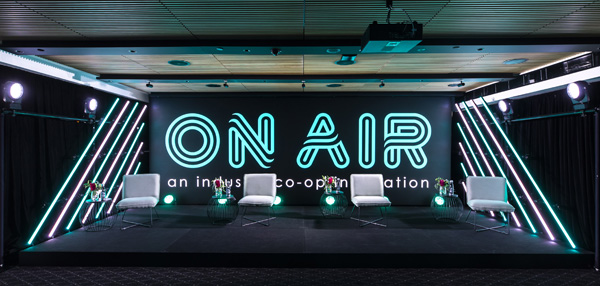 Until now, the use of flexible, reconfigurable livestream and recording studios of this kind has been limited. Most organisations have wanted to take their productions into traditional, familiar venues or event spaces. But the current operating climate has increased their interest in alternative spaces. Clients including Palliative Care Australia, St Vincent de Paul CEO Sleepout, Blackmores Group and Salesforce have kept the studio fully booked since March for half-day or full-day sessions.
The studio space is a disused conference room at the Masonic Centre, which AVE has equipped with three Panasonic Pro PTZ AW-UE150 cameras, operated by one central AW-RP150 controller. Already familiar with Panasonic Pro PTZ cameras from other venues and event set-ups around the country, the AVE operations team quickly organises each camera angle during rehearsal so that just one operator per production can handle all three 4K cameras.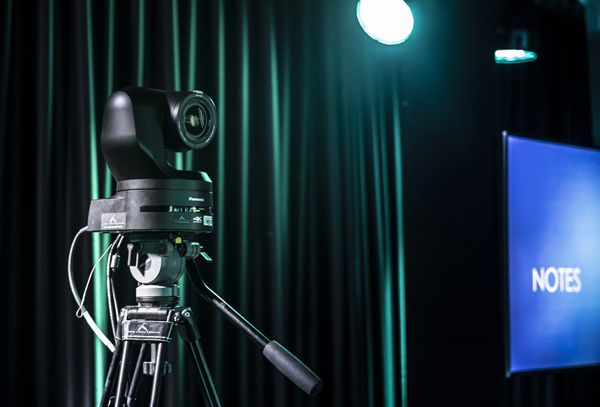 One of three Panasonic PTZ cameras, which can be positioned and controlled by a single operator.
Efficient and Flexible
General Manager at AVE, Paul Keating, said, "We have stocked Panasonic Pro PTZ cameras and controllers for years. The AW-RP150 is a wide-angle 4K camera with a lot of functional options, such as cropping and subject tracking. The cameras at ON AIR capture mostly just static shots, but the preset functionality within the AW-RP150 has been useful to line up multiple shots per camera in rehearsal and allows a single operator to control and precisely repeat each camera's setting and angle.
"That efficiency helps clients manage their budgets and keeps the number of crew in the studio at any time to an acceptable level, and is also important because the operator can minimise the moiré effect from the LED screen used as the ON AIR backdrop, ahead of the shoot." The AW-RP150 has an RTMP output as well that can be used to stream directly from the camera to online channels, although in this case the cameras are fed into a switcher for vision mixing, which then feeds into a dedicated encoder befre streaming.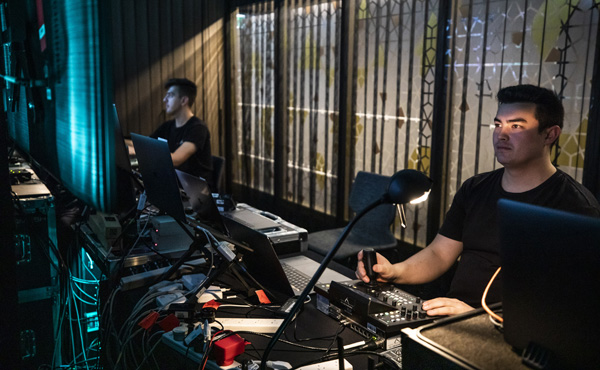 He commented that the construction and design strategy for the ON AIR studio emphasises reliability and flexibility to help everyone cope with the pandemic as restrictions evolve. "Using the Panasonic ProPTZ camera system also means we're delivering live streams to clients with very high production values," said Paul. "Adhering to physical distancing measures hasn't compromised video and image quality."
Booked Up
The ON AIR studio has received back to back bookings since May and remains fully booked through August for livestreaming events. Examples include St Vincent de Paul's CEO Sleepout, an annual fundraising event that was transformed from a state-based physical event to a national online platform, connecting 1,500 CEOs to an audience of 5,000 people.
Palliative Care Australia normally runs the Palliative Care Week convention in May, and this year successfully transitioned it to a livestreamed Q&A event hosted by ABC broadcaster Dr Norman Swan, reaching audiences across the country. business.panasonic.com.au