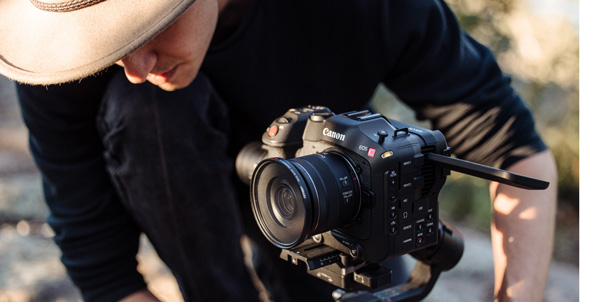 The new Canon EOS C70 video camera has the image quality of Canon's Cinema EOS System range built into a portable, flexible body similar to the EOS R camera line, with an RF lens mount. This will be the first Canon Cinema EOS System camera to support RF-Series lenses.
The EOS C70's compact design is built with professional interfaces and input/output terminals and ports, making it suitable for productions of most sizes and uses, ranging from smaller-scale events like weddings to documentaries and news gathering. Filmmakers can shift from shooting handheld to working from a drone or on a gimbal.
It also has a vertical shooting capability for social media content. To meet various output requirements, it can record in multiple recording formats to SD cards – including 4K up to 120 fps in 4:2:2 10-bit in XF-AVC (All-I or Long-GOP), and MP4 in HEVC (H.265) or H.264.
Compact Professional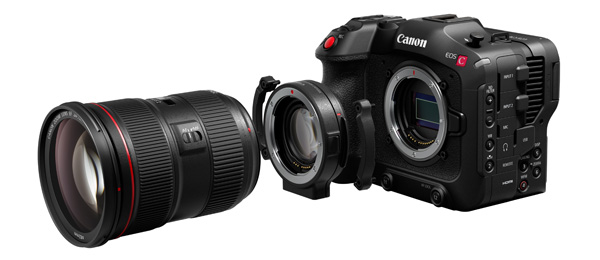 The EOS C70 is intended to link two Canon product portfolios – the Digital Interchangeable Lens camera line and the Cinema EOS System cameras. The short flange-back distance, from the lens mount to the sensor, of Canon's RF Mount makes the compact design of the EOS C70 possible. It is the smallest and lightest in Canon's Cinema EOS System line-up, but still has 13 assignable buttons, a multi-functional hand grip and an independent ventilation system.
The I/O terminals include HDMI and two mini XLR terminals for audio, and a new, thinner ND filter system gives up to 10-stops of ND filtration that can be used to control exposure while also keeping control over the depth of field, resulting in significant, expressive bokeh, even when using a high-speed lens.
RF Lenses for Cinema EOS
As well as the short flange-back distance, RF lenses are also physically wide, with a large inner diameter allowing a large element to be placed at the rear of the lens, which limits optical aberrations and means lenses can be designed with fewer overall elements, making them smaller. They can also maintain a large constant aperture of f/2 throughout the zoom range, increasing options to shoot in low light. These capabilities and the expanding RF range give filmmakers using the EOS C70 a lot of choice, including telephoto, zoom, primes, wide aperture and macro lenses.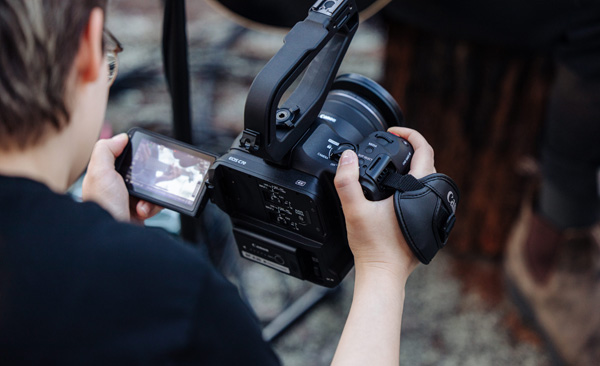 A significant feature of RF lenses is the fast communication between lens and camera. For image stabilisation, this factor enables Combination IS, which combines the Optical IS in RF lenses and the Electronic IS in the camera body, giving stable results when shooting handheld, for example. The RF lenses that are built with image stabilisation have a dual gyro sensor system to detect inadvertent movement and to relay this information across the lenses' fast connection to the camera processor.
At the same time, the sensor is also sensitive to blur caused by movement, and sends this data to the processor as a confirmation. The camera can then correct for the movement. The fast, close communication between the lens and the camera supports other features as well, such as the ability to display the object distance on the camera's LCD monitor.
EF Lens-to-RF Adaptor
Canon is also releasing an EF Lens-to-RF adaptor – the Mount Adapter EF-EOS R 0.71x – making it possible to use the complete EF line of lenses with the EOS C70. Three of the EF lenses are fully supported without a firmware update – EF 16-35mm f/2.8L III USM, EF 24-70mm f/2.8L II USM, EF 24-105mm f/4L IS II USM. Having full support means the lenses can exchange information with the EOS C70 processor. The other EF lenses not yet fully supported can also be used with a brighter f-number with an angle of view equivalent to full frame.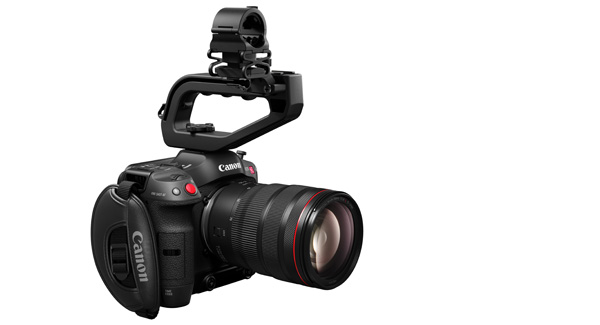 When used with the EOS C70, the Mount Adapter EF-EOS R 0.71x applies an optical conversion to capture a full frame angle of view of an EF lens, as well as an increased light transmission of approximately one stop. Auto Focus, peripheral illumination and chromatic aberration correction, and the transfer of lens metadata are also supported when using the Mount Adapter. Canon plans to gradually expand the list of compatible lenses by releasing firmware updates free-of-charge in 2021.
Super 35mm Dual Gain Output Sensor
The EOS C70 captures over 16 stops of dynamic range, due to its Super 35mm Dual Gain Output (DGO) sensor. The DGO sensor imaging system can capture very clean low light images and high dynamic range by reading out, from each pixel, two different amplification levels, one high and one low. The higher amplification read-out is optimised to capture clean details in darker areas, and the lower amplification read-out is optimised to capture the details in brighter areas.
By combining these values to create a single image, all details in both shadows and highlights will be maintained and enhanced, allowing the camera to achieve a higher 16+ stops dynamic range.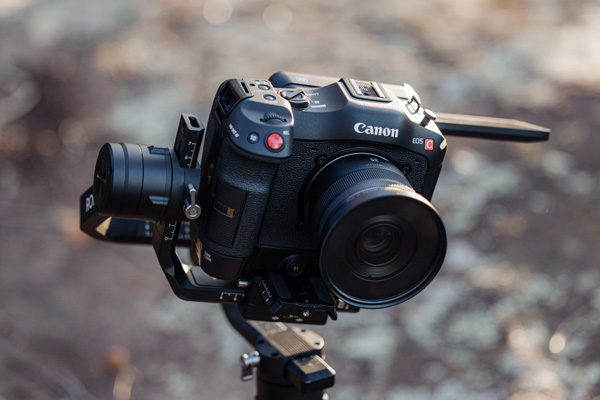 The combination of the DGO sensor and DIGIC DV 7 processor makes the EOS C70 a good choice for 4K content production generally. For example, recording to dual SD cards in Canon's XF-AVC format with 4K 4:2:2 10-bit, the EOS C70 captures high resolution footage for applications ranging from documentary and journalism to music videos and web-based content. It supports slow motion capture with 4K 120p recording, and is compatible with Dual Pixel CMOS AF and audio recording. For higher frame rates, 180p is available in Super16 mode.
Tracking and ISO
As well as using RF lenses, the EOS C70 is the first Cinema EOS System camera to feature the EOS iTR AF X (Intelligent Tracking and Recognition) system seen earlier in 2020 in the EOS R5. The system uses a face and head detection algorithm that works in conjunction with Face Detection AF to make focusing on and tracking the subject more reliable. If a person turns away briefly, his or her head and body continue to be tracked.
Likewise, the EOS C70 also brings Auto ISO to the Cinema EOS System range for the first time. Auto-ISO changes the camera's ISO to produce correctly exposed final images based on calculations combining the camera's light meter reading with the chosen shutter speed and aperture. Another new feature for the Cinema EOS line is the EOS C70's dedicated vertical shooting mode that supports capturing content for social media and digital signage.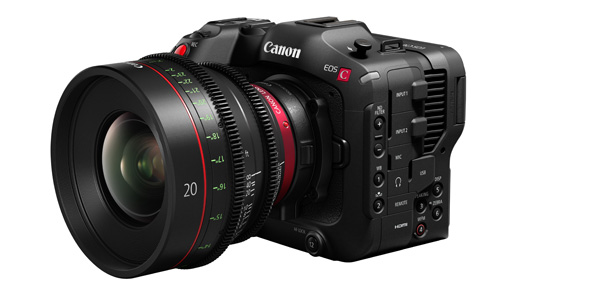 Post Workflows
The EOS C70 has several recording options at resolutions from 4K, UHD, 2K to full-HD. To help content producers align with post-production workflows, the dual SD card slots support high-speed UHS-II media with a variety of configurations such as double slot for a backup, and relay for extended continuous shooting. It can also simultaneously record different formats, resolutions and bit depths on each card. This is the first Cinema EOS camera that has been able to record this way. www.canon.com.au