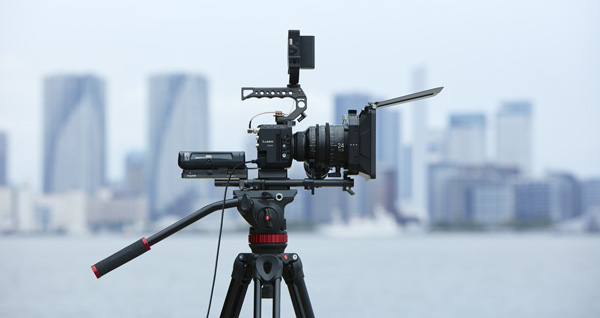 Panasonic's upcoming LUMIX BGH1 digital single lens mirrorless camera is built in a small box-style design, supporting tight shots that need a cinema grade camera to fit into limited spaces.
The BGH1 has a 10.2-megapixel Live MOS Sensor with Dual Native ISO and Panasonic's Venus Engine. The sensor applies the dual-base ISO setting to minimise noise, preserving image quality from low to high sensitivity, and the Venus Engine processor achieves a maximum ISO of 51200. The camera records 4:2:0 10-bit cinema 4K/UHD 60p/50p internal video and outputs cinema 4K/UHD 4:2:2 10-bit over HDMI.
Using the Micro Four Thirds (MFT) System mount, the LUMIX BGH1 accepts a large lineup of interchangeable lenses, including anamorphic lenses. MFT has the same sensor size and specification as the DSLR Four Thirds system, but doesn't allow space in the body for a mirror box, keeping the overall size small. The short distance from sensor to the back of the lens combined with the size of the sensor means MFT lenses are compact as well, considering their quality and range.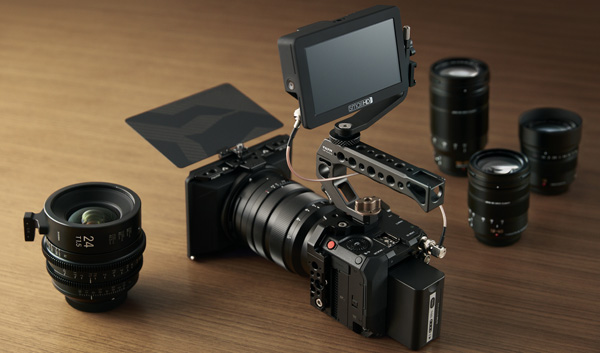 As well as the small size, the camera's lightweight aluminum and magnesium alloy body weighs 545gm and has a new heat dispersion structure to support long recording sessions. Operation options include shooting mounted on drones, IP remote control and direct live streaming.
Remote Control
The BGH1 complies with Power over Ethernet (PoE+) so that users can operate and power the camera using a single Ethernet cable through compatible peripherals. Control over a maximum of 12 BGH1 cameras will be available using Panasonic PC software LUMIX Tether for Multicam, an application that will be released when the BGH1 goes on sale. A future firmware update will support wired RTP/RTSP IP streaming, and an SDK for camera control via USB will be available free of charge.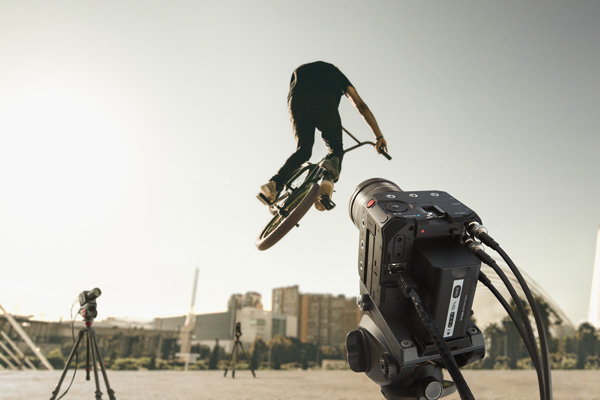 Interfaces include USB 3.1 Type-C, plus 3G-SDI and HDMI Type-A, which can be used for simultaneous output. GenLock IN and Time Code IN/OUT functions can be set-up to synchronise video recording of different angles, and support a system that can be scaled up with third-party external monitors, rigs and gimbals. As a result, the camera adapts to virtual reality video capture, bullet time shoots and homography, used to define camera motion between two images. The BGH1 is equipped with two SD Card slots for backup or relay recording.
Shooting with the BGH1
The camera records video with a designated gamma curve compatible with ITU-R BT.2100, and Hybrid Log Gamma is available with a low-bit-rate recording mode 4K/UHD HEVC /H.265. The camera is pre-installed with V-Log L gamma profile, achieving a wide dynamic range of 13 stops.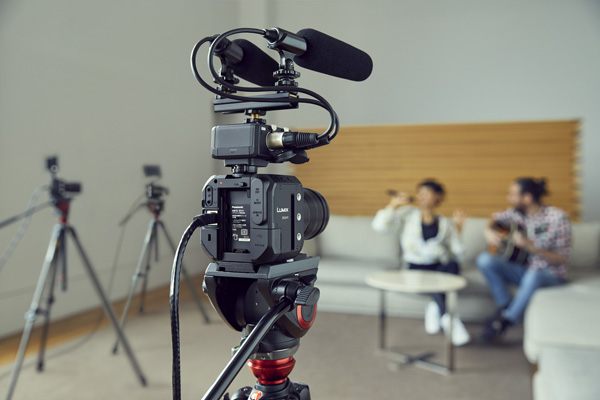 With the Variable Frame Rate function, users can record overcranked/undercranked video in cinema 4K/UHD at 60 fps, maximum 2.5x slower in 24p, and full-HD at 240 fps, maximum 10x slower in 24p. The minimum frame rate for quick motion video is 2 fps.
The camera also incorporates a Deep Learning autofocus algorithm to help detect and track specific subjects accurately – including humans, people's faces and fast-moving animals. In addition to eyes, face and body, the real-time detection system separately recognises the head as well. The camera continues to track subjects when they move quickly, turn away, tilt their heads or move further away from camera. www.panasonic.com