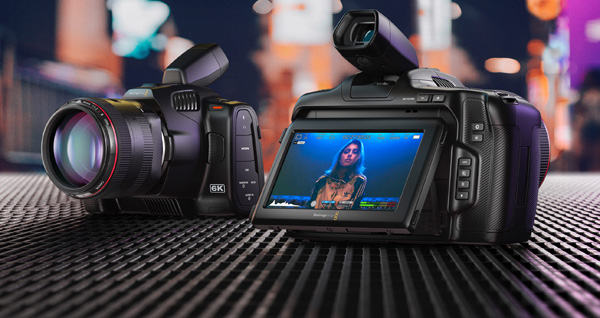 Blackmagic Design continues to develop its Pocket Cinema Camera line, releasing a new 6K Pro model built with features for digital film production – a brighter 1,500 nit adjustable HDR touchscreen, built-in ND filters and a larger battery, with support for an optional electronic viewfinder. The camera also has Blackmagic's most recent generation 5 colour science, Super 35 HDR image sensor with 13 stops of dynamic range, dual native ISO of 25,600 and an EF lens mount.
The Pocket Cinema Camera 6K Pro has the same 6144 x 3456 Super 35 sensor as the Pocket Cinema 6K model. The sensor is designed with 13 stops of dynamic range but also reduces thermal noise, so that users can shoot in bright, sunlit conditions or in extremely low light, resulting in cleaner shadows. The sensor's large size allows shooting with a shallow depth of field and anamorphic lenses. The camera will record up to 60 fps in full resolution or 120 fps windowed.
All of the Pocket Cinema Cameras feature dual native ISO up to 25,600, which means they are optimised to keep grain or noise in images to a minimum, while maintaining the dynamic range of the sensor. The native ISO of 400 works well for scenes with on-set lighting. From there, the gain is set automatically as you adjust the ISO setting, to assist when time to set up lights is limited.
With its EF lens mount, larger EF photographic lenses can be used to create distinctive cinematic style with shallower depth of field, defocussed backgrounds and bokeh effects. As an active lens mount, users can adjust focus and iris from the buttons on the camera or the touch screen.
The large 5-inch HDR LCD touchscreen is useful when accurately framing shots and focussing at 4K and 6K resolutions, with adjustable tilt and 1500 nits brightness for use in bright sunlight. The on-screen overlays show status and record parameters, histogram, focus peaking indicators, levels, frame guides and so on.
The Blackmagic Pocket Cinema Camera 6K Pro has motorised IR ND filters built-in that will quickly reduce the amount of light entering the camera. Designed to match the colorimetry and colour science of the camera, the 2, 4 and 6 stop filters give extra latitude under harsh lighting, and filter both optical and IR wavelengths evenly, preventing IR contamination of the images. Activation buttons are located on the rear of the camera body, placed within reach of the user's thumb from the hand grip. User selectable filter settings can be displayed as either an ND number, stop reduction or fraction on the LCD.

24 fps in 6K (left); 50 fps in 6K (right).
Blackmagic Pocket Cinema Camera 6K Pro records in standard open file formats to save on transcoding time. Standard 10-bit Apple ProRes files are recorded in all formats up to 4K, or 12-bit Blackmagic RAW in all formats up to 6K. All media files work on all operating systems and users can also format media cards and disks in the HFS+ file system for Mac and ExFAT for Windows. Developers can download and use the free Blackmagic RAW SDK to add support to post production software.
Using Blackmagic Design's generation 5 colour science, the camera has a new dynamic 12-bit gamma curve designed to capture more colour data in the highlights and shadows, ultimately leading to better-looking images. This is the same colour science used in the URSA Mini Pro 12K, and takes on some of the complex Blackmagic RAW image processing. As a result, colour and dynamic range data from the sensor is preserved via metadata which can be used in post.
The Pocket Cinema Camera 6K Pro supports an optional viewfinder, assisting outdoor and handheld shooting with a 70 degree swivel range and four different types of eyecups for left and right eyes. It connects quickly to the 6K Pro via a single connector. The integrated 1280 x 960 colour OLED display has frame guides, a built-in proximity sensor and four-element glass diopter for accuracy with a wide -4 to +4 focus adjustment. A digital focus chart helps you set up your focus precisely in the viewfinder.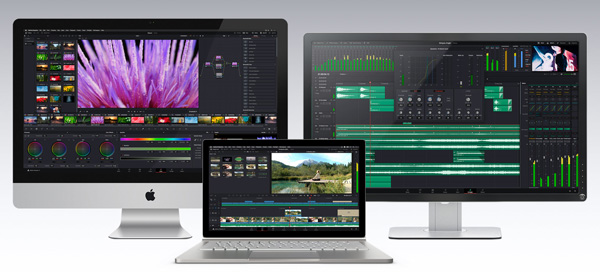 Use the free Blackmagic RAW SDK to add support to post production software.
The existing Pocket Cinema Cameras have a mini XLR input with 48 volts of phantom power for connecting professional microphones such as lapel mics and booms. The 6K Pro model features two mini XLR connections and records two separate audio tracks using two mics, without an external mixer. The four built-in mics have a very low noise floor and are shock and wind resistant. There's also a 3.5mm audio input for connecting video camera microphones, and a built-in speaker for playback and a 3.5mm headphone jack.
The 6K Pro also uses different, larger NP-F570 batteries compared to the other Pocket Cinema Cameras, which use removable LP-E6 type batteries. A locking DC power connector is used to avoid losing power during a shoot. An AC plug pack is included that powers the camera and charges the battery simultaneously. The USB-C expansion port can also trickle charge the battery via portable battery packs, mobile phone chargers or laptops.
The design of the new Pocket Cinema Camera is compact for handheld use and built from lightweight carbon fibre-reinforced polycarbonate composite. The camera has a multi-function handgrip with all controls for recording, ISO, WB and shutter angle. All Pocket Cinema Camera models are supplied with a full version of DaVinci Resolve Studio. Blackmagic Pocket Cinema Camera 6K Pro is available now from Blackmagic Design resellers worldwide for US $2,495 / AUS $3,935. www.blackmagicdesign.com