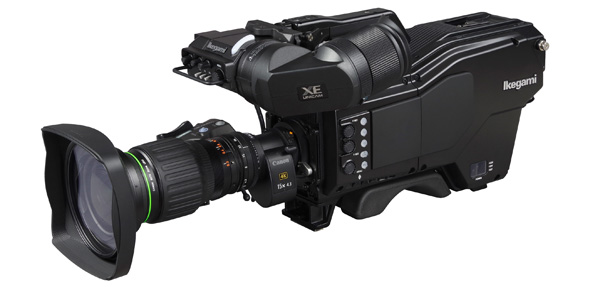 Ikegami UHK-X700 UNICAM system camera
Ikegami is releasing a new camera in its UNICAM XE 4K system camera series, the UHK-X700. It incorporates three new 2/3-inch CMOS 4K sensors with global shutters to eliminate rolling shutter distortion and flash-banding artefacts.
"Designed for broadcast-quality video production and online streaming applications, the UHK-X700 aims to become the flagship of the UNICAM series," said Michael Lätzsch, Broadcast & Professional Video Division Manager at Ikegami Electronics (Europe). "In the modern multi-resolution media environment, high signal quality, versatile connectivity and robust build are essential.
"The new camera has those capabilities with full support for high dynamic range imagery with HLG, or standard dynamic range, plus the possibility of independently choosing between BT.2020 and BT.709 colour spaces. High frame-rate shooting at up to 2x speed in 4K or up to 8x speed in HD via the BSX-100 base station is possible as an option for applications such as fast motion sports photography or stage events."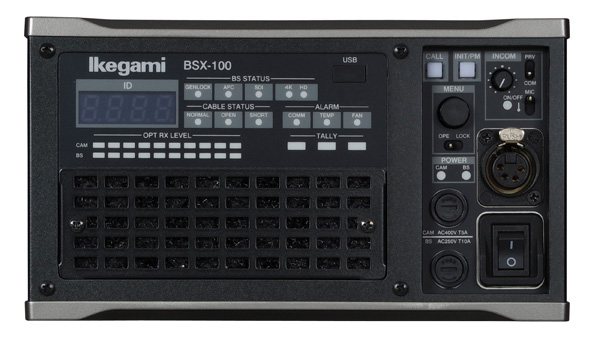 BSX-100 base station
In the core of the UHK-X700 electronics is an ASIC chip that encapsulates a number of video processing functions into extremely compact dimensions. When combined with the Ikegami BSX-100 base station, the camera optionally supports simultaneous output in 4K and/or HD video formats, including mixed sources. 4K video is available as a 12G-SDI feed directly from the camera head, allowing the UHK-X700 to be integrated into a wireless system.
Measuring 340 x 243 x 149 mm and weighing 5kg, the UHK-X700 comes with a B4 lens mount and has an optical sensitivity of F11 when operating at 4K/50p. The camera is designed for use at -20 to +45 °C operating temperature and 30% to 90% non-condensing humidity.
The UHK-X700 camera is uniformly balanced and has a low centre of gravity to ease operation on a pedestal, tripod or shoulder. Peripheral options include the OCP-300 control panel and SE-U430 system expander. Ikegami also gives a choice of three types of viewfinder for this model, a 2-inch LCD (VFL201D), 7-inch full HD LCD (VFL701D) or a 7.4-inch OLED (VFE741D).
The UHK-X700 is scheduled for delivery before mid-year 2021. www.ikegami.de